PLAYBILL: Mirthful murder mystery mayhem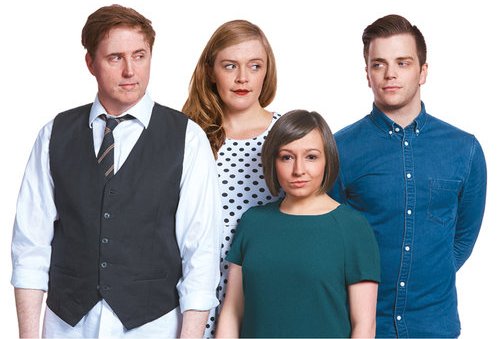 Things are lighter in the summer – clothing comes to mind. Now think of other things robbed of gravity with the addition of summer: Summer school, summer romance, summer theatre.
Hey now: Would you accuse playwright Stewart Lemoine and his Teatro La Quindicina theatre company of being "light"? Certainly their work is often light-hearted. Also fast-paced, witty, silly, detailed, colourful, thrilling, well-acted and so distinctive that Lemoine is called – by me – "Edmonton's Noel Coward."
Now we have a world premiere in the dead of summer, running July 13-29 at the Varscona Theatre: Lemoine's new mystery comedy I Heard About Your Murder, whose very title vexes the brain because if you tell someone you heard about their murder then … well, never mind.
The action revolves around a city couple who head to their "cabin" in the woods, where they are visited by a parade of dodgy friends, acquaintances, and complete strangers. Also wild animals. Murder – one presumes – and mystery ensue, in a story said to be reminiscent of previous Lemoines like Cause and Effect and Evelyn Strange. If you liked those plays, you can't go wrong.
Edmonton International Street Performers Festival
It's FREE to watch any of the performers in Churchill Square daily until July 16 – the Mellifluous Mr. Bombo, Dan the Balloon Man, The Great Balanzo, Kamikaze Fireflies (pictured), Tianna the Traveller, Silver Elvis, Phizzlewit, The Hockey Circus Show and many more who have come from a long way and are working hard in frightful weather – just as it's FREE to not leave a tip at a restaurant. People are then FREE to call you a douchebag.
So avoid discomfort and use this handy guide: Give $1 for every time you laugh, $2 for a gasp of awe, $3 for a scream of terror, and $5 if you pee yourself laughing, gasping and screaming all at the same time. If you are made an "involunteer" and dragged on stage to be a hapless stooge in the act, they have to pay you.
Ha, ha, not really – but they can use that joke if they want.
Follies
A troupe of aging showgirls open a few cans of worms in this multi-Tony-winning Stephen Sondheim musical, the season-ender for the Walterdale Theatre until July 15. It's directed by Barbara Mah, who herself starred in a production of Follies back in the day. Set in the 1970s and flashing back to the days between the two World Wars, Follies centres on two married couples who feel regret over past decisions, or decisions not made. Musical memories include Broadway Baby, Losing My Mind, Too Many Mornings, I'm Still Here, and more songs that lend emotional impact to a classic showbiz story.
Freewill Shakespeare Festival
Summer theatre in Edmonton is also at its best in the Freewill Shakespeare Festival, outdoors at the Hawrelak Park's Heritage Amphitheatre until July 16. There are two plays on alternating nights: We have the Bard's light romantic comedy The Merry Wives of Windsor. And on the definitely-not-light side, it's The Merchant of Venice, which Freewill has set in Europe at the eve of the Second World War. Edgy.
Read review of The Merchant of Venice
Read review of The Merry Wives of Windsor
I Love You, You're Perfect, Now Change
The title pretty much says it all about romance, doesn't it? Such is the new musical comedy opening at the Mayfield Dinner Theatre until July 30 – in fact a series of "musical vignettes" that explore every aspect of love from dating to being very married.