PLAYBILL: Cirque du Soleil a new paradigm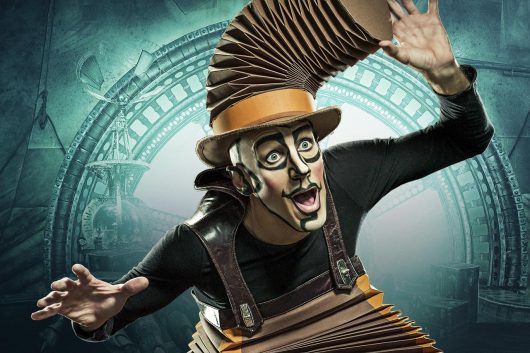 No more performing elephants, no more bags of peanuts to feed the elephants, no more tigers jumping through flaming hoops, no more clowns whose job it is to shovel horse poop, no more picketing by the People for the Ethical Treatment of Animals – the conquest of circus entertainment is complete.
As the Ringling Bros and Barnum & Bailey Circus announced its final finale this year – and an end to a culture of animal exploitation for human entertainment – Cirque du Soleil is going stronger than ever. There are dozens of different Cirque shows around the world, a number of them in Las Vegas.
The latest is Kurios: Cabinet of Curiosities, a touring show coming to Edmonton July 20-Aug. 13 under the big top in Northlands Park. Like all Cirques, there's a slight and mysterious backstory to frame the astounding feats of human strength, agility and esoteric physical theatre both on and above the stage. This one deals with an inventor who "defies the laws of space, time and dimension." Cue bizarre clowns, amazing acrobats and a host of gifted human performers to do the inventor's bidding – and no animals were harmed in the making of this spectacular modern circus show.
Maybe it's a little sad the old-three ring circus has been relegated to the peanut shell-littered memories of the old people. Maybe it was peanut allergies that killed it.
I Heard About Your Murder
We have a world premiere in the dead of summer, running until July 29 at the Varscona Theatre: Lemoine's new mystery comedy I Heard About Your Murder, whose very title vexes the brain because if you tell someone you heard about their murder then … well, never mind. The action revolves around a city couple who head to their "cabin" in the woods, where they are visited by a parade of dodgy friends, acquaintances, and complete strangers. Also wild animals. Murder – one presumes – and mystery ensue, in a story said to be reminiscent of previous Lemoines like Cause and Effect and Evelyn Strange. If you liked those plays, you can't go wrong.
I Love You, You're Perfect, Now Change
The title pretty much says it all about romance, doesn't it? Such is the new musical comedy opening at the Mayfield Dinner Theatre until July 30 – in fact a series of "musical vignettes" that explore every aspect of love from dating to being very married.