Interstellar Rodeo a civilized festival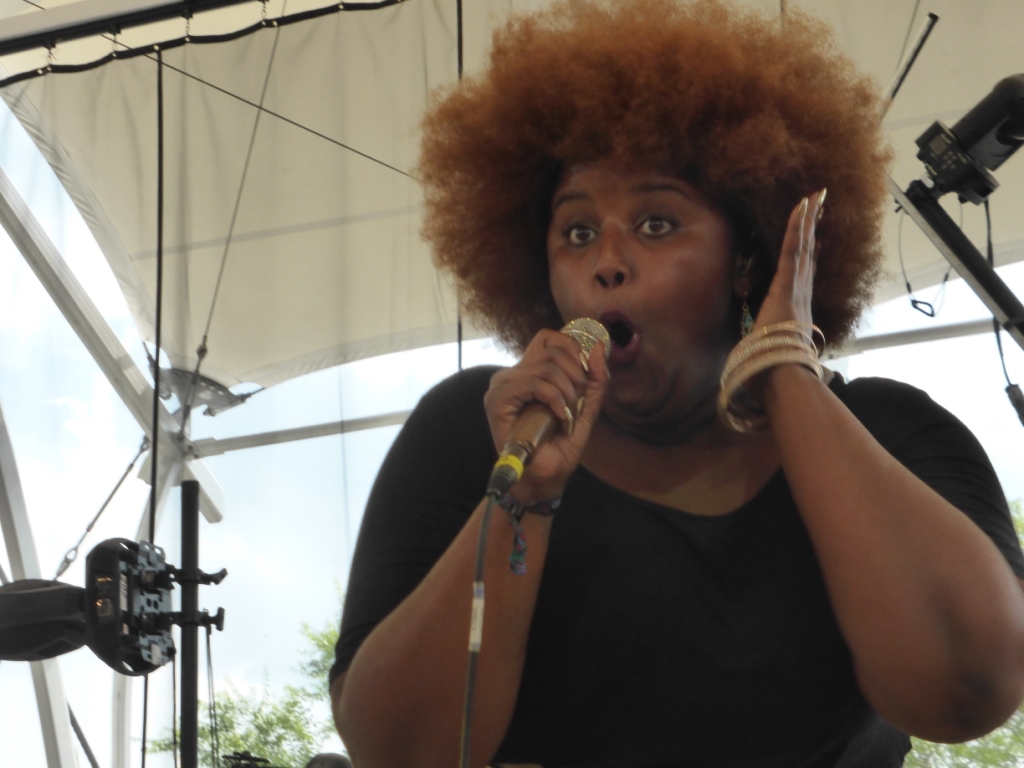 There were no complaints overheard at Interstellar Rodeo.
That's because I was too busy not complaining myself, sitting there in the front row (the "obstructed view" seats were usually open) with a bowl of delicious coconut curry chicken with sesame cranberry cabbage salad from Filistix, and a (plastic) glass of the finest Medici Ermete Concerto Lambrusco Salamino wine said to compliment that particular performer at the time. Then a server walks by, "Care for some more wine?" Sure! I say, and pay her the modest sum of tickets I didn't have to line up to buy, and continue to enjoy a very comfortable and relatively good view (through dancing butts) of awesome music I'd never heard before – this super cool soul band from Houston, Texas called The Suffers. Who named the band? Long story.
Positive vibes wafted forth to such a degree on Saturday afternoon that you had to pinch yourself that you were really at an outdoor festival. Don't outdoor festivals involve long line-ups, oppressive security, merciless sun, bad food, cheap booze, and gangs of drunken idiots, and you wind up bruised, filthy and broke? No, Interstellar Rodeo was a civilized, cultivated affair. The food was terrific, as were the beverages. The venue couldn't be better, a natural grassy bowl in beautiful Hawrelak Park with lots of shady trees and a huge tented amphitheatre at the bottom. You could wander freely, even outside, have a smoke, and re-enter as long as you're wearing your wristband. And here's the deal maker: You can roam freely with your alcohol! It's like a bush party, but less rowdy. Oh, but what if the teenagers get hold of it?! Well, let them! Let them learn to throw up properly. Just kidding. Actually, it wasn't so much of an issue here. The general demographic was such that there were lots of babies and toddlers in tow and running underfoot, perched on daddy's shoulders, and peeing on his shirt.
For the sold-out event, what appears to be the who's who of the Edmonton arts and media crowd turned up – anyone who's ever been considered for Avenue magazine's "Top 40 Under 40." Some said they made the choice between this and the folk fest. Ouch.
The music here is mostly pretty great, some known, some not, some Canadian, some from far away, ranging wildly from folk to pop to rock to sleeper bands where you say, "Oh, that's the band with that song on the radio."
Saturday was a day of formidable female headliners: Topped by the Canadian star Serena Ryder, with her hits What I Wouldn't Do and Electric Love. Earlier, Basia Bulat delivered a set of guitar-driven folk music with a voice that sounded a bit like Florence from Florence and the Machine – a similar organ sound helped cement the comparison. A very likable presence and a beautiful voice (that was paired with a very nice Italian wine), Bulat went over like gangbusters.
"I've never said this before, but this IS my first rodeo," she said, and later, "I'm happy to be performing on Treaty 6 territory."
But it was The Suffers that was the focus of my brief and arduous trek to Hawrelak Park (long hike due to no parking in the park) – and they were totally worth it.
The frontwoman Kam Franklin (top picture) was a bundle of talent and joy. She dedicated songs to mothers, to teachers, and said "give flowers to the living." She's also a singer of prodigious powers. She's like Ella Fitzgerald breaking the glass in old Maxell commercial, Chaka Khan and Aretha Franklin rolled into one. The band – with a percussionist and a lone trombone doing a great job with the organ filling the role of the horn section (there seemed to be a couple of band members missing) – played a spicy fusion of musical styles. It started with a generous helping of Philadelphia soul, deep fried with funk, steeped in New Orleans, and drizzled with a sauce of Caribbean and Latin American flavours.
Great. Now I'm all hungry again.
Interstellar Rodeo continues Sunday night with Broken Social Scene, Suzanne Vega and more.