MUSIC PREVIEW: Hit the road, Jack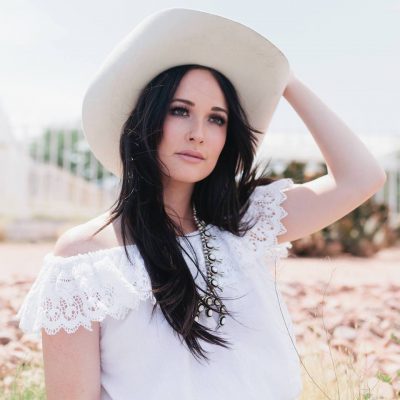 Congratulations, you have survived the summer up to now – to reach "peak festival" in Alberta. On this weekend it is impossible to go to any public park, farmer's field or even your own backyard without there being some kind of festival happening.
Getting out of Edmonton will only bring you to more festivals – like the 25th annual Big Valley Jamboree in Camrose from Thursday to Sunday. The great Willie Nelson plays Friday with music from his new album God's Problem Child. Kacey Musgraves (right) and Keith Urban play on Saturday, with Jason Aldean closing on Sunday. Dozens of other bro-and-sis-country stars perform on two stages all weekend. This fest is huge fun whether you love country as much as life itself, or not. "Country will get to you," longtime BVJ host Danny Hooper once said, "if you let it."
Single day tickets, except for Sunday, and all VIP passes are SOLD OUT. Weekend passes for $240 are still available.
Too far to Camrose to see country bands in a shadeless former farmer's field? It's a shorter drive to a land further away, in a way, to Stony Plain for the Blueberry Bluegrass & Country Music Festival Friday through Sunday. Performers include Russell deCarle, Old Man Luedecke, The Foggy Hogtown Boys, Blue Highway, The Spinney Brothers, Calvin Vollrath, and more, masters of their trade. Weekend passes are $135, single night tickets also available.
There's a new kid on the block: The first ever Pigeon Lake Music Festival, Saturday and Sunday at the Hilah Ayers Wilderness RV Park at Mulhurst Bay. On stage Saturday is our old pal Russell deCarle (where's the non-compete clause when you need it?), along with Reuben and the Dark, Daniel Wesley, Scenic Route to Alaska and more. Sunday sees the classic rock of Chilliwack, with Michael Bernard Fitzgerald, Edmonton's award-winning Zerbin, and more. Weekend passes including camping are $350, and single days are also available.
READ interview with Chilliwack
Or maybe you're pining for the hoodoos? Drumheller with its dinosaur bones is the site of the annual Loud as Hell heavy metal festival Friday through Sunday. Dozens of the heaviest bands known to Man will be taking the stage, many of them Canadian: from sinister locals like Eye of Horus and Mortillery, to more international masters of darkness such as Battlecross from Detroit and Social Arsonist from Chile. Festival passes are $99. See the LAH website for complete information.
Thursday 3
Lady Gaga – "Like Madonna if Madonna could sing" is one way to describe this queen of campy pop, whose elaborate shows have been noted both for musicality and for Broadway-style theatrics, sometimes one at the expense of the other. Maybe this time's a charm. Gaga will make her fourth appearance in Edmonton (the first was as an unknown opening act for New Kids on the Block in 2008) on her Joanne world tour, at Rogers Place, 8:30 pm. Advance tickets from $70.
Friday 4
Brother Octopus – Fun fact: There are no cephalopodic references whatsoever in the music of this weird local band whose singer claims to be an actual octopus who crawled onto land, lost half of his limbs and proceeded to observe the human condition through a gimlet eye. What are they up to this time for their new album, Serenaded Through Seaweed? Find out at the album release show at The Almanac. Opening the gig at 8 pm will be the bands Form 10, Letters from Pluto and West to Alaska. Tickets $10 at the door, includes free online copy of the new record.
READ: Interview with Brother Octopus
The Dabs – This experimental local stoner rock trio … wait, is it necessary to say it's experimental if they call themselves "stoner rock." Or local? Should go without saying. The band, led by Jeremy Dabs – hence the readymade drug and/or dance move reference in the name – plays at the Mercury Room. Orbital Express and The Mothercraft open the show at 8 pm. Advance tickets $10
Sam the Living – Do you like your blues dark? Like really deep and dark, like death knocking on your door and there's no light at the end of the tunnel except for the precious little time we have left on Earth? Then this captivating and profound Edmonton artist just might be your cup of iced tea. Sam the Living (aka Dylan Greenhough) plays the Mill Creek Cafe, along with the bands Science Killed the Sun God, Holy Void, Dumb Angel, and Body Lens. 8 pm, $10 in advance
Saturday 5
The Frolics – This band's jangly cosmic psycho-rock-a-billy roots-rock sound came by way of Nashville to Edmonton – instead of the other way around – where they've been a popular presence ever since. Free show today at 4 pm at the Black Dog Freehouse.
Echo and the Bunnymen – Classic rock quiz: How many of the original members are left in this English new wave band that had a run of hits in the 1980s and has been going steady – give or take a hiatus – since 1978? Two, the answer is two: Frontman Ian McCulloch and guitarist Will Sergeant. They'll play the Union Hall this night, with the opener Ester Drang. 7 pm, advance tickets $49.50
Sunday 6
Blind Pilot – If you're looking for organic free-range alternative folkin' goodness, you can't go wrong with this beloved Portland sextet, touring to support its latest album And Then Like Lions. Starlite Room. 7 pm, advance tickets $24
Goldtop – Everett LaRoi, formerly of the local alt-rock band Idyl Tea, met his current musical partner Alice Kos when he was giving her guitar lessons. A fantasia of inspiration ensued, combining eclectic organic and electronic sources for a sound that some have called (incorrectly) a fusion of pop and country. It's a lot more than that. Opening the show at the Needle Vinyl Tavern at 5:30 pm are Marvin Etzioni and F&M. Tickets $12 advance