Pride comes to Big Valley Jamboree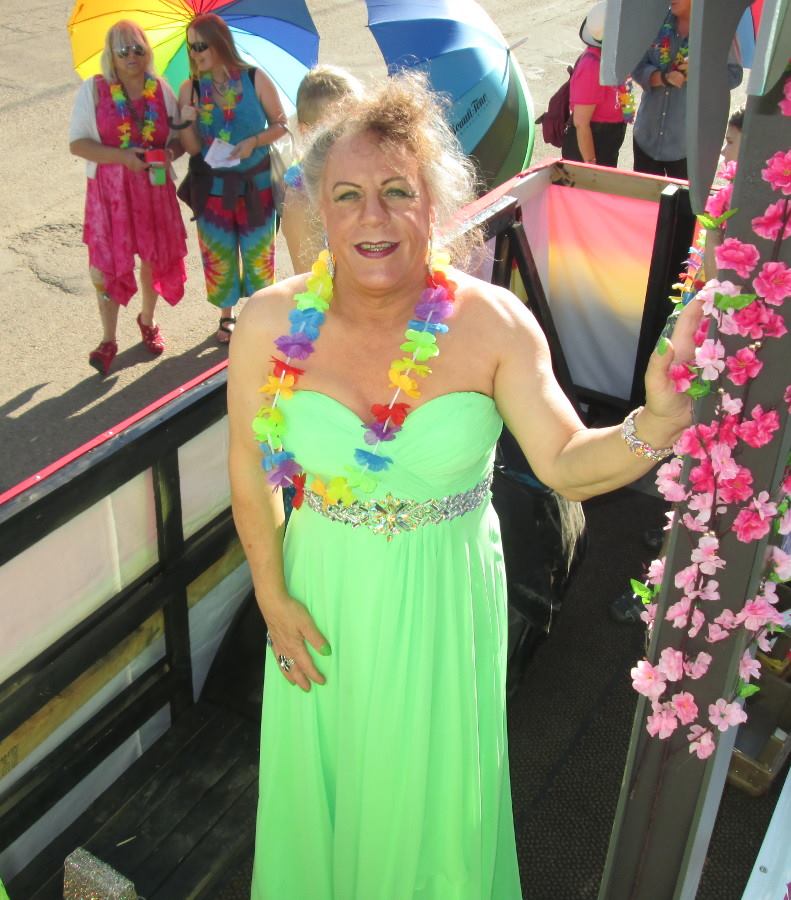 For the first time in its 25 year history, the Big Valley Jamboree included a Pride float in its annual parade in Camrose on Thursday.
On board the Camrose Pride Community float for the well-attended event was Edmonton electrician Shae Guerin – in a strapless green evening gown despite the day's heat, along with other members of the Alberta trans and queer community.
No untoward incidents were reported. In fact, the float won an award. What, you were expecting a posse of homophobic cowboys to run them out of town?
"It was all very positive," Guerin says. "Everybody waved and cheered – everybody."
Mild nervousness on the part of some Pride float members was banished once it was all over. Of course, the BVJ parade is not the BVJ itself. Would Guerin be so bold parading around in a strapless evening gown in the campground on Saturday night?
"I would," she says. "I'm a different case from most cross dressers. Nobody would dare give me any grief or noise. I would react, and I would react badly. I don't take shit."
Guerin, who's from small-town Millet and has been attending Camrose Pride meetings for a couple of years now, goes on, "I'm one of the people who really doesn't mind being out in public. Indeed, I do not pass as a woman. I am clearly a male transvestite. Everybody is very positive about what I do because I like to like think I have a little bit of a style. I dress suitably for a 62-year- old human. Everybody was saying, 'oh, yeah, that's very different, but hey, vive la difference!' I actually heard one lady call that out."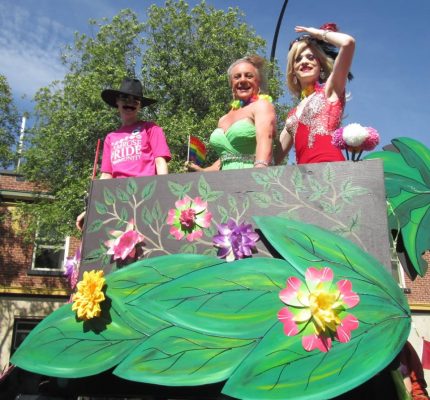 It may not be mere coincidence that K-Days – for the first time since the festival started in 1879 – included a Pride Day during its recent 10-day run, with suitable entertainment and rainbow socks all around. And now the Big Valley Jamboree country music festival? Turns out that one of this year's performers, Kacey Musgraves, has a big pro-gay rights hit called Follow Your Arrow. She sings, "Make lots of noise, kiss lots of boys, or kiss lots of girls, if that's something you're into."
What's the world coming to?
"It's an enormous step forward," Guerin says. "I think nothing bad could come of it. The awareness is such a big point."
She's been encouraging people in the LGBTQ community to come out for years. "I tell people: Yes, indeed, I know you're scared, I know you've been in your closet for decades, but get out. Let's go out and party, let's go the bar, let's go to a restaurant. Just get out. Work out the fear."
Shouldn't that be a choice for the individual? Guerin gets political on this matter, "Every time a person stays in the closet and behaves with shame, it hurts the rest of the trans community. So every time you go out, it can only help the trans community, and that's why I'm doing this."