MUSIC PREVIEW: Best of the folk fest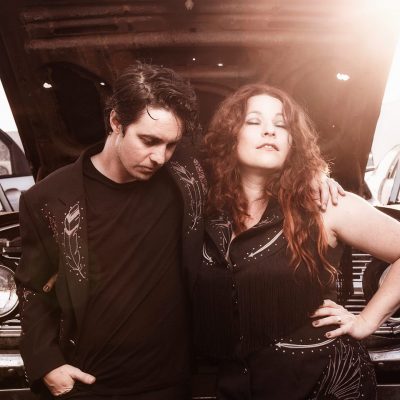 The dominant event across most genres this weekend of course is the Edmonton Folk Music Festival, a veritable staple of the city's music scene since 1980. In fact, there's usually a dearth in gigs over the weekend because most venues don't want to schedule anything against this juggernaut, certainly the largest music festival in the city now.
This year's headliners include The Decemberists, festival regular Brandi Carlile, Shovels and Rope (pictured), and City and Colour. But if you do head down for the evening, make sure to go a little earlier, the true magic often happens on the side stages between main stage acts. Tickets remain available for all days. More details below, and on the EFMF website, of course, including ticket links: LINK.
Thursday 10
Decemberists – This indie rock band out of Portland, whose most recent album What a Terrible World What a Beautiful World was released in 2015 to rave reviews across the board, is arguably the biggest name on the EFMF main stage on this evening. Shakey Graves, who won the hearts of everyone when he performed at Interstellar a couple years ago, is also on the main stage, as is Lakou Mizik. The main stage gets underway at 6 pm. Folkfest Website.
Anciients – This metal/rock project out of Vancouver has been going strong for over five years now, and has quite the local following. They're touring to support their 2016 release Voice Of the Vod with citymates, doom-stoner group Dead Quiet. Starlite Room Lower Hall (Brixx), 8pm, $12. BUY
Birds Bear Arms – This local math rock project is kicking off a tour with this show, which also features Montreal's Look Vibrant, and the debut of psychpop project Ominous Cloud. Mill Creek Café, 8 pm, $10.
Friday 11
Brandi Carlile – The first time this Americana superstar performed at folkfest, she was likely as awestruck as those who saw her performance. She's been an oft-booked regular since, and hits the main stage at 9:05 pm. Rhiannon Giddens, perhaps more well known for being the lead singer and multi-instrumentalist with the Carolina Chocolate Drops, performs at 10:40 pm. Folkfest Website.
Saturday 12
Ashley MacIsaac – Saturday evening's folkfest lineup has a bevy of incredible talent, starting with this legendary fiddle performer at 7:05 pm, and finishing at 10:45 pm with soul-gospel artist Leon Bridges. Folkfest Website.
Zaum – A doom metal act forged with sitar and synth, this New Brunswick act is touring to support last year's full-length album titled Eidolon. Full-length in that it spanned over forty minutes of music, of course, though it's actually parsed into just two songs, ala Sleep. Their full catalog now spans three albums, and their annual touring itinerary could fill the annals of any metal compendium. Ontario's Flying Fortress, and locals DRI HIEV and Pyramid//Indigo, are also on the bill. Starlite Room Lower Hall (Brixx), 8 pm, $10. BUY
Sunday 13
Shovels and Rope/City and Colour – One could argue that folkfest's Sunday evening lineup has two headliners with these acts. The former is an Americana-folk-alt-country offering composed of husband and wife Michael Trent and Cary Ann Hearst, who now count five full-length albums amongst their catalog, including last year's Little Seeds. And of course, Dallas Green aka City and Colour really needs no introduction to almost any Canadian music fan. Performing as part of Alexisonfire for the first part of his career, his next step was a solo career using the project name City and Colour, which has met with as much critical and popular success as Alexisonfire. Just, well, dramatically different. And for an even more different slant, he also recorded an album under the moniker You + Me with Pink, that shot to No. 1 in Canada, and No. 4 on the Billboard charts. Amadou & Mariam, and St. Paul & the Broken Bones, also perform on the main stage Sunday evening. Folkfest Website.
Pallbearer – This Arkansas rock band is in the middle of an epic tour that spans California up through western Canada, and then down to Tennessee. Their third album, Heartless, was released earlier this year, and is the first the band has recorded on their own. Perhaps their grandest effort, in both scope and natural progression, it has received critical acclaim from far and wide. With Gost and BORYS. Starlite Room Lower Hall (Brixx), 7:30 pm, $22. BUY