Ghost of Joe Bird in new Fringe play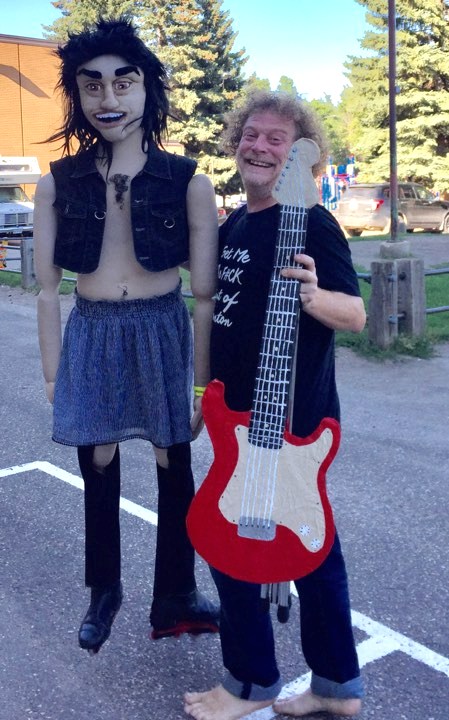 It would be disrespectful to the memory of the late Joe Bird to show respect to his memory – according to his best friend and longtime comedy partner Wes Borg. Or words to that effect.
It should be obvious that Borg's new Fringe play Get Me The F#ck Out of Edmonton may contain salty language. Coming eight years after Bird's untimely death from a heart attack at the age of 41, his ghost is making a special appearance – as a puppet.
"It's got a giant cock and descends from the ceiling in a skirt and roller blades, and he does a duet with me at the end of the show," Borg says.
Too soon? He answers, "No way. In fact, it would be pissing on the grave of Joe Bird to NOT piss on the grave of Joe Bird. Getting all serious and all maudlin on the thing is not the way to go – but I'm trying to make the show about me, and his ghost keeps coming in and fucking me up, taking over the limelight."
Ah, just like Joe.
Borg's been touring his one-man comedy musical to Fringes across Canada this summer, driving and camping alone in his late model RV, which he calls "his wife" (long story) – with no one but Puppet Joe for company. The play is mostly new material, but it's also a flashback to the great old days of the Edmonton-bred Three Dead Trolls in a Baggie comedy troupe that included Borg, Bird, Neil Grahn and Cathleen Rootsaert. They were on par with Kids in the Hall and SCTV, yet another "almost made it" tale from this cursed town. They coulda been a contenda!
After several fruitful years that included such hit comedy productions like Kevin Costner's Naked Butt and The War of 1982, countless sketch shows, and five episodes on CBC-TV across Canada in 1992, the Trolls eventually disbanded. Grahn and Rootsaert continued to perform, went into parenthood or television or both. Bird kept active, hosting a popular weekly open stage under the name Jose Oiseau. He also worked with Borg and other musicians in the band Hookahman, and various theatre projects. Bird was a bridge between the sometimes estranged music and theatre scenes of Edmonton.
Borg, meanwhile, did indeed get the f#ck out of town. He moved to Victoria 10 years ago, and is currently teaching and producing theatre for mentally disabled adults. "Everything I ever learned," he says, "Music, acting, improv, theatre, is useful in this one weird job."
But with few prospects in Edmonton at the time, he wound up in B.C. at the urging of his mother.
"I was broke," Borg says, "I think I was making 100 bucks a week keeping the computers running at FAVA, and my mom said, 'Jesus Christ, you look like shit!' And I said, 'aw, I feel like shit.' And she beautifully assumed I was on heroin or something. 'I'm gonna dry you out!' she said. So we went to my uncle's in Kimberley. Fortunately my uncle in Kimberley was the guy who sold weed to the town of Kimberley. So after not being able to find drugs for quite a while, my mom, in order to dry me out, dropped me in a place with a freezer full of marijuana."
Borg wound up in Vancouver, then Victoria, ensconced himself in the local arts scene, fell in love with the place and never moved back. He was there when Neil Grahn called him with the news that Joe had died, on April 1, 2009.
You might get the idea from the title of his play that Borg hates Edmonton. That's not true. He's been recently having a swell time in his old hometown – as a tourist. "It's fucking great as a tourist here in the summer," he says. Joe didn't hate Edmonton, either. Get Me The F#ck out of Edmonton is satire, a metaphor for "making it in show business" and a self-deprecating subtitle "and other ramblings of a Fringe has-been."
The play started with a song. The Trolls were responsible for several novelty hits, the most popular being The Toronto Song (in case you think they limited their satirical bashing to Edmonton). In 2005, Borg and Bird recorded a rendition of Get Us the F#ck out of Edmonton, and stored it in a GarageBand file – which was then misplaced. Borg searched for a decade before he found it, "And it had both our voices," he says. "I realized I could pull my vocals out of it and do a duet with him, and from there I worked backwards."
The rest of the piece, working with director Jeff Page, came together naturally.
"It's all non fiction," Borg says, "so I don't have to write it. I just have to remember it."
Get Me the F#ck out of Edmonton – and Other Ramblings of a Fringe Has-Been plays Aug. 18-25 on Stage 8.