Metallica destroys Edmonton
Posted on August 17, 2017 By Mike Ross Entertainment, entertainment, Front Slider, Music, music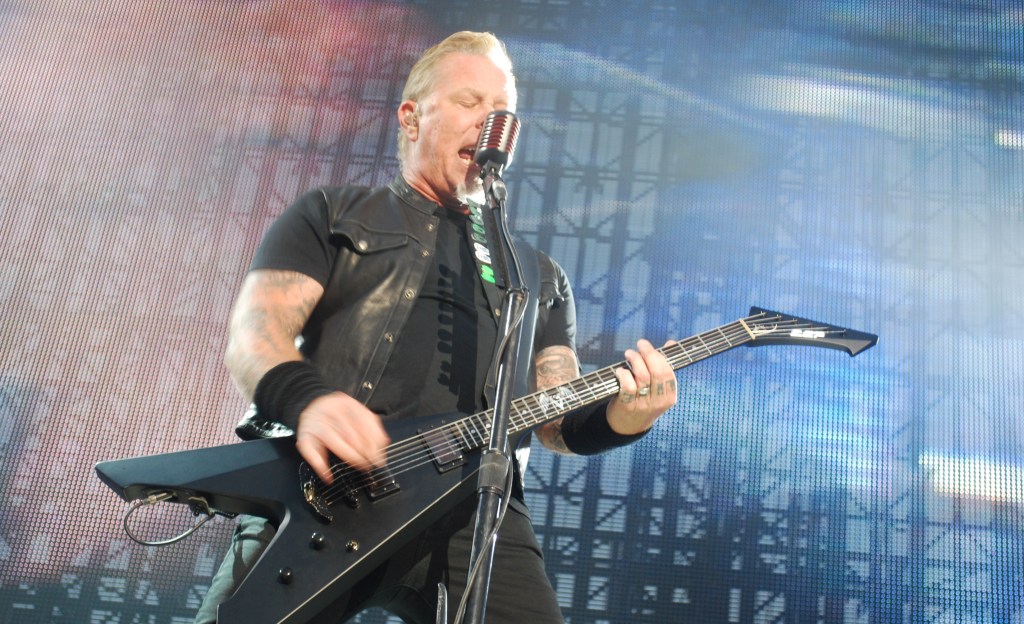 There was a lot of violent imagery on the big screens for the Metallica concert at Commonwealth Stadium Wednesday night. Couldn't help but notice the icing on the cake: Wars, fights, death, destruction, fire and so on. Fitting.
Just once it would be a hoot to see rainbows and butterflies accompanying such a massively brutal sonic assault on the senses – but no, that wouldn't do, would it? Metallica is one of the greatest metal bands of all time. Maybe they are THE metal band. The metal band people talk about when they don't know any other metal bands. And as such, it's their duty to uphold the status quo that metal is a primal form of mainly but not entirely male expression designed to channel one's aggression and violent impulses in a relatively safe way. Like sports.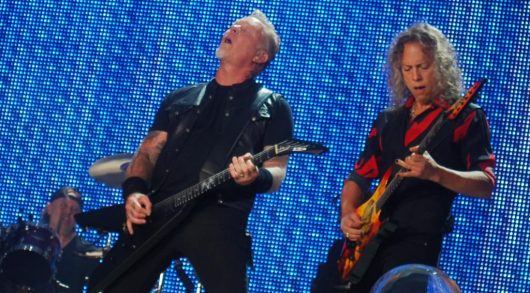 Metallica did a beautiful job proving why they're such a big deal Wednesday night, while helping 45,000 Edmonton metal fans blow off steam. The Metallica-like opener Avenged Sevenfold helped.
Just what we needed.
Musically, Metallica was sharp. There were few gimmicks to get in the way. Yes, you want some special effects at a stadium show. You can never go wrong with blowing things up. There was lots of fire. And, as mentioned, some disturbing film footage. But in the end, none of it distracted from the musicianship. These guys know what they're doing. After 36 years, they should. It's only the four of them on a huge stage, creating a huge sound on their own with fractured, ferocious anthems of anger, death, doom and despair and so on.
It's not easy to play this stuff. Styles veered wildly from gothic sludge to punky speed metal, often in the same tune. Some songs sounded like other two other songs crashing into each other. The always stirring "wall of noise" was achieved several times in the night, a glorious cacophony resolving into pile-driving riffage. Their song One was amazing, with a blistering double lead guitar solo. Master of Puppets was particularly epic. They're at least a Ph.D of Puppets by now.
Singer James Hetfield spotted someone bleeding in the crowd at one point late in the show, and laughed, "Having fun in the pit there, bud?"
Like sports, sometimes people get a little banged up. There were up to three circle pits going at once, crowd surfers like spawning salmon in a good season. The general admission floor area was packed with an estimated 10,000 people. There was another 35,000 fans in the stands, on their feet the entire time. The view from the top seats looked like an angry storm system on satellite – and all those little people were getting mighty wasted. The beer line-ups were stupid. People were toking their brains out. Hetfield made a joke of that, too, pretending to be woozy at one point: "I think I inhaled some of the crowd."
Cue a roaring version of Seek and Destroy.
The singer wasn't woozy at all, in top form hitting all the notes in power ballads like Nothing Else Matters – with help from the crowd, of course. They knew all the words. He was solid on guitar, too. Drummer Lars Ulrich, meanwhile, displayed masterful doublekicksmanship throughout the show. There was a bit during Now That We're Dead where they all played giant drums. Bassist Robert Trujillo was an imposing presence whose throbbing riffs shook the stadium, and played a surprisingly tasty solo for how loud and distorted it was. And the lone bit of funky soul mojo in the show was provided by guitarist Kirk Hammett – on 30 seconds of Le Freak. They should've done the whole thing. With butterflies and rainbows! No …
Together, Metallica is the Four Horsemen of the Apocalypse – unstoppable heavy metal heroes who proved, with a terrific show in Edmonton, last show of the tour, that there's a reason why they're the most popular metal band in the world.