2 MASTERS OF THE FRINGE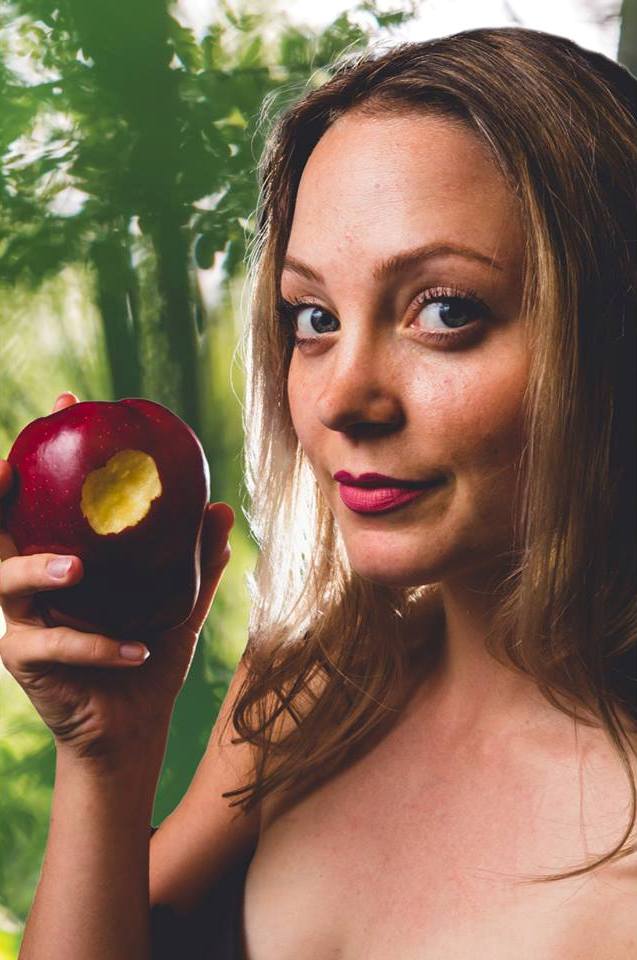 Each year the captains of comedy and drama come to the Edmonton Fringe Theatre Festival with gifts of superb entertainment. Regular Fringers will recognize these troupes and individuals as trailing long records of happy hours spent in the theatre. They are indeed Masters of the Fringe.
Here are two of many:
The Apple Tree
From Plain Jane Theatre, Venue 12 (Varscona Theatre)
From their beginning many years ago, the Plain Jane Theatre company under its brilliant director Kate Ryan has dug deeply into the Broadway oeuvre to find small, often forgotten gems, which are then dusted off, polished up and presented to appreciative Fringe audiences. Think of Fiorello! and It's a Bird… It's a Plane… It's Superman.
This time, the company's take on The Apple Tree is funny, quirky, light weight and buoyant and about as sustaining as a Fringe onion cake. It's directed by another Edmontonian well schooled in the finessing of musical theatre: Dave Horak (his production of Stupid Fucking Bird won 6 Sterling Awards this year).
Mark Twain wrote his short fantasy about Adam and Eve back at the beginning of the 20th Century and it carries his patented biting humour. Music and lyrics were added by Broadway vets Jerry Bock and Sheldon Harnick (Fiddler on the Roof) and although you won't find another If I were a Rich Man here, the score is choc-a-block with hummable tunes and clever lyrics.
Jocelyn Ahlf (CBC radio's The Irrelevant Show) makes a most hissable high couture snake. Eve is played by the appealing Madelaine Knight. She has a golden voice and enough comic smarts, vulnerability and winsome ways to indeed be the mother of all humankind. The story swirls around her. Graham Mothersill is a hunky Adam, a gosh-almighty L'il Abner innocent searching for a clue in God's confusing new world. He has problems with this "naming of all things" chore God gave him. He calls a big brown animal a "four pronged white squirter."
Says Eve, "It's a cow – because it looks like a cow."
Horak's staging is simple but effective and Ryan Sigurdson's accompaniment gives his usual sympathetic support. He also doubles as a most impressive Creator.
4 out of 5
Puck Bunnies
From Guys In Disguise, Venue 12  (Varscona Theatre)
Trevor Schmidt and Darrin Hagen, under the production banner of Guys in Disguise, have long been Fringe standbys. Look at their record of successes: Flora and Fawna, BitchSlap and Klondykes. Definitely Masters of the Fringe.
A Puck Bunny is a female ice hockey fan whose interest in the sport is primarily motivated by sexual attraction to the players rather than enjoyment of the game itself. Apparently that's different than a Buckle Bunny (rodeo cowboy) or a Badge Bunny (cops). They consider themselves superior to the skags that hang out around the busses, referring to them as "swamp dogs."
What fertile ground for those two daring sexual adventurers Trevor Schmidt and Darrin Hagen.
We meet Tammy (Hagen), Tonya (Schmidt) and Tina (Jason Hardwick), three small-town girls caught up in the well-practiced local art of being girlfriends of the amateur local hero hockey players. Tammy has a "promise" ring and is dragging an unwanted new baby around with her – the product of what apparently is a failed attempt to trap her hockey player into marrying her. Tonya's boyfriend isn't much into sex (what kind of a hockey player is this? I'll tell you what kind of hockey player – he's gay) and since sex is one of her main attractions, their relationship is tenuous. Tina's boyfriend has been traded or maybe he's in jail – again. So she finds herself suddenly in the market again.
Scandal is in the air and the claws start to come out.
Local attitudes, sexual politics, violence and rink macho temperament and the protocol of the Puck Punny (always spend an hour after the game discussing the plays) are all examined. Puck Bunnies is no learned documentary – although it addresses some serious issues. Hagen (who once starred as a cocky gay wrestler touring western Canada) and Schmidt have not abandoned their patented and often outrageous humour to get all weighty on us. There are some genuinely time-out hilarious moments strung through the production as small town mores and manners are held up for scrutiny. And maybe, before it's over, some genuinely touching moments as some of the subsurface realities of the lifestyle are painfully exposed.
As usual, the two have developed indelible characters who contain enough truth and acute observation to be quite believable and the fact that the women are played by men adds a whole new dimension. Hardwick, a well-know local performer, is a welcome addition to the formidable duo.
4 out of 5