REVIEW: k.d. lang soars in Edmonton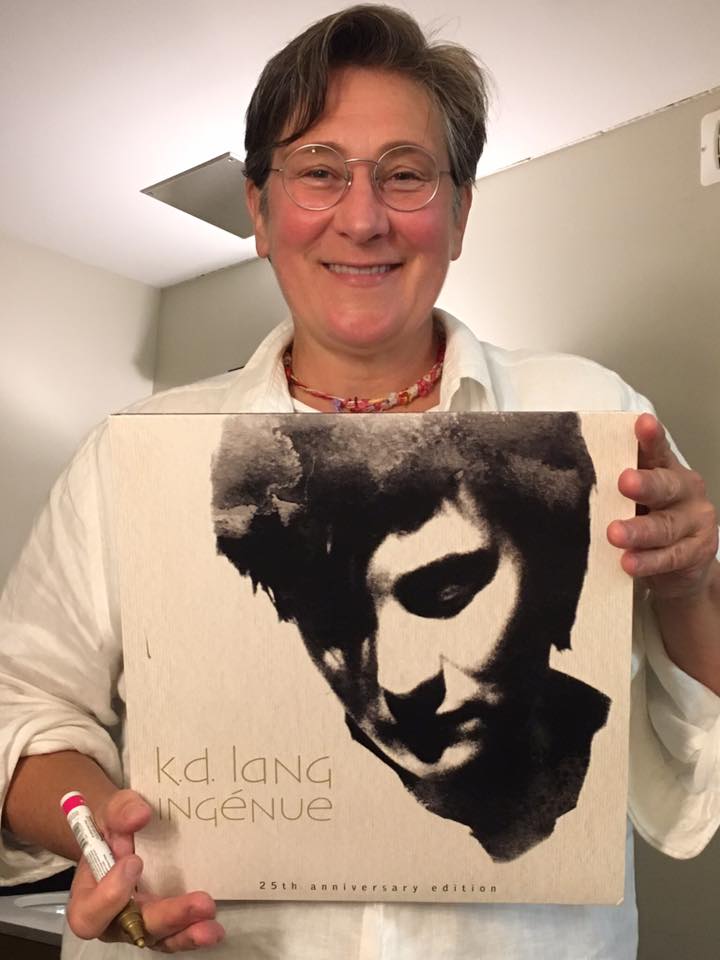 The entire run-through of Ingénue, k.d. lang's seismic-shifting album that propelled her from prairie good ol' gal to Grammy-winning superstar didn't exactly rock the house at the Jubilee Auditorium on Saturday night.
It didn't need to.
Despite lang's powerful voice, put to great use during her roughly 80-minute set, the former Edmontonian stuck to the savvy subtleness that's been a hallmark of her execution. That, and a myriad of jazz, pop and roots genres all contribute to making Ingénue a deep listening experience that still holds up remarkably well today.
The Ingénue Redux Tour marks the silver anniversary of the multi-platinum release – and the hues were certainly reflected on the scalps of the decidedly sexagenarian patrons in attendance. That irony wasn't lost on the star.
"I think the 25th anniversary of Ingénue really affirms that we're all senior citizens," she remarked, before the sold-out crowd of 2,700 tittered in response. "And I'm fine with that."
Playing the entire album in sequence was also a big gamble for lang and her seven-piece band, considering many of the pieces have never been played live before. Accentuated by a row of torchy light stands and a curtained backdrop with a valance that arched downward to the stage risers, lang started on Save Me and The Mind of Love, showcasing the singer's more melancholy side. It wasn't until Miss Chatelaine that the mood perked up as the barefoot singer in her trademark black suit sashayed across the stage while singing with a mischievous twinkle in her eye.
For the most part, she stayed faithful to the original arrangements, but managed to let the band loose on occasion. Keyboardist Daniel Clarke riffed extensively on the ivories during Season of Hallow Soul, after which bass mainstay David Piltch finger-popped extensive funky lines on Outside Me.
While lang's Ingénue journey held the audience in rapt attention, it wasn't until the final piece, her 1992 breakthrough single Constant Craving, that the crowd erupted and had the chanteuse beaming. Even at 55, her pipes still have the artillery and sustainability to deliver, although her range has become limited over the years. During the hit's refrains, lang avoided hitting the high notes, instead opting for lower harmonics to do the job.
Away from the Ingénue material, her vocal deftness gave her the ability to own established classics, especially by other Canadian vanguards. She really shone with her take on Joni Mitchell's Help Me and Neil Young's Helpless, but it wasn't until her treatment of Leonard Cohen's Hallelujah – "an obscure Canadian tune," she remarked – that lang, flanked solely by Clarke and Piltch, brought the entire crowd to its feet. It was pure lounge-sans kitsch and resonated beautifully.
The whole night was testament that lang, with her still-superlative vocals and a tight band, will continue to enthrall her aging faithful for as long as her audience continues to support her – and as long as Medicare continues to keep them healthy.
Opener Chloe Albert was a safe choice to warm up the house as the Edmonton singer-songwriter performed a half-dozen innocuous slice-of-life descants reminiscent of breezier works by Roseanne Cash and Ani DiFranco, major influences. Tuning issues hampered the 2014 Juno nominee's set at times; thankfully, those setbacks didn't break her stride.
The show repeats Sunday night before the tour continues East across Canada.