REVIEW: Beck where it's at in Edmonton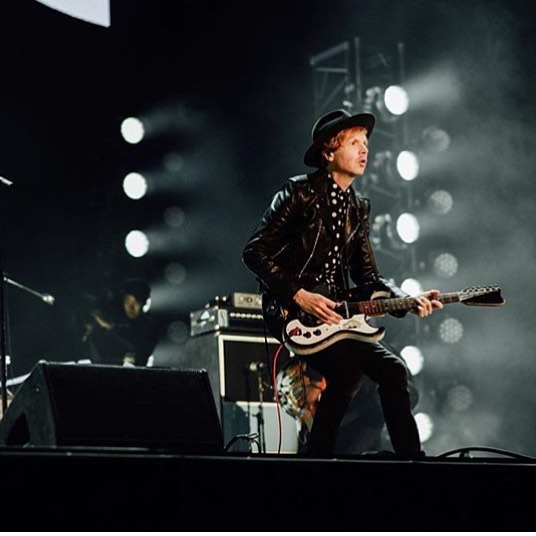 If you're expecting the unexpected at a rock concert, is having it fulfilled still a special thing?
What if the focus of your high un-expectations does something surprisingly normal – like rocking out four-on-the-floor with a great rock band for a rockin' old school rock concert at the Jubilee Auditorium, for instance – and says surprisingly normal things like, "If I'd known you'd all be here, I would've come sooner" and "Have you ever noticed that Edmonton smells really good"?
Then it's special.
Because it's unexpected, see?
It's all so terribly confusing. But then, Beck is a confusing artist. He's mysterious. That's why we're so interested.
In a great show that was exactly as weird as it needed to be, the allegedly eccentric artist made his first appearance in Edmonton on Tuesday night. Area fans had been waiting for this guy since 1993, since his song Loser validated an entire generation going through a particularly difficult period of self-loathing. We're over it now. The sold-out hall echoed with the chorus when Beck played it, "I'm a loser, baby, so why don't you kill me?"
It's a rhetorical question.
The rest of the song makes no sense at all, of course – but it has such a fresh sound! It was a little thick and overplayed at the show, but it had the essence of the original: Part folk, with that acoustic slide guitar hook, part hip hop, laid-back, low-fi, revolutionary, and standing well apart from all the yarling grunge of the time.
After the opening salvo of funky hard rock with Devil's Haircut, with a swerve into pure grooviness with New Pollution, Beck brought the twists and the turns: R&B, electro-dance music, country music, finger picking, art rock, rap, harmonica solo, snips of pop references like Prince, Michael Jackson, ABBA, David Bowie, and Led Zeppelin riddled here and there.
They ended the show with an epic version of Where's It's At – a song about two turntables and a microphone (seriously, that's basically the whole story) performed without turntables. Great song. Lasted 15 minutes.
Throughout the show, a squad of back-up singers provided harmonies on Beck's distinctive quirky melodies, making the songs sound at times like Simon and Garfunkel or Crosby Stills Nash and Young – if all of those guys wound up playing in an alternative rock band together, say. Beck had a lot of talented people on stage. Drummer Chris Coleman was particularly amazing.
Drawing from soul music, the great pop music of the 1960s, and his own quirky Los Angeles style, Beck is a surreal soulman with alternative rock tendencies; he's a poet who writes lyrics straight out of Alice in Wonderland, in short, nonsense; he's a heavy metal guitarist; he's a folkie, he's a rapper, he's a showman. That he can hold it all together and make it sound like the same guy is one of the coolest tricks ever pulled in rock 'n' roll.
It's worth mentioning the extremely weird but highly entertaining opening act, Edmonton's own McRorie, perhaps to help illuminate the headliner's personality – this act obviously selected carefully to support the local scene, but also to give the crowd an "interesting" experience. And it was: McRorie is the ultimate one-man band, decked out like a kilted cyborg wired with electronic sensors on all his appendages to trigger digital samples of every standard rock band instrument, using no tracking or looping whatsoever. Plus singing. He sounds like the whole band.
McRorie's been doing this schtick at least since the mid-1990s, perfecting his rig over the years. He's been away from his hometown for a while (in Vancouver, presumably, or maybe on cruise ships), and brought a lot of local love to the room in an uncanny classic rock and ol' school rap experience. Very unexpected.
Is he a Fringe act or a Gong Show contestant? Beck obviously gets a kick out of him.
Make of that what you will.