MUSIC PREVIEW: Die Antwoord heel vreemd!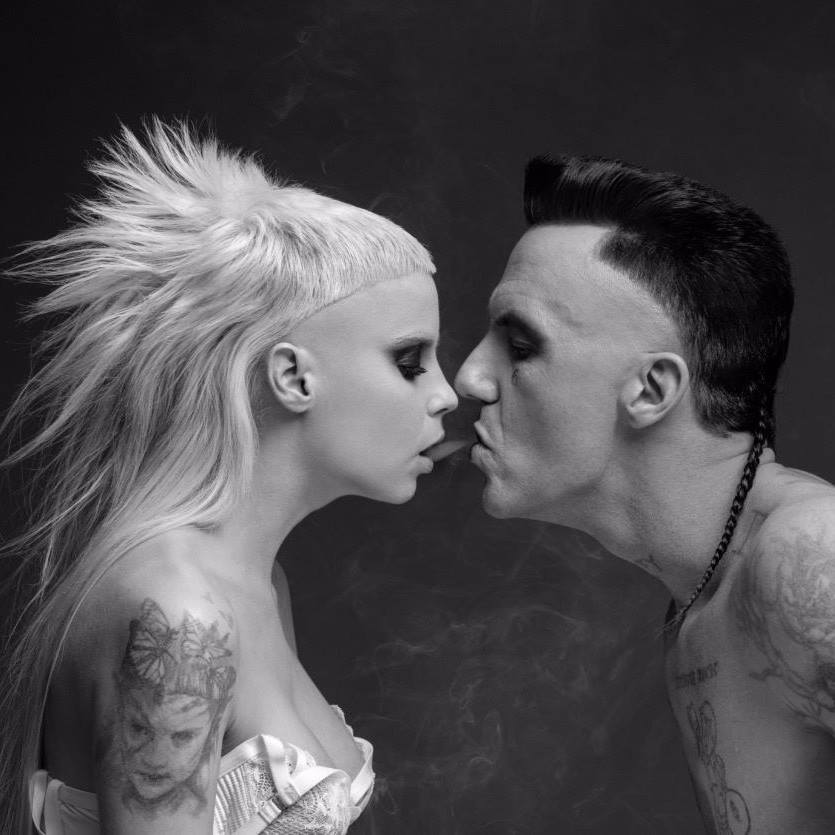 Now that the showman of showmen Beck has departed the city, there's a bit of a let-up in the gig schedule for the weekend as the city steels itself for its next big show, next Wednesday's Guns N' Roses gig at Commonwealth Stadium. Tickets still available.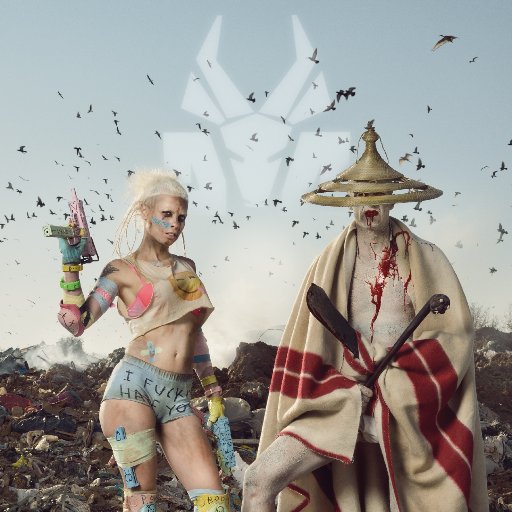 There are a handful of interesting gigs around our fair city in the near future, and of most particular note is Die Antwoord, who play next Tuesday at the Shaw Conference Centre. The alternative hip hop act from South Africa focuses on rappers Ninja and Yolandi Visser, as well as the producer named God, and have fans in every corner of the globe, an almost cult-like following in many instances. Their eclectic sound and strange subject matter has probably driven the interest, and the question they often get asked is if they're some sort of strange joke or hoax. They're that bizarre.
Die Antwoord ("The Answer") is no joke, of course, and continue to become more popular with every album they put out, and with every tour they go on. They currently have four albums to their credit, and their fifth, to be released this fall and called The Book Of Zef, has already been denoted as their final release, as the band plans to disband immediately afterwards. So this is somewhat of a farewell tour as well – a sad farewell, for sure. But most farewells are, aren't they.
Show at 7 pm, tickets $49.50, BUY).
Thursday 24
The Royal Foundry – A love story turned into a band, husband and wife Jared Salte and Bethany Schumacher started this project not long after getting married in 2013. They've reveled in it since, and it's becoming a breathing, living, and loving force in the local music scene, ethereal music of grounded in what they call electro-alt-pop. They'll be joined by Two Bears North, a delicious indie-pop-folk ensemble that includes the incredible duo of bassist Melissa Walker and guitarist-vocalist Sophie Heppell, and alt-pop act Upper Lakes. Needle Vinyl Tavern, 8 pm, SOLD OUT.
READ Interview with The Royal Foundry
Friday 25
Edmonton Blues Festival – Friday's headliners in Hawrelak Park are being billed as the "3 Generations of the Blues", and features heavyweights like Billy Boy Arnold, Bob Corritore, Oscar Wilson and Billy Flynn, and Big Jon Atkinson coming together to form a defacto supergroup. Corritore, one of the engineers of the ensemble, is a well-known Chicago harmonicist, songwriter, and record producer. His first recorded work was released in 1999, and he has a dozen releases to his credit at this time, including this year's Ain't Nothing You Can Do with John Primer. Victor Wainright and the Wildroots, Albert Cummings, and Debra Power are also on the bill for the night, which gets underway at 5 pm. Weekend passes start at $109, Friday passes are $55.  More details on the festival website.
Saturday 26
Edmonton Blues Festival – Saturday features a couple of well-known acts, with James Harman taking the later slot, and the 24th Street Wailers performing in the early evening. Harman, a Detroit native, is also a well-recognized harmonica player, singer, and songwriter, and has been releasing music since 1983 under his own name. He's also played with such legends as John Lee Hooker, Muddy Waters, B.B. King, and T-Bone Walker. The 24th Street Wailers, nominated for a Juno in 2014, are led by Lindsay Beaver, who both sings and plays drums like few others can. Also performing on this day, which gets underway at 2pm, are the Kenny "Blues Boss" Wayne Band, and E.G. Knight. More details on the festival website.
Edmonton Noisefest 2017 – A veritable potpourri of insanely awesome local and touring bands make up this festival, which gets underway at 5 pm at the Ortona Armoury. Notable acts include An Ant And An Atom (Lethbridge), Heavy Beak, Moisture Discipline (BC), Molena (BC), SkruntSkrunt, SWILL, Sporehive (Denver), and Blipvert, a New York composer known for his uber-experimental sounds that range from nightmarish to Middle Eastern horns to Taiko drums. This is always an intriguing and thought-provoking day of music that's sure to wow all in attendance. $10 for the full day, $15 if you arrive after 8 pm.
Wise Child – This Victoria indie-pop project released their debut EP in October 2016, and have continued to release new music since then, getting ready to record their first full-length this fall. With Bedside, The Den, and Hewson Grey. Needle Vinyl Tavern, 8 pm, $5. BUY
Feminal Fluids – This local band throws down a set of modern political protopunk like nobody else you've seen in quite a while. Always worth a drive downtown on the weekend. Sugarwash, Ripperhead AB, and Lifelikefire also perform. Bohemia, 9 pm, $10.
Sunday 27
Edmonton Blues Festival – The final day's musical offerings also get underway at 2 pm, and includes local acts Jenie Thai and Boogie Patrol. Later in the day features the Colin Linden Trio, and then closing the festival is the legendary Fabulous Thunderbirds with Kim Wilson, getting their start in Austin, Texas, and by now typifying that city's blues scene. The band has gone through innumerable other lineup changes over the years, though their original guitarist, Jimmie Vaughan, is Stevie Ray's older brother. Yes, that Stevie Ray. The band is probably best known for their 1986 single Tuff Enuff, They have over a dozen records themselves, and that doesn't even include ten compilation albums and two live releases. More details on the festival website.
Monday 28
Spacebutt – This dark and weird indie band out of Winnipeg is, well, weird. And dark. And a whole pile of awesomeness. And weird. Did we mention weird? Theme of the day. Their citymates Pout are also on the bill, as are Prince Bunny and The Greys. Sewing Machine Factory, 8 pm, $10.