3 Fringe plays about SEX and RELIGION
Sex, Religion, and other Hang-Ups
By Gangland Productions, Los Angeles, Venue 5 (King Edward Elementary School)
Which three subjects pique everyone's interest in a conversation? Sex, religion, and politics – but let's not open the political can of worms right now, and stick with sex and religion. These two opposing forces seem to infiltrate most aspects of our daily lives. Take for example the billboard for the Seventh Day Adventist Church, right in front of Eden Exotic Lounge. One simply can't exist without the other, a proverbial Yin and Yang.
There's lots of both at the Edmonton Fringe – sometimes in the same play.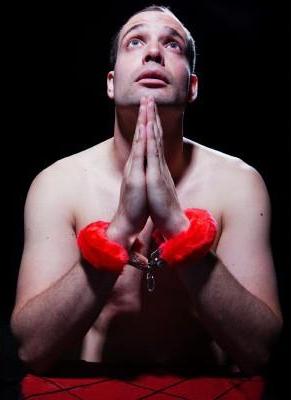 In James Gangl's Sex, Religion, and other Hang-Ups, the performer explores his many neuroses by recounting a rather life-changing six month period in his young life. It's a story of love, lust, youthful naiveté, and fear. Noted for other shows that include In Search of Cruise Control, and Pig, Gangl delivers an animated performance that details a comedic Freudian conflict unfolding before your eyes. He draws you into his inner life through articulate dialogue, uncensored honesty, and a side-splitting sense of humour.
This is an honest and relateable comedic one-man monologue that's one of the must-see shows at the Fringe this year.
5 out of 5
Mormonic! A Latter Day Musical
By Mor'mons Mor' Problems Productions, Edmonton, Venue 21 (El Cortez)
Come one, come all to Mormonic! A Latter Day Musical – you'll even get cookies! Your dedicated and enthusiastic hostesses Sister Pratt and Sister Olsen will welcome you with open arms.
If you missed The Book of Mormon, then fear not, for this is the next best thing. The bubbly and eager Sister Pratt (Amanda Newfeld), along with her partner, the repressed and whimsical Sister Olsen (Jaimi Reese), takes the audience by storm with their impressive vocals and Broadway choreography. The show is deliciously hilarious, delightfully controversial; it's full of laughs, awkward glances, cries for help, and someone even comes out of the closet. It's a brilliant mockery of every lame and cheesy school presentation you ever had to sit through as a kid, and you get to watch it all fall apart at the seams.
All you need is a clean soul, a pair of special underwear, and a cabinet full of well-sealed saltine crackers; so come on down and drink the Kool-Aid.
4 out of 5
So I Was at a Threesome Last Week
By Sons of Tremendous, Spruce Grove, Venue 21 (El Cortez)
Rivaling an inebriated conversation with your best friend over a few drinks, So I Was at a Threesome Last Week is a hilariously crude yet oddly heartwarming tale of one night at a club between two friends.
Performers Dion Arnold and Alex Sparling vividly convey a memorable tale in stark honesty. They begin the show by rocking out to Sum 41, so from the start you know it's part comedy, part rock 'n' roll. You can't help but feel you've known them for years as they share every juicy detail of their sexual experiences, from losing their virginity to the renowned night of the threesome.
The two satirically rag on one another in a true feat of "bro love" – hilarious, a bit vulgar, outrageous, but commendable. It takes a lot of courage to be so honest on stage: Arnold and Sparling shed their inhibitions, and even their clothes, in story you won't soon forget.
4 out of 5