MUSIC PREVIEW: Lionel Richie king of soft soul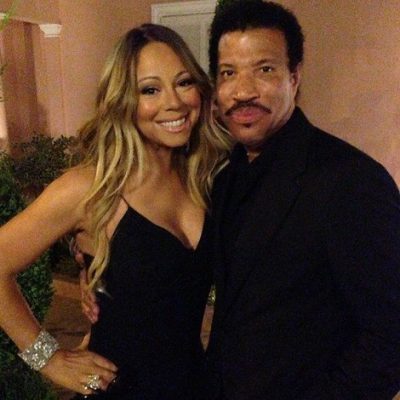 If you think it should be Lionel Richie opening for Mariah Carey at Rogers Place on Friday night instead the other way around, all you have to do is go to the scoreboard.
Before Mariah was ever born, Richie had paid his dues as a member of the 1960s soul band The Commodores, known for such funky hits as Brick House and the somewhat softer Three Times a Lady – a harbinger of easy listening soul songs to come. After going solo in 1981, Richie racked up a string of hits from Endless Love to All Night Long – sensing a theme – along with the insipidly catchy Say You, Say Me whose line "I had a dream, I had an awesome dream" has itself become a pop culture reference. He is responsible for the first proper "hello" song, called Hello? Not to be confused with Hello, Hello or that new Hello song. Don't forget Dancing on the Ceiling and more in a steady output – and all of this came well before Mariah Carey had her first hit in 1990.
But when she did, she sure did it big: At least five No. 1s in a row right out the gate (songs once again on the subject of love; they might be onto something here) and a rocket ride to superstardom. It must've helped that she was married to the president of her own record label, Sony Music's Tommy Mottola, but the fact remains that Carey is a remarkable singer who has an ear for hits. That awkward incident at the 2016 New Year's Ever show where something went wrong with the tracks (they all use tracks, get over it) showed that she is a seasoned professional. Stupid tracks. Just once, these pop divas should trust the talents that got them to the top in the first place and dispense with the smoke and mirrors. Just once!
Anyway, obviously these two superstars from two different generations have been packaged together to bank on a healthy cross-over audience to fill arenas when it's questionable they could've done it by themselves – with all due respect.
Advance tickets from $25 still available for the 7 pm show.
Friday Sept 1
Goldtop – This is the last day for the "Fridays at the Legislature" noon hour concert series, and it features this genre-busting Edmonton duo of Everett LaRoi (former Idyl Tea) and partner Alice Kos. Noon, free admission
New Haunts – With a dark, compelling, and almost, what's the word … haunting sound, this local progressive rock band celebrates the release of its debut CD with a show at the Mercury Room. Jesse and the Dandelions opens at 8 pm, tickets $10 advance
Bring Us Your Dead – Do you remember the complaining a while back that we were losing all our venues for live original musical? Neither do we. Here's another place that just opened up: Industry House, at 5951 103A Street. It's actually a private club, like the Starlite Room, not a big deal getting in. From the looks of their grand opening with this local death metal band, plus Corvis the Crow and more, this could be a metal room. You can never have enough metal. Tickets $10 advance, $15 at the door.
Andrea Nixon – And you can never have enough female country singers. Bro stars, not so much, country sweethearts, yes. This area singer-songwriter evokes the spirit of Loretta Lynn and Patsy Cline on Albertan music that speaks from the heart, and from experience. Her new CD is called Diary of a Housewife. Release show matinee at 2 pm at the Needle Vinyl Tavern, NO COVER
Sunday 3
Midnight Oil – Shaw Conference Centre, CANCELLED
Valyria – Another metal show before we all have to go back to school is headlined by what is said to be a "progressive death" metal band – which might seem a contradiction of terms – for the "Long Weekend Massacre" at the Mercury Room. Also on the bill will be Torrefy from B.C. and Hell Hounds from Saskatchewan. Real West-Can metal here. Show at 8 pm, advance tickets $12
Tuesday 5
Against Me! – Fun fact: The debut album from this Florida punk band was called Reinventing Axl Rose – and GN'R was just in Edmonton! Coincidence? Yes. Against Me! singer Laura Jane Grace, born male, has addressed her transgendered journey on albums like Transgender Dysphoria Blues and the latest record, Shape Shift with Me. Bleached and The Dirty Nil open the show at the Union Hall. Doors at 7 pm, advance tickets from $27.50.