REVIEW: Guns N' Roses best cover band ever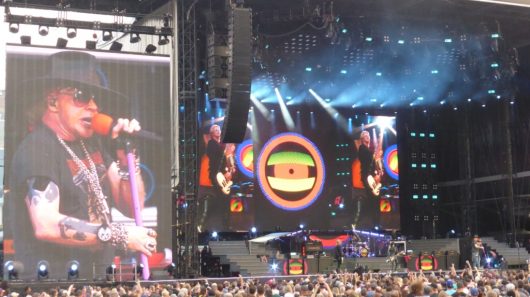 Here's a sign you may be about to see a good concert – when the band rehearses in your town the day before the show. What an honour.
People living in the Commonwealth Stadium area were reportedly treated to the echoing din of Guns N' Roses running through Glen Campbell and James Brown tunes on Tuesday. Went on for hours.
It's that extra effort that counts. It shows they're real musicians. These guys obviously want to make the show special for their audience – and for themselves.
On Wednesday night for the proper stadium crowd of 30,000 or so, Guns N' Roses did indeed do Glen Campbell. Axl Rose warned the crowd, "This is something we've never done before," before the band launched into a respectful rendition of Wichita Lineman. Surprise! It wasn't too bad, either. It sounded like – words fail me – Axl Rose singing Glen Campbell. The band hasn't quite staked a claim on it like they have with Bob Dylan's Knockin' On Heaven's Door – which came later in the show. But give it time.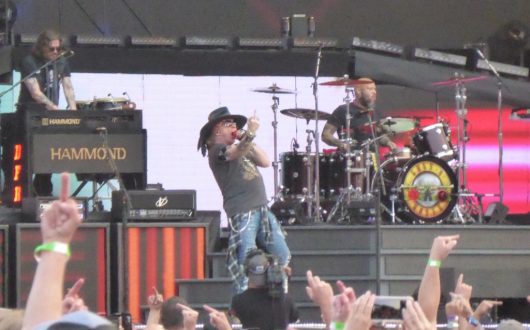 They also did James Brown's I Feel Good – plus Soundgarden, The Who, Pink Floyd, AC/DC, Live and Let Die by Paul McCartney and Wings and the theme from The Godfather. Beyond anything else, Guns N' Roses is the world's greatest cover band. Even their own classic hits sounded like beautifully-performed cover tunes that they somehow made their own. Weird. And there was plenty of time to do all the hits, too – from Sweet Child o' Mine to the closer with fireworks, Paradise City, plus obscure material, some songs stretching more than 10 minutes, solos included. The show was more than three hours long. You had to make sure you didn't "peak too early," as they say.
After a set from the opening act Our Lady Peace, the introduction was funny: "You wanted the best? You got the best – but KISS couldn't be here …" The third song was Welcome to the Jungle and the marathon was on.
The band went at it leisurely, honestly, with little artifice or pretension. The apparently temperamental Axl Rose is a true artist in the realm of rock 'n' roll frontage – his gift of being able to scream perfectly in tune intact after all these years, even if his lower range is a bit weak. He is the Pavarotti of Sunset Strip. Decked out in a succession of natty jackets and mad hats, he prowled around the stage, cocked his head, looked slyly into the audience as he did his thing: The Axl thing, that distinctive vocal timbre and you know exactly who it is. His high notes were thrilling. He didn't say much. No maudlin speeches about the late Glen Campbell, thank the Lord.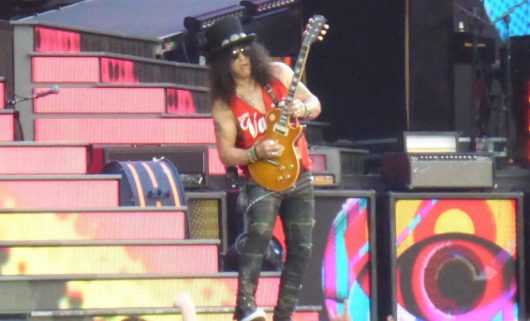 Of course you can't have Guns without Roses, or is it the other way around? Now it's a true reunion. More or less. Enter the indispensable wingman Slash – a force of nature on guitar, and still maintaining the brand of the top-hatted fashion Wookie in a look imitated by many audience members.
You get the feeling Slash lives for guitar. Plays it in his sleep. He uncorked many epic solos on all manner of styles, modes and guitars – including the double-necked 12-string combo – commanding the stage with confidence while Axl took breaks to get new hats. Also exuding confidence was the dependable Duff McKagan on bass, in a solid rhythm section driven by the killer hired gun drummer Frank Ferrer. Giving Slash a run for his money in the skills department was guitarist Richard Fortus. He displayed stellar playing when he got his turn in the spotlight. Keyboardist Dizzy Reed and keyboardist-back-up singer Melissa Reese rounded out a full sound. Real musicians. Does it need to be mentioned that there wasn't any tracking at this show? There wasn't any tracking at this show. That was Axl pounding his own piano in November Rain.
Yes, it was a long haul. Exhausting. Not all of it was great. But at least it was real.