MUSIC PREVIEW: Say Yes to Yes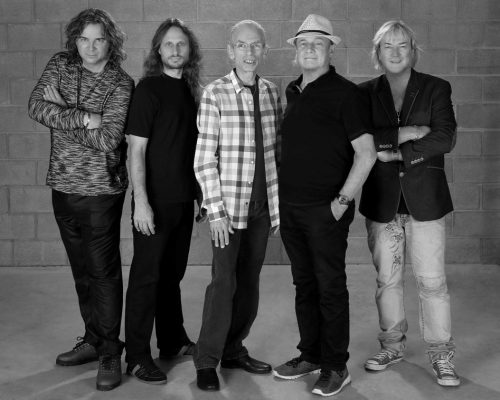 Eight members of the progressive rock band Yes were inducted into the Rock and Roll Hall Of Fame earlier this year, in what some would argue was the apogee of their historic musical career. Next year will mark the 50th anniversary of the British prog-rock band – yes, 50th – and they're already planning an epic European tour to celebrate.
In the meantime, two of the eight inductees who officially tour as Yes (Steve Howe and Alan White) are doing a North American swing they're calling Yestival, which lands at the Jubilee Auditorium this Thursday. Sept. 7. Todd Rundgren is opening.
This tour focuses on at least one song from their albums Yes (their first release, from 1969) through Drama (1980), and includes a second drummer, Steve Howe's son Dylan. Howe, of course, is the elder statesman of the band, having been around off and on since its formation; Alan White is the second longest serving member (he joined in 1972); the newest is lead vocalist Jon Davison (2012) and multi-instrumentalist Billy Sherwood (who came in after original bassist Chris Squire died in 2015).
The band now has 21 studio albums to their credit, 13 live albums, and over 30 compilation albums of one sort or another. For as many albums as they've written, for as many songs, strangely the only one that really struck a chord worldwide is Owner of a Lonely Heart from 1983. Others also did fairly well on the US charts, though, including Roundabout (1973), Love Will Find a Way (1987), Lift Me Up (1991), and The Calling (1994). Yes released a new album, with Davison on vocals, called Heaven & Earth in 2014.
Tickets to the 7:30 pm show are $45 and up, BUY.
Thursday 7
Simple Plan – This Montreal pop-punk act is currently criss-crossing the continent celebrating the 15th anniversary of their album No Pads No Helmets … Just Balls, and will be playing the album from front to back during the show. Like all the other bands that have tried this gimmick by now, one would expect that after that they'd play some of their other hits from over the years, such as from last year's most recent release, Taking One For the Team. Union Hall, 7 pm, $45, BUY
Sudden Love – This progressive indie trio from Edmonton dropped an EP in the summer that didn't get too much attention at the time, but now that the fall music season is ramping up, it's definitely starting to. With Temporalysis and Sound Bodacious. Mercury Room, 8 pm, $10, BUY
Friday 8
Oh Wonder – This British alt-pop duo has been riding a surge of buzz over the past couple of years, and are definitely a must see act if you're at all into their blend of alternative synth-pop loveliness. Winspear Centre, 8 pm, $28, BUY
Faith Healer – This extraordinary duo, led by the spectacularly-talented Jessica Jalbert, drops their sophomore release Try with almost as much fanfare as their opener Cosmic Troubles, and have already gotten extremely good buzz on some of the biggest music blogs in North America for this album as well. 9910, 9 pm, $15.
Saturday 9
Econoline Crush – This Vancouver band, formed in 1992, was a pioneer in using electronics in hard rock, and has released four albums over the years, their most recent being 2008's Ignite. Certainly, though, it was their platinum-selling album The Devil You Know which endeared them to many, with four singles that charted both north and south of the border – Home, All That You Are (x3), Sparkle & Shine, and Surefire (Never Enough). With Ten Cent Lift and Crash To Eden. The Forge, 8 pm, $18. BUY
CRNKSHFT – These frenzied hard rockers out of Vancouver are touring to support their recent eponymous and pseudo-political EP, produced by Daren Grahn (Metallica, Hedley, Motley Crue, Bon Jovi), and recently opened for Finnish metal act Lordi. According to vocalist Shane Jolie, "My writing is dark, ideas came from depression and anger, sometimes when I'm happy, but mostly not and it's still very true to this day." Rendezvous Pub, 8 pm, tickets $12
Freddie Mercury Birthday Celebration – One of only eighty parties sanctioned by Queen for this event, with entertainment courtesy of Tiff Hall on piano and DJ Thomas Culture. Admission is free but there is a suggested donation of $10, with all proceeds going to the Mercury Phoenix Trust to battle HIV/AIDS around the world. Have Mercy, 9 pm.
Wednesday 13
Run Coyote – Exactly one week after the release of their newest single, Young Canadians, this alternative spaghetti-western quartet from Toronto plays a free 5:30 pm happy hour show at the Needle Vinyl Tavern. (The band will also be part of a bill at the Sewing Machine Factory on the 19th.)