MUSIC PREVIEW: Kaleido scope astounding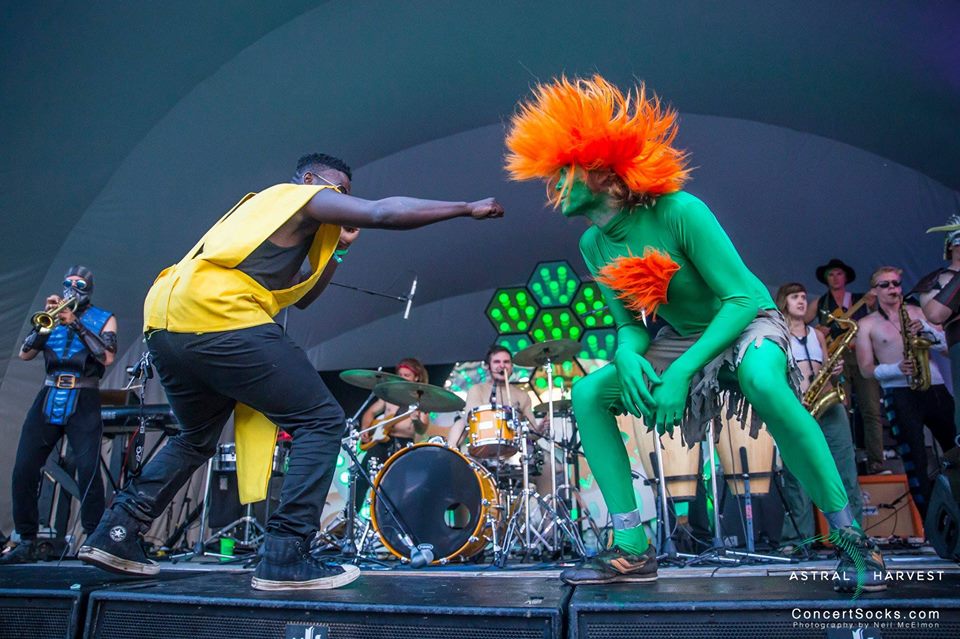 What the Fringe is for theatre, the Kaleido Family Arts Festival is for the Edmonton music scene.
For there's a blithering bonanza of live music descending on the Alberta Avenue community this weekend. A not-so-quick count reveals more than 180 different gigs in almost every genre in 14 different venues, indoors and out, alleyways, patios, rooftops, parks, sidewalks. As if that weren't enough, 15 area homeowners are also hosting "front porch parties," like house parties except they're outside. Plus there's belly dancing. And puppets. And belly dancing puppets. Not sure about that.
Build your own festival, pick your own highlights.
You can start with the Avenue Central Stage (118 Avenue and 92 Street), where on Friday at 10 pm is the award-winning folkin' bluesmen duo of Eric Bibb and Michael Jerome Brown, names that should be familiar to folk fest fans. Bibb will also be hosting a blues jam Saturday at 12:30 pm. On the same stage Saturday evening – after the CKUA Ukulele Choir and the Metis fidders but before the Quebec circus performers – is a wild 10-piece band that seems to live up to its name: Klusterfunk (above).
Inside the rather quieter Carrot Community Coffeehouse, meanwhile, is a showcase of local singer-songwriterly talent – although you really can't call it a "showcase" if all the acts are being paid. They include F&M at 1 pm Saturday, and Sister Ray on Sunday at 5 pm.
Elsewhere we find artists like Rellik, the award-winning aboriginal rapper who performs Sunday at 4:30 pm at the Rhythm Speaks Hip Hop Stage (118 Avenue & 90 Street), along with Kaleido's resident DJ, DJ Dice. Or maybe you like jazz? In a packed schedule, the Rule of Thirds will play – busk – a set at 4:15 pm Saturday in "Jazz Alley" (between 93 and 94 Streets, South of 118 Avenue). Or what about opera? Mercury Opera's tenor Boris Derow will sing Sunday at 12:45 pm from the balcony of the Paraiso tropical food market (9136 – 118 Avenue).
Best deal of all: Everything except for the food is free. Donations are accepted, especially for the buskers.
Thursday 14
Mad Caddies – It's a special(s) sort of madness kinda night with this venerable ska-punk (not called skunk) band from California holding court, horns and all, at the Needle Vinyl Tavern. Opening the show will be Fire Next Time, Julius Sumner Miller and our old friends Klusterfunk. 8 pm, advance tickets $30
Saturday 16
Blair "We Care" with Russell deCarle – If you've seen a rock show in Edmonton in the last 40 years, chances are that Blair McEwen has been there behind the scenes making sure it all goes well. A dedicated professional and beloved friend of the Edmonton music scene, the 60-year-old concert production tech suffered a stroke in November of 2016. This benefit show at the Newcastle Pub brings together friends and supporters to raise money to help his family with his ongoing care. Headlining is Russell deCarle, formerly of the Canadian country band Prairie Oyster, who if they're the Mavericks of Canada makes Russell our Raul Malo. Smooth traditional sound. Also on the bill is the Stephanie Harpe Band and Blair's old friend and fellow Maritimer Bobby Cameron. 8 pm. Tickets and donations at the door.
Women Who Rock Showcase – Nuela Charles, whose song Crumbling Down can be heard on the radio, hosts this afternoon of up-and-coming local female artists, including Two Bears North, Lindsey Walker and High Love. Yellowhead Brewery, 1-3 pm, no cover
Royal Tusk – There's another festival happening that you might not have known about: EPCOR's Riverfest with various activities at Whitemud Park throughout the weekend, culminating in a Centre Stage gig near the Equine Centre featuring the local fivesome Royal Tusk, one of the Canada's superior "royal" bands getting ready to release a new album, on the heels of their pop radio hit Shadow of Love. Also on the bill is Alex Vissia and Flying Canoe. Admission is free.
Sunday 17
The Cave Singers – From the ashes of … (oops, that phrase is trademarked by VH1's Behind the Music) … from the remains of the defunct Seattle band Pretty Girls Make Graves comes an awesome outfit that defies genre as it brims with the soul and the pain of the human condition. Deep, compelling cuts all around. Chris Cheveyo opens the show at the Starlite Room. 8 pm, tickets $23 advance
Ryan McMahon – This mellow B.C. singer-songwriter, member of the group The Lion The Bear The Fox – one of the superior Canadian animal bands – got one of his songs on the soundtrack of the SHOWTIME series Californication (the Red Hot Chili Peppers sued over that one). Show at 7 pm at the Almanac, tickets $15 advance
Monday 18
Rise Against – These hardcore heroes in name, action and music represent the perfect punk ethos: Whatever it is, they're against it. Actually any number of words could be used to fill in the blank: Rise Against … injustice, racism, corporate greed, Trump, tame your enemy. The Chicago band has stuck to its guns, as it were, since 1999. They're touring on the back of their new album, Wolves. Opening will be Pierce the Veil and White Lung. 6:30 pm, Shaw Conference Centre, advance tickets $62.