MUSIC PREVIEW: Peak Coldplay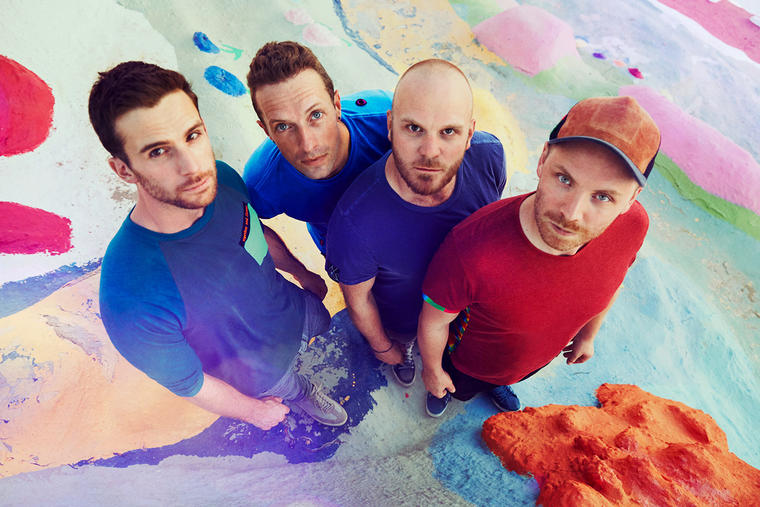 This weekend features a lot of awesome talent playing our local music venues, but let's face it, most music fans are holding their breath and waiting in anticipation for the arrival of Coldplay next week for a pair of shows – Tuesday and Wednesday at Rogers Place.
Ever since their start in the mid-1990s, the British band has been all over the charts across almost every corner of the globe, and have won pretty much every major music award possible. Their big step into super-stardom came in 2000 with the single Yellow, but within two years they released two other hit singles – In My Place, and Clocks. Then everything clicked with the release of their 2005 full-length X & Y, which included singles Speed Of Sound, Fix You, and Talk, and the rest, as they say, is history.
Earlier this summer they released their thirteenth EP, Kaleidoscope, which is meant to serve as a companion piece to their 2015 full-length A Head Full Of Dreams. Between the two, four more hit singles were spawned – Adventure Of A Lifetime, Hymn For the Weekend, Everglow, and Something Just Like This (a collaboration with The Chainsmokers). They have a catalog large enough to not play any repeat songs – if they chose – over an entire tour swing.
Frontman Chris Martin is probably more recognizable than most sports stars, even locally. There's undoubtedly a lot of fans in the city who will see both shows, and will just as undoubtedly rank it as the peak of their entertainment year.
And while there's certainly no sign or talk of Coldplay ever dissolving or splitting up, one has to wonder where it ends. Martin could undoubtedly write amazing hit singles for as long he's alive. But will he tire of all this? What more is there to accomplish? One could wonder. Sales for the last two albums were down pretty dramatically from Mylo Xyloto, though many also felt that Ghost Stories was perhaps some of Martin's best writing ever. And both albums still sold over four million units worldwide, which by any other metrics is a lot.
The Swedish singer Tove Lo and electronic-dance artist Alina Baraz will open the shows at 7 pm. Tuesday is sold out (except for re-sellers), tickets from $69.50 still available for Wednesday, BUY.
Thursday 21
The Velveteins – This local act is one of our better known products of the last few years, and is led by Spencer Morphy, who formed the band after traipsing around Australia in 2014, wrapping it around the indie-slack rock genres. The band released their newest album Slow Wave earlier this year, courtesy of UK's Fierce Panda Records. Now old hats at touring not only across our fair continent but across the pond in Europe, their gig is sure to please their hometown fans with a bevy of new and old material. With Borscht and Perpetuals. Needle Vinyl Tavern, 8 pm. BUY
Marissa Karpiak – This local singer-songwriter focuses on storytelling, and of captivating the audience and taking them on an other-worldly journey to a unique, colorful world. Good Nature and Jess Smith are also on the bill. Mercury Room, 8 pm, $10. BUY
Friday 22
Amy Helm – The New Moon Folk Club gets their ambitious season underway with this expressive singer-songwriter who hails from Woodstock. Yep, that Woodstock. She's also the daughter of The Band's drummer Levon Helm. Yep, that Levon Helm. Quite the pedigree, and her immense talent takes it even one step further. She released her debut album Didn't It Rain, in 2015. St Basil's Cultural Centre (10819 71 Ave.), 7:30 pm, $25, BUY
Wake – Listing one of their primary influences as W.A.S.P, this aggressive grindcore act out of Calgary has been plying their trade for some time, with their debut EP dating back to 2010. Their most recent full-length, Sowing the Seeds Of A Worthless Tomorrow, was released last year after being recorded in Portland's Falcon Studios. Death-black metal act Begrime Exemious and the ever-so-punk Paroxysm open. Starlite Room – Lower Hall (Brixx), 8 pm, $10 advance, BUY
Saturday 23
Drone Service II featuring Cindy Lee – This will undoubtedly be a show to write home about, a show to remember. Guitarist-singer Patrick Flegel (nee Women, Androgynous Mind) has put together an experimental no wave-experimental pop project called Cindy Lee, a project that's been mentioned in such luminary circles as Gorilla vs Bear. Add in some of the city's best acts that rally about the same circle, such as Wares, Pyramid//Indigo, and Clunker, and put the show on in an acoustically perfect venue, and you have what promises to be the show of shows. St. Faith's Anglican Church (11725 93 Street), 7 pm, $15, BUY
Elliott Brood – This Toronto trio lies somewhere in the valley that intersects folk, bluegrass, and alt-country. Their instrumentation includes the traditional guitar, bass, and drum, of course, but also dabbles into the ukulele, harmonica, and even at times a kazoo. It's impossible to see their live show and not have one of the best times of your year. Impossible. A raucous, foot-stomping, screaming good time. Needle Vinyl Tavern, 8 pm, $26. BUY
Yawning Man – This stoner-psych rock project out of La Quinta, California, originally formed back in the 1980s, though never released any studio material until 2005. In fact, a sub-genre called "Desert Rock" actually originated with them. Guitarist Gary Arce and bassist Mario Lalli have been with the band since the start, with latecomers Bill Stinson and Justine Ruiz joining them more recently. They are touring to support their own most recent release, 2016's Historical Graffiti. Also on the bill are Alex Perez & the Rising Tide. Starlite Room – Lower Hall (Brixx), 8 pm, $12. BUY