Shakespeare in Love a hit! A most palpable hit!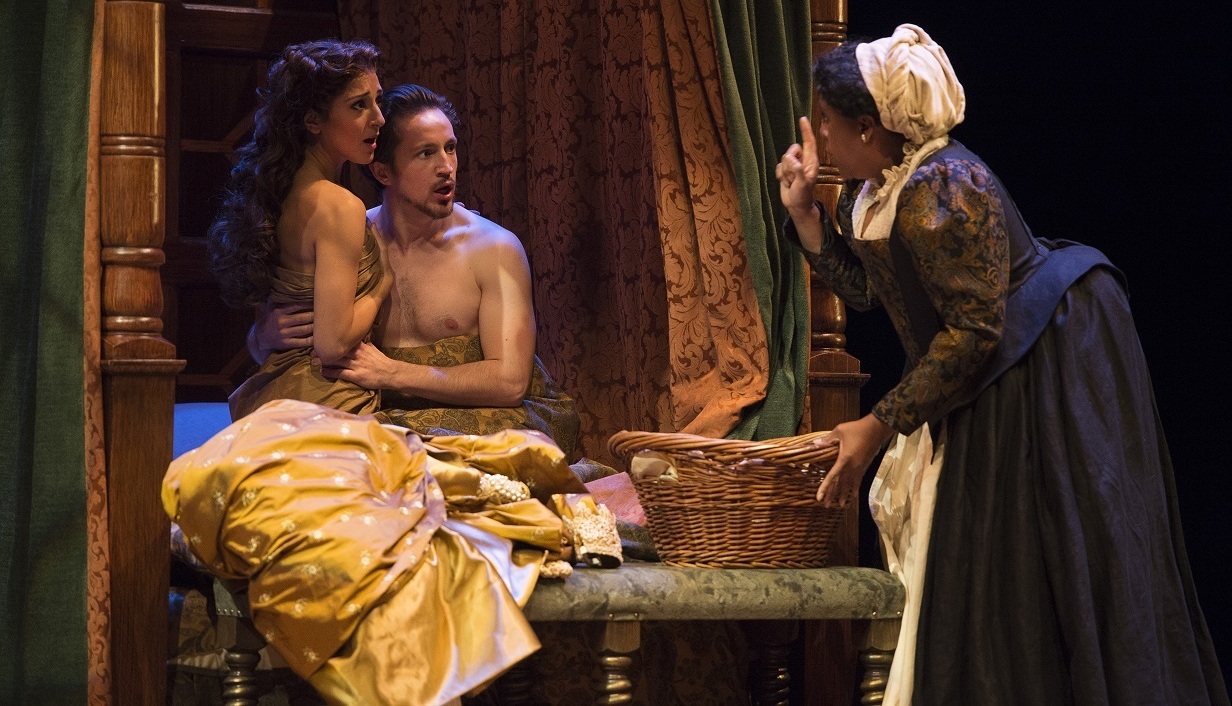 Despite its origins as an Oscar-winning movie, the stage version of Shakespeare in Love is a smart love story as well as a witty love letter to the collaborative nature of theatre.
At the Citadel Theatre through Oct. 8, it's set in the dynamic, productive theatre scene of Elizabethan London. Even the Queen is a patron. Producers are vying for new works, playwrights are valued (if not overpaid), actors are in demand, mighty egos have to be stoked, re-writes are feverishly undertaken with deadlines looming.
This play tells us that, apparently, after 500 years, the problems of theatre are much the same.
The dialogue is grand faux Shakespearean. Tom Stoppard (along with Marc Norman) won the Oscar for best screenplay in 1998 (Lee Hall is credited with the stage adaptation), but much of the best dialogue is gleefully lifted from the movie. As Roger Ebert described the film, "Masterpiece Theatre meets Mel Brooks." A mounting of the play in Stratford in 2016 was a sell-out.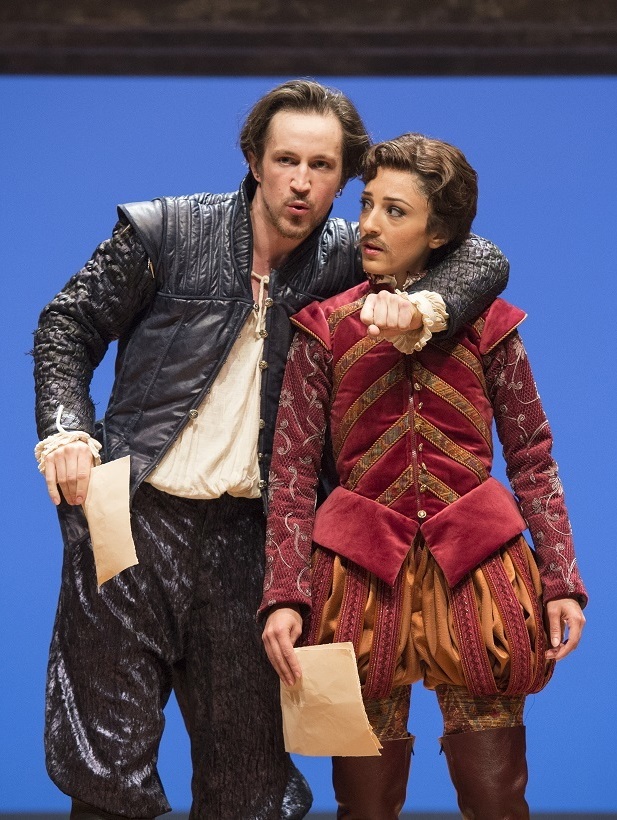 This handsome production, helmed by Citadel Artistic Director Daryl Cloran with the assistance of the impressive mock Elizabethan set and some gorgeous costumes from Cory Sincennes, ably recreates the times. The large cast of 20 swirls about the stage, giving us a living snapshot that includes ladies of the night, torturers, juicy court intrigues, mendacious theatre producers – the creative soup that gave us the Bard.
Much of the fun comes from recognizable Shakespearean quotes that keep zipping by. A wayward dog named Spot appears unwanted on stage – and the cry is, "Out! Out! Damned Spot!" When Shakespeare announces his next play is set in Italy, eyes roll with the comment, "Verona again."
The central story could be something of a manufactured cliché, but in Cloran's able hands, delivered by a dextrous and flexible cast, the heart at the centre of the drama is never lost. Young Will Shakespeare (played by Andrew Chown) is a handsome chap. And as one theatre manager presciently observes, "He has great potential." But the poor sod is suffering from a bad case of writer's block. His new play, tentatively titled Romeo and Ethel, The Pirate's Daughter, isn't ready yet and he's promised it to two companies. He meets an equally dashing young actor and is strangely attracted to him. Later, Shakespeare discovers he is a she: Viola de Lesseps (Bahareh Yaraghi). She wants to be an actor – a profession from which young ladies are barred in Elizabethan theatre.
"Oh, brave new world!" Shakespeare exclaims upon discovering the real gender of his object of desire. Love and sex follow in close order, young Will's blockage quickly thaws and the enduring Romeo and Juliet is launched.
"A hit! A most palpable hit!" cheers a voice.
Andrew Chown and Bahareh Yaraghi are two high-spirited performers who bring a winsome youth and passion to their roles, and generate enough erotic heat to start the Great Fire of London 70 odd years before its time.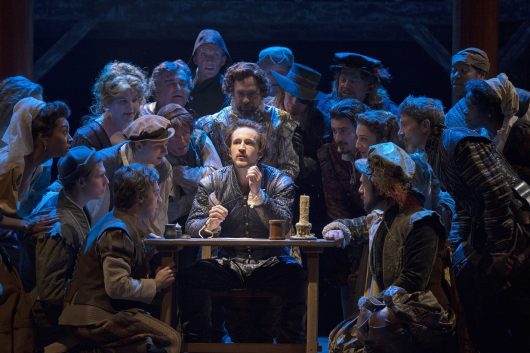 The rest of the cast is chosen from all over the country in this co-production with the Royal Manitoba Theatre Centre – many from what has become the Citadel's stock company. Ashley Wright is droll as the grasping financial backer Fennyman, who discovers and then falls in love with the theatre. John Ullyatt is a scene-stealer as Tilney, the fatuous and disapproving Lord Chamberlain (the official censor – it's one of several roles the actor inhabits). Gabe Grey is a tongue-in-cheek Marlowe as Bill's best friend who supports him through his tough times, and indeed, feeds the Bard many of his best lines. Kevin Klassen is clenched and hissable as Shakespeare's competition for the lovely Viola. Others in the large and talented cast include Patricia Darbasie, Andrew MacDonald-Smith, Garett Ross, Farren Timoteo, Sarah Constible (a most regal and salty Elizabeth) and Robert Benz.
Sound designer Matthew Skopyk fills the theatre with delightful ayres and madrigals and a well chosen list of songs from many Shakespearean plays – all well sung by the cast. Cloran also makes ingenious use of a revolving stage floor that gives us an ever-changing view of the play-within-a-play from both sides of the curtain.
Shakespeare in Love runs well over its advertised 130 minutes (with intermission), but you won't notice – there's not an inch of padding anywhere.
The play soars as a romantic comedy that combines farce and sentiment with just the right bittersweet ending. It's slickly modernized for 2017 while set in 1590. Cloran's debut production at the Citadel unfolds as a witty, sexy and timeless tale of fantasy behind the creation of the greatest love story ever told.