PLAYBILL: Shockers Delight! revives, renews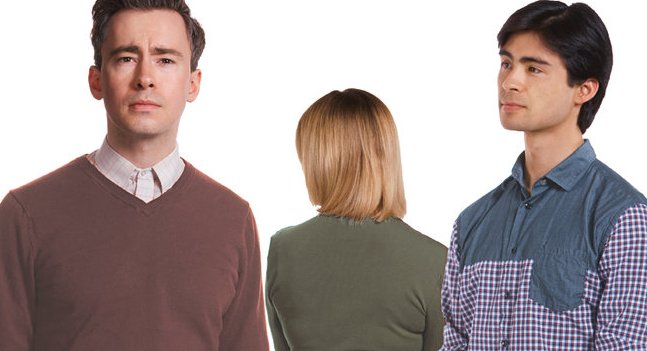 When you've written dozens of plays over 35 years like Stewart Lemoine, you're entitled to a few reruns – but, like Star Trek, occasionally you want to get some fresh faces into the story.
Shocker's Delight! was a hit when it was first produced in 1993, and will now enjoy its third remounting at the Varscona Theatre Sept. 28-Oct. 14 – the season ender for Teatro la Quindicina, which runs its season in capricious calendaric contrariousness to all the other companies, a delightful quirk always worth noting.
This romantic comedy will also mark the Teatro directorial debut of Ron Pederson, perhaps best known for his role on MAD-TV, who starred in the 2004 Shocker's Delight! revival. Obviously some kind of 10-20-30 year cycle at work here. Lemoiniacs can surely look forward to future reprises of Connie in Egypt, The Noon Witch and maybe yet another iteration of Evelyn Strange.
The 2017 production of Shocker's Delight! boasts an entirely new cast: Ben Stevens (who starred in last season's For the Love of Cynthia), along with plus Melanie Piatocha and Richard Lee Hsi making their Teatro debuts – all the roles original written for Teatro stalwarts Julien Arnold, Davina Stewart and Jeff Haslam.
The characters, three old college pals, get to discuss golf, ballroom dancing and 19th Century furniture as they wend their way through the emotional mindfield so familiar in Stewart Lemoine plays.
Play the Fool Festival
The World Clown Association – yes, it's a real thing – has issued a serious statement condemning the movie IT for giving clowns a bad name. No word on any action planned by the WCA … but their lawyer said, "Honk, honk! Beep! SPRITTTTTZ! Nyuk nyuk nyul nyuk!"
All kidding aside, it's sadly true that the fine and noble craft of clowning suffers bad optics, because, let's face it, people are a little leery of clowns to begin with, and movies like IT certainly don't help. Perhaps "foolery" is going to be the new term as the ancient art of clowning falls into the wrong hands – into the hands of the "evil clowns."
Which leads us to Edmonton's annual Clown Festival … properly called the Play the Fool Festival, happening Sept. 28-Oct. 1 at L'Unitheatre in La Cite Francophone. Here you shall see what the true joyous spirit of clown is all about as they use their powers for good, be they commedia dell'arte artistes, bouffons, harlequins, jesters, acrobats or mimes, in a rich variety of shows ranging from suitable for all ages, to not – just as the movie IT gets a 14A in Canada (and an R in the US).
Hey Ladies!
They have been described as "The View with booze," and have quietly – not-so-quietly – spent the last 10 years doing a live late-night, maybe-parody-not-a-parody talk show.
Featuring the veteran comic actors Leona Brausen, Davina Stewart, Cathleen Rootsaert and the honorary Lady Noel Taylor, and let's not make this about gender, Hey Ladies! appears to be seeking to combine three TV genres: Daytime talk shows, game shows, and late-night comedy shows. So you might get some cooking, or you might see a musical guest, perhaps an unexpected hijink – do hijinks come in singular form? You might win a fabulous prize! Like on Ellen, except maybe less expensive. But what separates Hey Ladies! from all the TV shows is a very simple thing: There's alcohol.
Guests for the show Friday, Sept. 29 at the Roxy on Gateway include "photographer to the stars" Ryan Parker, and PattyZee, who as it happens is performing a cabaret show at the Roxy on Sept. 30; there's a back-to-school version of The Match Game, and global warming recipes.
Tango Fire
The tango is such a sultry, sensuous dance that it was once banned by the Pope – which naturally made it one of the most famous forms of dance in the world. Nice work, Pius – if that was your real name. The beautiful tango is much more than a flower between the teeth of Arnold Schwarzenegger in that steamy scene with Jamie Lee Curtis in True Lies, a movie they're currently airing over and over again, for some reason.
No! The tango has deep spiritual roots, and rich cultural overtones, as it is also one of the styles of music that has formed the public idea of the very soundtrack of Argentina.
The Alberta Ballet's performance of Tango Fire Sept. 27-28 at the Jubilee Auditorium promises to be the real deal, with lots of sultry, sensuous dancing backed by real Argentinian ensemble – all taken straight from the "Tango Houses" of Buenos Aires. For of course the tango is no longer illegal. Might as well ban air.
Soul Sistas
The Mayfield Theatre, in its quest to mine the pop music canon for discerning dinner theatre audiences, has assembled a sensational line-up of talent to render the lives and music of two of the biggest divas of all time: Tina Turner and Aretha Franklin. The only problem with this show is in which songs to leave out.
Tara Jackson has the pipes to play Aretha, as does Tiffany Deriveau portraying the young Tina Turner. There's a squad of back-up singers on a glitzy stage, and a live band populated by Edmonton's elite musicians, including the Mayfield's artistic director Van Wilmott. It all results in an immensely entertaining gust of soul.
Shakespeare in Love
Did he not love? Was he not flesh and bone? Did his heart not break? Was he not a man? It's a plausible premise: A young English playwright named William Shakespeare suffering a writer's block had a love affair with someone else's fiancé – which ended badly, as these things often do. But then! Inspired by heartbreak, he finished Romeo and Juliet, one of the greatest tragic love stories ever told.
The story within the story that sprung from that whimsical idea wound up as pure comedy – and Oscar gold, of course, with the 1998 feature film Shakespeare in Love, starring Gwyneth Paltrow and Joseph Fiennes. It was only recently adapted for the stage, in 2014, and is the season opening play at the Citadel Theatre until Oct. 8.