REVIEW: All hail Coldplay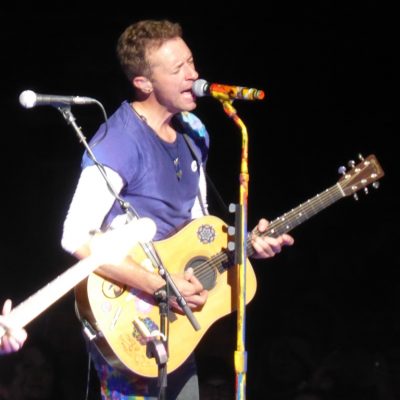 Coldplay gave everybody a free LED wristband, so the audience could become a spectacular part of the light show at Rogers Place on Tuesday night – and then they blew off the confetti cannons in the first song. Usually that comes at the end.
It figures. Coldplay has always set the bar high for themselves. On album and in concert. They more or less used the same tricks the last time they came to Edmonton in 2012. They tried so hard to make it look easy. For 20 years this charming and clever British band has aimed for the stars, trying with every stirring stadium-ready "whoa-oh-oh" singalong hit single to top themselves – and sometimes succeeding.
Sure, there have been missteps. People have complained about the latest collaboration with the Chainsmokers, that evilly catchy synth-lover's act whose hooks could be rendered with one finger on a three-note keyboard. But Something Just Like This is another huge hit to add to the Coldplay canon – and it came in a place of honour, in the encore.
Perhaps it is beneath them to dabble in the electronic dance music world? No matter. Coldplay does what it wants – and they want it all. They're on the hit parade, they rock, they folk, they do the house music thing. They played basically three, maybe four, entirely different genres of music on three different stages at Rogers Place – and they did it all frightfully well. From Yellow to Clocks to the touching and tender Fix You to the stirring, stadium-ready Adventure of a Lifetime, to some down-home folk on the "C" stage, to singer Chris Martin displaying his talent on solo piano and vocals, this show was a blithering lovefest that skirted the cliff of sentimentality and bravely avoided falling into the gorge of maudlin peril and badly mixed metaphors.
The computer-controlled wristbands were beautiful icing on the cake. Any colour on any individual of 14,000, any time the controller wanted. How do they do that?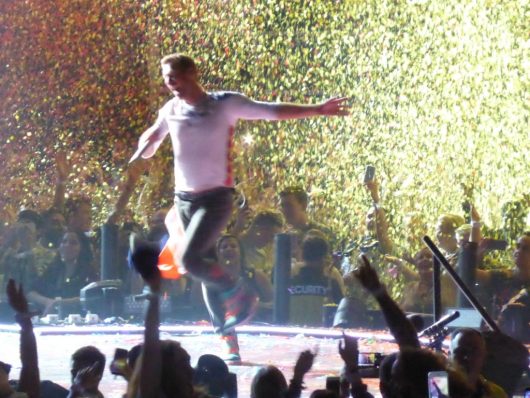 There were lots of other visual toys and displays of ostentatious showmanship – like further explosions of confetti. Oh, yes, there was more than one wad to blow here. Martin would often do a dancing dervish in the storm of ensuing wee paper butterflies that made the stage look like an autumn lawn in Elmwood by the end of the show; or he'd end up singing a song lying on the floor, dramatically. For contrast, early in the show came a heart-pumping EDM tune blasted at deafening volumes, accompanied by multi-coloured "laser beams." Later came the release of dozens of giant multi-coloured balloons into the delirious audience. And that's when the Ecstasy kicked in.
The band even took requests – one, anyway, via Instagram – and pretended to screw up songs. And yet Martin displayed a number of genuine moments despite the lockstep production choreography and scripted patter shows like this demand. They make a special effort with freshly-shot footage in each town. Edmonton is stop No. 104 on the Head Full of Dreams tour – 104! Jesus! – and yet, Martin said, "We're going to do the greatest concert we've ever done! As long as you make the loudest noise you've ever made!"
Oh, so there's conditions?
Lies! All lies! Coldplay is not the greatest band in the world. Yes, Martin is very talented. He plays a mean piano and has the perfect vocal range to stir the stadiums, and the rest of the band is quite gifted as well, it is clear, and they write beautiful songs, but there was so much pre-recorded tracking in the show – the string section in Viva La Vida just the tip of the iceberg – that it sometimes didn't feel like they were in complete control, and therefore not as honest, not as real, not as human. It was like they were slaves to the machine of their own making, and therefore … URK!
ALL HAIL COLDPLAY!
Sorry, wristband talking. Can't … seem … to … get … it … off.
The show repeats Wednesday night.