REVIEW: End of the road for Nickelback!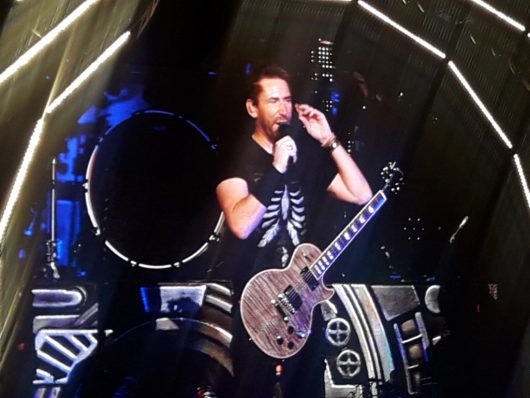 Edmonton seems to be the place for all these nostalgia bands to wind down their tours. From Peter Gabriel with Sting to Metallica, and recently Coldplay on shows No. 104 and 105 of their two-year world tour, promoters are choosing our gorgeous late summer-early fall nights to close out the concert season.
Better late than never. Our city loves nostalgia, and a full Rogers Place of Nickelback fans on Thursday night reinforced that idea, the second to last date of this "Feed the Machine" tour.
Fans got pretty much exactly what they expected – and it worked. As hamfisted as it was, the show came across as authentic. There were no pre-recorded backing tracks at all. Singer Chad Kroeger bantered with people in the crowd he clearly knew. In fact, he talked to people between every song. None of it felt scripted. He came across as just a pot-smoking dude hanging out – with none of that bro-womanizing quality people might've expected.
There wasn't an empty seat in the house when the houselights went down (exactly on time) and some brooding, moody music crackled out of the PA, a spooky red glow blanketing the stage.
They came out heavy, with what I presume was a song from the current album … something about machines? It fit the stage dressing – a steampunk design kind of like Iron Maiden, machine artwork with a giant oval video screen behind the ornate drum riser flanked by lights. It was a surprisingly subtle, yet wickedly effective lighting rig. It could have been a Pink Floyd show – except these were Nickelback songs.
After two bruising openers, Kroeger's very distinctive voice was the same we've heard everywhere from passing cars, to bars to grocery stores. All the songs sounded exactly the same: Lots of acoustic intros with the power chord choruses, melodic and very hooky. It's the whole formula approach.
The pacing got a bit strange. A lot of chit chat can kill a show's momentum. It might've had something to do with the hometown crowd (originally from Hanna, Alberta, the band spent time playing small clubs in Edmonton before moving to Vancouver). There was power ballad after power ballad after power ballad that could've been carbon copies of one another; there was the obligatory piano-driven number – until a surprisingly good cover of The Tragically Hip's Blow at at High Dough brought back the rockier Nickelback stuff. It took them a long time to get to the lowbrow pop rock they're infamous for.
Love or hate them, Nickelback puts on a hell of a show. The energy level didn't budge once, whether he was singing about drinkin' beer or nostalgic love. The hometown crowd was with these guys for every beat, every lyric.
Kroeger even serenaded birthday wishes in a faux-Elvis croon – "I'll sing it in the style of hippie Elvis and not fat Elvis," he told the birthday girl. This guy knows his audience, and easily worked them like a pro. The band was polished, the production slick and big without being bloated, and the sound was bang on from the first note, though yet somehow devolved over the show.
It was also fun watching Chad's Edmonton guitar tech Rob Dawson take the stage for a few acoustic driven numbers (he'd also been playing second guitar parts in the shadows the rest of the time) – and it was also his birthday!
Cheap Trick opened the show, and singer Robin Zander sounded exactly like he did in the '70s. The music was pure bubblegum pop, but it sounded weird because all these old bands seem to be heavier than they used to be. Also they're all old so they keep lowering the keys of the songs.
They kept it going at the end. "Somebody's telling us to get off the stage," Zander said. "Fuck that, we're playing two more!"
It was a solid set of classic rock.