PLAYBILL: Fortuitous Endings just the beginning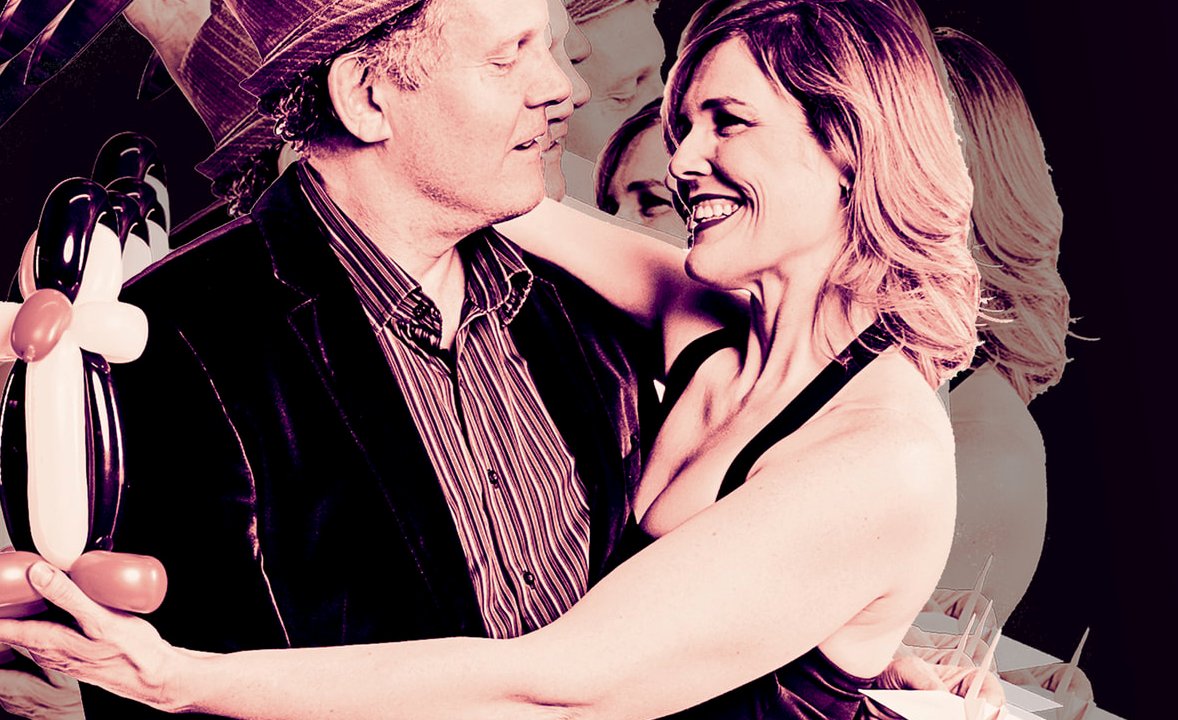 You know that point near the end of a relationship when you start lying to your friends? Ha, ha! Yeah, we always yell at each other like that. Everything is JUST FINE. It can get a bit awkward.
The title of the season opener for the provocatively-named local "Toy Guns Dance Theatre" is too long to fit on the Playbill: Fortuitous Endings: What To Do When You Wake Up Drunk In a BBQ Cover In Your Neighbour's Backyard.
Written and directed by Jake Hastey and presented in embryonic form at the 2015 Canoe Theatre Festival curated by Workshop West, this fully-formed production uses both narrative and physical theatre, with a cast of 10, divided more or less equally between dancers and actors, plus a live band and lots of props. Together, they take "a tragic and comedic journey to the demise of a once passionate love." The audience will be provided with Nerf balls with which to pelt the performers – at the appropriate time. You'll know. Observers, according a press release, have described this work as "watching a car accident while riding a camel on a busy street in San Francisco, but the chairs are more comfortable and there is no paperwork required."
Fortuitous Endings: What To Do When You Wake Up Drunk In A BBQ Cover In Your Neighbour's Backyard plays Oct. 5-8 (with a pay-what-you-can preview Wednesday Oct. 4) at the Westbury Theatre, ATB Financial Arts Barns.
Shocker's Delight!
When you've written dozens of plays over 35 years like Stewart Lemoine, you're entitled to a few reruns – but, like Star Trek, occasionally you want to get some fresh red shirts into the story.
Shocker's Delight! was a hit when it was first produced in 1993, and will now enjoy its third remounting until Oct. 14 at the Varscona Theatre. It marks the Teatro directorial debut of Ron Pederson (perhaps best known for his role on MAD-TV), who starred in the 2004 Shocker's Delight! revival. There's an entirely new cast: Ben Stevens (who starred in last season's For the Love of Cynthia), along with plus Melanie Piatocha and Richard Lee Hsi making their Teatro debuts. The characters, three old college pals, get to discuss golf, ballroom dancing and 19th Century furniture as they wend their way through the emotional mindfield so familiar in Stewart Lemoine plays.
Soul Sistas
The Mayfield Theatre, in its quest to mine the pop music canon for discerning dinner theatre audiences, has assembled a sensational line-up of talent to render the lives and music of two of the biggest divas of all time: Tina Turner and Aretha Franklin. The only problem with this show is in which songs to leave out. Tara Jackson has the pipes to play Aretha, as does Tiffany Deriveau portraying the young Tina Turner. There's a squad of back-up singers on a glitzy stage, and a live band populated by Edmonton's elite musicians, including the Mayfield's artistic director Van Wilmott. It all results in an immensely entertaining gust of soul.
Shakespeare in Love
Did he not love? Was he not flesh and bone? Did his heart not break? Was he not a man? It's a plausible premise: A young English playwright named William Shakespeare suffering a writer's block had a love affair with someone else's fiancé – which ended badly, as these things often do. But then! Inspired by heartbreak, he finished Romeo and Juliet, one of the greatest tragic love stories ever told.
The story within the story that sprung from that whimsical idea wound up as pure comedy – and Oscar gold, of course, with the 1998 feature film Shakespeare in Love, starring Gwyneth Paltrow and Joseph Fiennes. It was only recently adapted for the stage, in 2014, and is the season opening play at the Citadel Theatre until Oct. 8.