REVIEW: Working for The Weeknd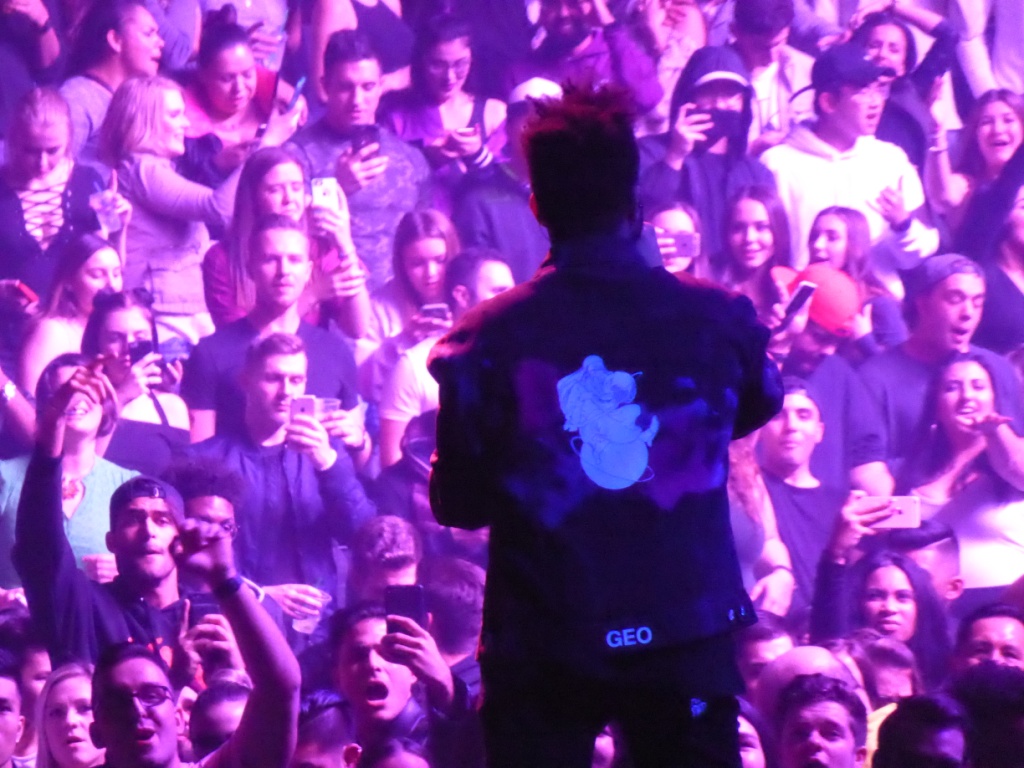 A lot of batteries were drained at the Weeknd concert in Edmonton on Monday night.
That's because there were so many slow songs. It was like rich cannabis syrup in there. Great singers like Abel Tesfaye are suckers for ballads – which always demand a tribute of light from fans. In the old days people would hold up Bic lighters, but the making of real fire as a tribute to real rock is a lost art. It belongs in the Stone Age. These kids today with their "fire" and their "wheel." So cellphone lights it was! There were a lot of ballads from The Weeknd at Rogers Place, and a lot of lights. And dead phones. It was beautiful.
The show was sometimes ugly, dark and edgy, too, a confounding meld of God-given talent and cold machine, of hauntingly beautiful R&B songs that expressed the basest of emotions; dirty, gritty poems about sex and getting wasted and lyrics like this: "I know all you bitches want is dick and dough." Straight talk from the streets.
A young, excited and beautifully racially-mixed crowd typical of Edmonton hung on the Weeknd's every word – even if some of the lyrics didn't make much sense. The opening song was fitting from this futuristic soulman: a new hit number called Starboy, in which the hero of the story seems to be speaking in nerd code: "Star Trek roof in that Wrath of Khan. Girls get loose when they hear this song." What? Abel was wreathed in dry ice fog and illuminated by lasers as he sang, with a giant articulated triangular spaceship hovering over the stage. The crowd – about 75% women going for the Kardashian look, a lot of couples, and groups of burly guys – lost its collective mind. People were on their feet the whole time, singing along to every graphic gangsta style lyric. The Weeknd hasn't been around very long (his debut came out in 2013), but the Canadian superstar has already cut a huge swath across the global pop landscape.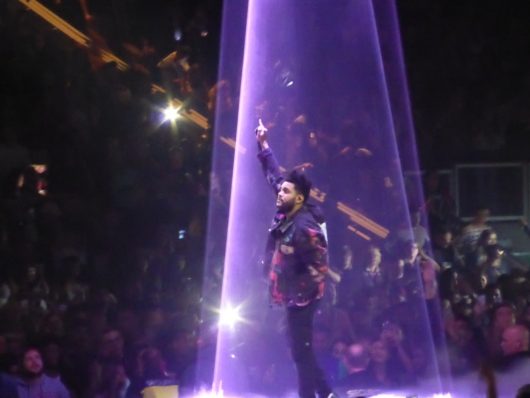 Backed by real musicians who augmented a lush soundscape of pre-recorded tracks, the singer spent most of his time stalking back and forth across a catwalk in the middle of the arena. He laid on a barrage of dramatic romantic adventures with the ferocity of a predator and the gentle touch of a Vegas crooner who has the crowd in the palm of his hand. His vocals were amazing, pure, effortless; he's clearly one of the great voices in urban soul music, up there with Marvin Gaye and Prince.
So it was especially confusing when the Weeknd started fooling around with Auto-Tune. The thing literally tunes your voice, makes audible machine-like modulations as it corrects to the exact nearest pitch. Torque it up and you'll actually sound like a robot (or T-Pain, or many other vocalists who can't perform without it). Several tunes in the middle of the show were so laden with processing it was hard to tell where the machine ended and the human began. The sameness of the many ballads had a mesmerizing effect, enhanced by throbbing sub-sonic basslines that rattled your bones. That the Weeknd doesn't need Auto-Tune may be a statement in itself: Man vs. machine. Who would win? Spoiler alert: Man.
Later, thankfully, he got real and displayed his gifts with an acoustic guitar rendition of Angel, one of his more tender love ballads, about loving someone so much you'd let them go and wish them well. He sang, "I hope you find somebody to love." Not to be confused with the Queen song. Some of the younger Weeknd fans might ask: Who the hell is Queen? Never mind.
Later came In the Night, a heartbreaking romance with its jaunty swing-16 groove; and a clever melding of The Secret into Can't Feel My Face – which is exactly what teenagers say when they get drunk for the first time. The song is really about getting drunk. After about 90 minutes of going hard, the singer eventually just stood there and soaked up the deafening cheers, and even held his ears at the din of devotion. In the gorgeous song The Hills that followed, he sang, "When I'm fucked up, that's the real me." He added later, "Who are you to judge?"
We all sang along, because a lot of us know what he's talking about. Time to recharge the batteries.