Miranda Lambert a shining light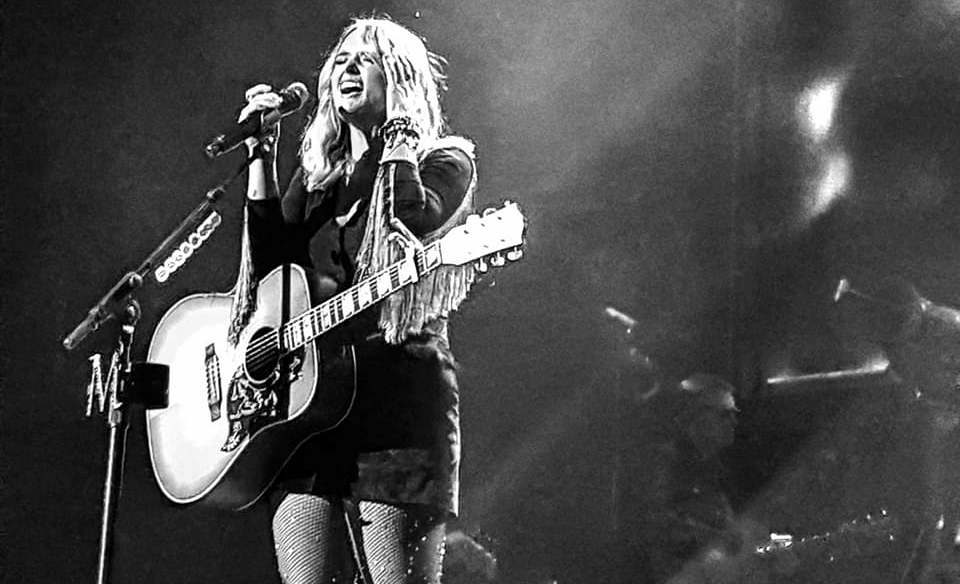 At her concert at Northlands Coliseum in Edmonton on Tuesday night, Miranda Lambert alluded to the Las Vegas mass shooting. Due to the recent tragic event that took place right here in our own city, these attacks were on everyone's minds.
She told the crowd, "There's so many heavy hearts here tonight so I just want to make a pact together to just spend tonight listening to some country music."
Lambert made good on her promise. Despite her five-foot-three stature, this badass country renegade controlled the stage and demanded the attention of fans while performing her classics – from White Liar to songs off her new album, The Weight of These Wings. Later on, in the encore, she asked people to hold up their cellphone lights for "our friends in Las Vegas." She said, 'We're going shed some light for anyone going through shit and for all the hell going on in the world," and then finished with a cover of her friend Foy Vance's Shed a Little Light.
It's easy to see Lambert cares about making her shows really just about the music. Without backing tracks, props or flashy costume changes – just the movement of her left leg to the beat of the music – she engaged the audience like not a lot of performers can do. This bona fide country star really takes the term "badass" to heart, writing about things people don't talk about: domestic abuse, her drinking problems, bad relationships.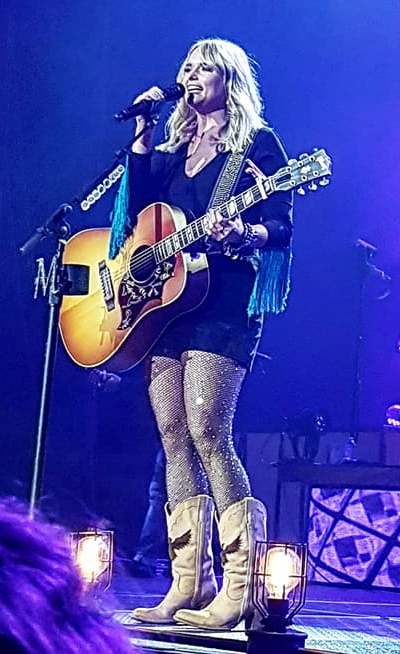 With the words "Music is Medicine" projected on the big screens, the show started with her 2005 hit and claim to fame Kerosene. Fans stood, danced and sang their hearts out. Lambert changed things up by singing slightly different melodic lines to some otherwise very recognizable songs, making her tunes even more memorable. She seemed to be having a great time rocking out with any three of her guitars, which was also nice to see from such an established artist.
Miranda has been known to write songs about sensitive subjects but never fails to do so with grace. During her and ex-husband's Blake Shelton's co written song Over You (about Shelton's older brother who died in a car accident), she let a few tears slip down her face as she let the crowd continue singing the chorus when she was unable to do so. These were not fake tears; she sang the whole song perfectly a few days ago in Vancouver.
It's amazing to see such awesome female empowerment from someone who has so much influence over a genre that's mostly male dominated. Before performing the powerhouse rocker Gunpowder and Lead, Miranda shared some pretty heavy words with the crowd, "I don't care what you believe, I don't care what I believe, but I DO believe it is never okay for a man to beat on a woman," which was met with nothing but cheers and screams from the audience.
But she didn't talk too much between songs, and even with the silence the concert never seemed to slow down. Although she didn't play any of the more atmospheric pieces on her new album, few complaints were heard. The entire audience unanimously decided to turn their phone flashlights on making her song The House That Built Me even more beautiful than it already is. It was also nice to see her turn over the stage to her backup vocalist and best friend Gwen Sebastian to sing a song the dynamic duo wrote and is Gwen's new single, Cadillac.
The two then invited the classically country opener Brandy Clark back on stage.
"As you can see we're pretty much about girl power on this tour," Lambert said as the trio performed some classic Canadian country: No One Needs to Know by Shania Twain.
With an insanely talented eight-piece band, every element of the show was so simple yet so planned out. Lambert's videos and slide shows perfectly encapsulated the feeling in each and every one of her songs, using bright red neon lights and a thunderstorm video for her hot and heavy song Little Red Wagon, or simply images depicting the characters in All Kinds of Kinds. Even the way her cameramen shot the show worked beautifully with her entire brand, which is maturing.
Lambert has come out of a hard time in her life with a fuse between old and new sound and a new and improved attitude – and hell, her fans sure are lucky.
Photos by Olivia Rose Leaf, taken Sept. 29, 2017 in Vancouver