PLAYBILL: I Am Because You Are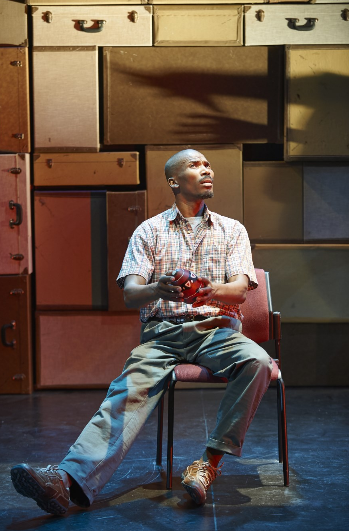 Never let it be said that the Citadel Theatre is an ivory tower that never takes chances.
Those two "nevers" just cancel each other right out in the hands of their bold new artistic director Daryl Cloran. In the second play of his first Citadel season in Edmonton, he has wrangled an ambitious new play that pushes the bounds of both conventional theatre and international borders. Opening Oct. 11, Ubuntu is a word from South Africa, loosely translated as "a person is a person through other persons" or "I am because you are." It's a familiar idea. Famous philosophers have touched on it in the past: "To be is to be perceived" or "The unexamined life is not worth living" or "No man is an island" – but rarely as succinct as "Ubuntu."
Created and performed in collaboration with artists from South Africa, Ubuntu (The Cape Town Project) is all about "our interconnectedness to each other," Cloran says in the play's enrichment guide. The blurb hints at the story: "Ghosts haunt a man and woman, continents apart, as they discover secrets of their past" as the narrative jumps back and forth in time. It is said to include scenes based entirely in dance, and some in the Xhosa "click" language of South Africa, along with conventional dialogue.
This has been a long time coming. Ubuntu was created through four workshops in two countries over four years with over 20 different artists. "It is a truly international creation that presents the universality of our struggles and the responsibility we all hold to reach out to each other," Cloran says, "whether we live next door or across the ocean."
The Aliens
No, this is not a musical version of the 1986 sci-fi monster sequel starring Sigourney Weaver. But wouldn't that be something?
The Roxy Theatre's production of The Aliens is a musical, though – and it deals with something perhaps more frightening than acid-blooded xenomorphs: It's about two 30-something coffee shop hipsters who set out to teach an impressionable young barista "everything they know." In song! This story "about the humour and heartbreak of growing up" runs Oct. 12-22 at the Roxy on Gateway.
A Doll's House
There's something creepy about doll houses, dolls in general really – literally hollow mockeries of humanity! Brrrr …
Now imagine being trapped in one.
It's a metaphor. A Doll's House was written by the notoriously gloomy Norwegian playwright Henrik Ibsen. Like so many of his Victorian peers who suggested that living in Victorian times was probably pretty crappy, he spins a grim tale. Here we meet an unfulfilled housewife who pines for the fjords, and of a life of freedom seemingly impossible within the patriarchal culture of the times and the constraints of marriage, motherhood and living in the middle of nowhere in Norway with nothing to do. Nora, understandably, is getting a little fed up.
Tough questions get asked in the ensuing drama – marking the the season-opener for the Walterdale Theatre Oct. 11-21.
Edmonton Comedy Festival
The stand-up comedy and theatre scenes of Edmonton have always had a somewhat distant relationship. Sure, some notable rebels have crossed over, had one foot planted in each world. You even see comics doing Fringe shows and sketch actors attempting stand-up. Sometimes it works. But for the most part comedy and theatre adhere to their own camps.
But then we have guys like Scott Thompson, a special guest of the Edmonton Comedy Festival happening Oct. 12-14 at various venues. He can do it all: Acting, sketch, improv, and of course stand-up comedy. He just won an award for it. Best known for his work in Kids in the Hall and particularly his flamboyantly gay barfly character Buddy Cole, Thompson headlines the Pride Gala at the ATB Arts Barns on Friday, Oct. 13 at 10 pm. It's apparently the first time they've had a pride show at the comedy festival.
Other stars of the fest include Wendy Liebman, Debra DiGiovanni, Tim Nutt and festival producer Andrew Grose, who has in fact done comedy shows at the Fringe. They're not so different.
LitFest
Who are these people, anyway? Meaning: what do we call them? Should we let stand-up comics and writers into Playbill? Of course we should. They're on a stage. They make art. For without writers, there would be no stories, without stories there would be no plays, and without plays there would be no musical adaptations of Aliens. (Big climactic number: Leave Her Alone, You Bitch!)
In any case, you can think of the events at LitFest, Oct. 12-22 at various venues as "staged readings." Noted writers include Eamon McGrath, Janice MacDonald, Scaachi Koul, Britt Wray, Michael Adams and many more.
Of course there has been some argument whether a branded "non-fiction" festival can qualify as "lit," but you know what writers say. Truth is stranger than … well, you know: Fake news.
Shocker's Delight!
When you've written dozens of plays over 35 years like Stewart Lemoine, you're entitled to a few reruns – but, like Star Trek, occasionally you want to get some fresh red shirts into the story.
Shocker's Delight! was a hit when it was first produced in 1993, and will now enjoy its third remounting until Oct. 14 at the Varscona Theatre. The romantic comedy also marks the Teatro directorial debut of Ron Pederson, perhaps best known for his role on MAD-TV, who starred in the 2004 Shocker's Delight! revival. There's also an entirely new cast. Ben Stevens, Melanie Piatocha and Richard Lee Hsi play three old college pals who discuss golf, ballroom dancing and 19th Century furniture until an unexpected calamity throws their lives into disarray. What ensues is an emotional mindfield that's so familiar and so compelling in Stewart Lemoine's best plays.
Soul Sistas
The Mayfield Theatre, in its quest to mine the pop music canon for discerning dinner theatre audiences, has assembled a sensational line-up of talent to render the lives and music of two of the biggest divas of all time: Tina Turner and Aretha Franklin. The only problem with this show is in which songs to leave out.
In the sensational concert revue Soul Sistas, playing until Oct, 29, Tara Jackson has the pipes to play Aretha, as does Tiffany Deriveau portraying the young Tina Turner. There's a squad of back-up singers on a glitzy stage, and a live band populated by Edmonton's elite musicians, including the Mayfield's artistic director Van Wilmott. It all results in an immensely entertaining gust of soul.