MUSIC PREVIEW: alt-j a Delta Force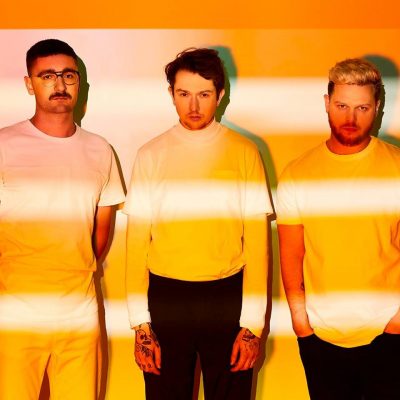 Just curious: What happens when you actually press "alt-j" on a computer keyboard? Hmm, nothing. Or wait. What's this: ∆ … is the actual name of the band. It's Delta, the fourth letter of the Greek alphabet, and it refers to the discriminant of a polynomial equation, among other things.
Does that help?
Right. So what we have here is a weirdly-named British band that's full of mystery – and from out of Hobbiton they come for two shows at the Winspear Centre in their second Edmonton appearance. (They were at the Shaw in 2015.)
Put on the tea! It's always a special treat when we get a visit from the Brits – especially those frightfully clever arty esoteric bands already so big in Europe. Often priming their live invasions of North America well ahead of time with boatloads of hip British music journalists waving wooden swords (thanks to Radiohead singer Thom Yorke for the joke), their cult following spills across the globe – and yet they so rarely get played on mainstream radio. Like Pink Floyd back in the day. No hits at the time (except Another Brick in the Wall, Part 2), and they sold out stadiums. That's what you call a devoted "cult" following.
In modern times, hailing from the isolated shires of Leeds in Northern England, alt-j is a decorated (2012 Mercury Prize winner) neo-prog band whose music spans many genres as it carries bizarre and exotic ideas, filled with haunting, beautiful, evocative sounds that could be avant-garde movie soundtracks, and lyrics that barely make sense. Their latest such album, only their third, is called Relaxer. Starkly futuristic yet organic in style and instrumentation, this band follows a rich tradition of British art-rockers – who, let's face it, kick the crap out their colonial art-rockin' brethren almost every time.
We bow to thee, o' British masters. We're not worthy!
Fellow British artist Bishop Briggs – best known for her big radio hit River, bigger than the headliner has got up to now – opens the concerts at 8 pm. Sunday, Oct. 15 is sold out. Tickets from $68 still available for the Monday, Oct. 16 show.
Thursday 12
Foreigner – Funny story: Diana Ross, of all people, suggested that the band Foreigner produce a musical based on one of their songs – and so it comes to pass! Juke Box Hero, the Musical, will make its world premiere in August of 2018 – in Alberta, at the Jubilee Auditoria! Maybe they need some paid rehearsal before Broadway. Also, the promoter's from Calgary. But we can't wait! Until then, the band celebrates its 40th anniversary with a regular rock show tour of Canada – profits will fund the musical. Northlands Coliseum, Honeymoon Suite opens the show at 7:30 pm. Tickets from $59.
Friday 13
Boz Scaggs – Even his name is cool and funky: this icon of easy listening, the czar of groovy light radio goodness dating back to the 1960s when he worked with Steve Miller. With a string of solo hits across the '70s and '80s, Boz also had associations with the elements of Toto, and more recently people like Donald Fagen and Michael McDonald. Yes, you can almost taste the rich legacy of jazz-inflected American pop music. Boz – who now owns a vineyard and winery in California – is still touring and recording as it pleases him, his latest record being 2015's A Fool To Care. River Cree Resort and Casino, 9 pm, advance tickets from $63.
Kings of Leon – It's like they come from upside down world: Four brothers from Nashville, Tennessee, one of them named Caleb, seemingly reject their city's legacy of country music almost entirely and go in a rock direction. Sure, you can't be from the South and not have a tinge of Southern blues. It's a law or something. But Kings of Leon have forged a distinctive sound cemented firmly in alternative rock through seven albums and hits therein, the biggest being Use Somebody from 2008. Their latest year-old album WALLS was their first No. 1 debut.. Opening the show at Rogers Place will be Dawes. 7 pm, tickets from $35.
Jack Garton and the Demon Squadron – Looks like it's party time at the ol' New Moon Folk Club – not yer pappy's folk club with the appearance of this fresh foot-stompin' hoedown hootenanny band whose frontman is well-versed in the arts of accordion music, trumpet, and singing Texas-fried roots-rock music bred in the organic free range forests of Northern B.C. Move This Mess Around was their 2016 debut. The Eisenhauers open the show at the St. Basil's Cultural Centre, 7:30 pm, advance tickets $20
Saturday 14
Whitehorse – Our favourite Canadian folk band named for a geographical location returns to the Winspear Centre, bringing with them the chemistry that can only come from a happily married life. Luke Doucet and Melissa McLelland are quite the pair, drawing from Neil Young, Tom Waits and others for their own winsome roots-rock sound, gritty and divine at the same time. Their new album is Panther in the Dollhouse. Tickets to the show at 8 pm are $35.
Monday 16
Chris de Burgh – Now we're talking nostalgia. Do you remember Lady In Red? Don't Pay the Ferryman? That takes you back. How about the lovely ballad A Spaceman Came Traveling? Not so much, maybe – but that was the Irishman's first hit single, from 1975, one that made him famous in Ireland. A generation or two later and the man is still going strong, and in fact just a year ago released his 21st studio album, A Better World, a modest success around the world. Shaw Conference Centre, 8 pm, advance tickets from $59