MUSIC PREVIEW: Deep Waters runs still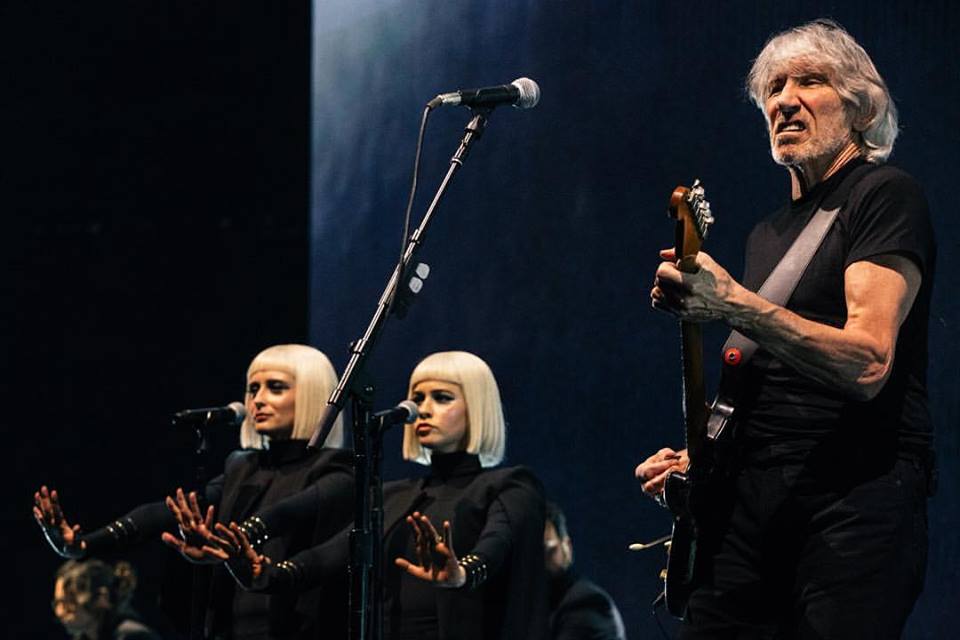 One could easily, and most happily, write pages and pages about the career of Roger Waters, never mind his personal challenges and triumphs – but here is what you really need to know: He's taking no prisoners on his edgy new tour US + Them, which lands at Rogers Place next Tuesday and Wednesday. Donald Trump reportedly plays a supporting role.
Last time Waters was here, fans remember, the first song ended with an airplane flying across the arena and crashing into "the Wall," which knocked it over in a blaze of pyro. Brick by brick they built it back up as Waters and his band played some of the most political of Pink Floyd's music in an epic two-and-a-half-hour concert.
This time, the show will feature songs from both Pink Floyd and his solo career. It will be the first time fans will be able to hear songs from Waters' most recent album, Is This the Life We Really Want? – live.
That should be enough for anyone to want to race out (or more likely pull out their phone and open an app) and buy tickets. There is no opening act. Waters goes on at 8 pm; tickets $55 and up. Tuesday: BUY. Wednesday: BUY.
Thursday 19
Bend Sinister – This Vancouver project has a bit of a chameleon sound to them, all at once sounding like math rock, prog rock, and even pop. But any which way you look at it, they are amazingly talented, amazingly listenable, and put on amazing great live show. The Gibson Block and Two Bears North are also on the bill. And hey, it also happens to be the birthday of the latter's Sophie Heppell, so somebody make sure everyone sings her happy birthday at some point. Needle Vinyl Tavern, 8 pm, $18. BUY
Friday 20
Oh Susanna – This folk songstress has eight critically acclaimed albums to her credit, and is a fierce songwriter with a sparkling but raw voice. She hails from Toronto, while her latest album is set in 1980s Vancouver and follows the travails of a teenage punk girl named Suzie. Curious. It's already been nominated for three Canadian Folk Music Awards. Sherry-Lee Heschel and Dan Smith are also on the bill. Almanac, 7 pm. BUY
Cattle Decapitation – This extreme metal band hailing from San Diego formed in 1996 and has seven albums to their credit, including their most recent, 2015's The Anthropocene Extinction. Their songs tend to focus on the mistreatment, abuse, and consumption of animals. With Revocation, Full Of Hell, and Artificial Brain. Starlite Room, 7 pm, $27. BUY
Nik Turner's Hawkwind – Formed in 1969, Hawkwind was one of the pioneers of space-rock. From early in the formation, their live shows were intense full-body experiences featuring pulsing electronics, dazzling light shows, and any other number of features, and their songs have had a lasting impression in any number of musical genres. One of its early core members was Nik Turner, who now tours playing music from throughout his career, which features not only his time with Hawkwind, but also Inner City Unit and Space Ritual, and of course any number of other tempestuous flirtations with songwriting, both space rock and otherwise. With Hedersleben and Zebra Pulse. Starlite Room Lower Hall, 8 pm, $20. BUY
Saturday 21
Flogging Molly – This Celtic punk band from Los Angeles is touring to support their Life Is Good album, which was released in June. It would probably be cooler to see them on their annual cruise that leaves from Miami, but hey, the Union Hall is pretty cool too. (Their 2018 cruise was just announced, which also features Buzzcocks, Offspring, and Lagwagon). For the show here in Edmonton, opening will be Radkey and Jon Snodgrass, tickets $43, 7 pm, BUY
Sunday 22
Deep Dark Woods – This west coast project, originally founded in Saskatoon, could perhaps be best thought of in the dark psych folk realms, though they're often listed as folk rock, Americana, or even country-blues. The band's newest album after a five year hiatus – Yarrow – is scheduled to be released on October 27. It's said to be darker than their previous issues, though you'll certainly be able to tell for yourself when you go check them out. Oxlip and Ayla Brook & the Sound Men are also on the bill. Needle Vinyl Tavern, $15, 8pm. BUY
Top photo: From Roger Waters' Instagram page, June 14, 2017, Phoenix, Arizona