REVIEW: Lilies bloom in gay opera
The list of successful Canadian operas is a short one indeed.
It is a pleasure then to note the emergence of Les Feluettes (Lilies), a full-length, fleshed-out Canadian production in the grand opera tradition, a work that shows all the signs of becoming a major hit. This superlative production by Edmonton Opera at the Jubilee Auditorium until Oct. 27 is just one of a series of enthusiastically welcomed stagings that began with the 2016 world premiere in Montreal.
It's easy to see why the opera is being greeted with such exuberance. The accessible work is based on a famous French Canadian play that was made into a 1996 movie that went on to win Genie awards. Both are written by Canadian playwright Michel Marc Bouchard. Like the play and movie, Lilies the opera is a tale of love and death with a libretto by Bouchard and music by Kevin March. As in most operas, the love is doomed – in this particular setting because of the repressive attitudes toward homosexuality fostered by the Catholic church in Quebec during the early-to-mid 20th Century.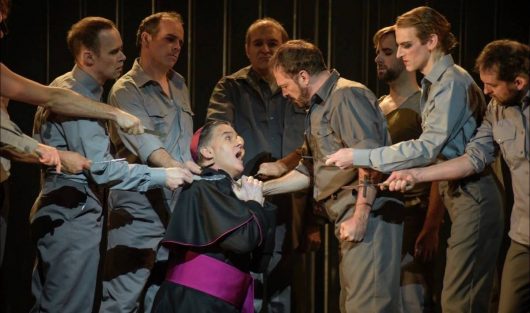 All the good stuff of opera is there – ill-fated lovers, deception, obsession, betrayal, madness, murder. Even a little pyromania is thrown in. One character arrives in a hot air balloon. Puccini would be proud.
The love story at the centre is simple and involving, but getting to it, through all the characters and the multi-level plot, can be something of a challenge. The opera is presented in French and there are English sur-titles, but for full enjoyment it would not hurt to read the program synopsis.
It is the year 1952 and the elderly Bishop Bilodeau (Gordon Gietz) is summoned to a Quebec prison where he will hear what he believes to be an old inmate's last confession. The cleric is captured and forced to watch a play-within-a-play staged by the prisoners. In a re-enactment of a night 40 years before, the Bishop is forced to confront his guilt in the doomed love between two men, Simon (Zachary Read) and Vallier (Jean-Michel Richer). The realistic acting (and passionate singing) of the two performers is quite startling and a far cry from the cardboard portrayals once found in opera.
The play-within-a play is based on the martyrdom of St. Sebastien – a favourite subject of Renaissance artists who, often homoerotically, pictured a young man killed by his Roman captors by shooting him full of arrows. Heavy symbolism at work here.
This production is a 32 person all-male affair. Countertenor Daniel Cabena makes a most believable upper class French lady (the one who arrives in the balloon).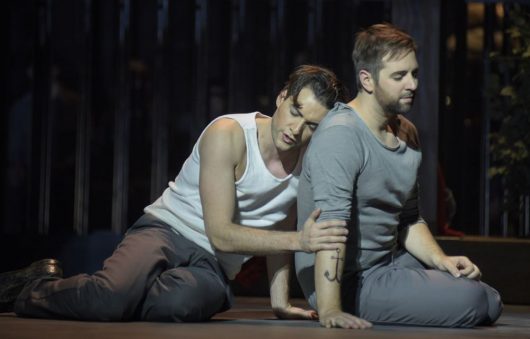 Listening to March's eclectic score is a bit of a game as you attempt to identify the influences. There are elements of Debussy, Ravel, Joplin, Bernstein, Copeland, French music hall, liturgical and ragtime music – with occasional jolts of modern dissonance. There is even a Quebec style fiddler, accordionist and step dancer. There is a strong cinematic influence in the way March's music sometimes supports the action and, at others, soars lyrically in 19th Century grandeur. Despite all that, it's not a stitched-together pastiche – like, say, Lloyd Webber's Joseph and the Technicolour Dreamcoat. Lilies is its own thing, expressive, uplifting, multi-textured and complex – challenging for the singers and rewarding for the audience.
Serge Denoncourt's direction is lighthearted when necessary but intensely dramatic otherwise. Denoncourt mounts his production in Guillaume Lord's impressive prison set with great bars reaching high into the hall. Francois Barbeau dresses the characters in prison grey which allows a very dramatic moment, just before the lovers reunite for the wrenching climax, to have Vallier arrive as Caesar in a bright red tunic.
All performers on stage acquit themselves superbly. The lead players include long time opera vet Gino Quilico as Old Simon, James McLennan as the young Bishop, Claude Grenier as Timothee  – who tries to beat the homosexuality out of his son (in an intensely dramatic scene with the entire cast beating on the floor with their belts), Patrick Mallette as a Baron and Normand Richard as a priest. Dominique Cote is a stand-out as Vallier's  mother who spectacularly goes from dotty to quite mad.
The chorusmaster is the redoubtable Peter Dala and the intricate music is under the commanding baton of Giuseppe Pietraroia.
Lilies is the story of the remarkable ability of human love to transcend all. The result is lyrical, poetic and enduring. Apparently the subject matter caused a number of Montreal opera season ticket holders to boycott the premiere. Pity for them – the sexual content is passionate, but chaste in presentation and the love story is universal.