PLAYBILL: Mom tells her side of the story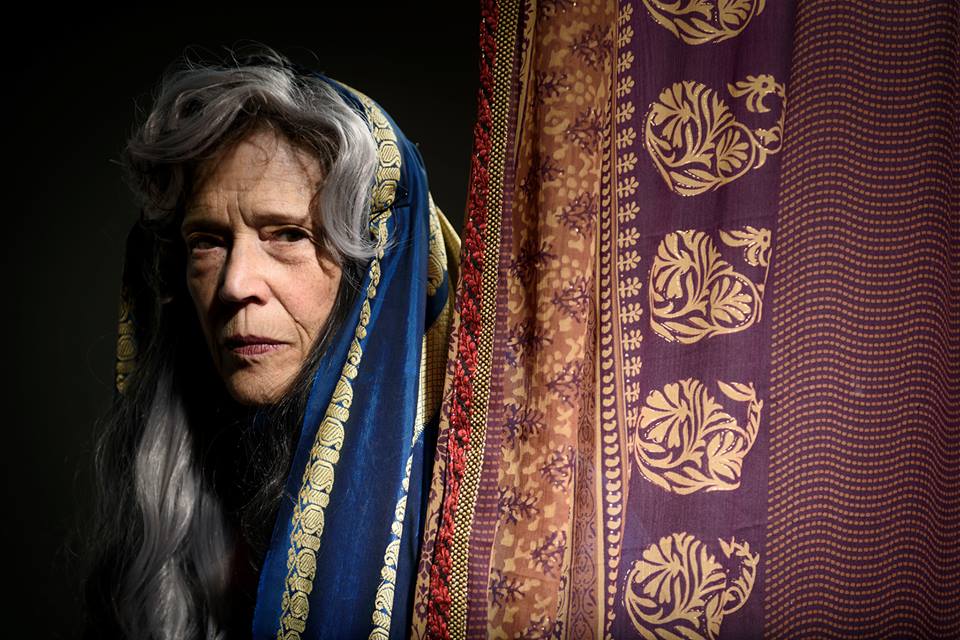 We've read the Book of Job, perused the respective Gospels of Matthew, Luke, Peter, John, Paul, George and Ringo.
But where is the woman's voice in all this? What did Mother Mary have to say? She was there for the whole thing, after all.
Cue The Testament of Mary, the stage adaptation of the Colm Tóibín novella produced by Northern Light Theatre Oct. 26-Nov. 4 in the PCL Studio at the ATB Financial Arts Barns.
Holly Turner stars as the mother of Jesus in this one-hander directed by Trevor Schmidt. In her old age, she's trying to set the record straight for the assorted Biblical scribes who've been peppering her with questions ever since her son was crucified. "What was it like being the Mother of the Son of God?!" They're not going to like her answer.
This story is a serious exploration of faith and religion that uses a generous poetic license to put a human face on one of the most venerated figures in Catholicism, but it's also an example of some of the first journalists who already knew what story they wanted to write before they got all the facts straight. In other words, fake news has been with us for a while.
Constellations
So a beekeeper and a physicist walk into a bar … no, that won't do. They meet at a party. That's better. No, how about they meet but one of them is married. Or wait …
That's the trouble with infinite universes. Anything can happen. Anything does happen.
So here we have a whimsical romantic comedy that imagines many different alternate reality meet-ups featuring the same couple, played by Mat Busby and Liana Shannon, who despite being caught in some kind of existential spin cycle, manage to fall in love.
Nick Payne's play broaches questions about life, the universe and everything, and whether we actually have any free will at all, or are all actors doomed to play the parts written for us. Depends how you look at it. Depends if you're a writer.
Constellations, a Shadow Theatre production, plays Oct. 25 to Nov. 12 at the Varscona Theatre.
Die Nasty Does Dynasty
It so happens there's a real reboot of the '80s TV series Dynasty that just premiered on Netflix – and now Edmonton's long-running live, improvised soap opera Die-Nasty is devoting its entire 2017-2018 season to the very show they swiped their name from. What are the odds?! Actually, they likely planned it. Probability not found.
Running every Monday at the Varscona Theatre starting Oct. 16, the show will as usual feature a who's who of veritable crème de la crème of Edmonton comedic acting talent. Also, as in the TV show proper, there will be greed, seduction, betrayal, revenge, and probably unlike the 2017 reboot, a healthy dose of campy '80s nostalgia and of course comedy.
The rest literally writes itself. See, these guys are just making it up as they go along!
God is a Scottish Drag Queen: The Second Coming
Fresh from his hilarious stint as The Devil at the Fringe, Vancouver comic Mike Delamont returns to perform as his better half in a new two-act comedy. The premise is simple: God comes down to set the record straight on a few matters. This seems to be happening a lot lately. The fact that She does indeed appear to be a very convincing Scottish drag queen seems almost incidental to the richly religulous content She (if God is a woman to we capitalize She?) promises to offer up one night only at the Myer Horowitz Theatre on Saturday, Oct. 28.
Apparently people still get offended and walk out, from time to time. Jesus, isn't the title clear enough?
Soul Sistas
This is your last week to see a sensational show about the music and lives of two of the biggest divas of all time: Tina Turner and Aretha Franklin.
Soul Sistas, playing until Oct, 29 at the Mayfield Dinner Theatre, stars Tara Jackson as Aretha, and Tiffany Deriveau portraying the young Tina. There's a squad of back-up singers on a glitzy stage, and a live band populated by Edmonton's elite musicians, including the Mayfield's artistic director Van Wilmott. It all results in an immensely entertaining gust of soul.
Hey Ladies! Halloween Fun
Here again, the title tells the story. They're ladies. It's Halloween. And they're having fun. What more do you need? Booze? OK, booze.
Playing Friday, Oct. 27 at 8 pm at the Roxy on Gateway, the show stars Leona Brausen, Davina Stewart, Cathleen Rootsaert, and Noel Taylor in what is called – by them – "Edmonton's Premier Comedy, Info-Tainment, Musical, Game, Talk Show Spectacular That's Suitable For All Sexes!"
One Man Star Wars Trilogy
As a little comic aperitif to the weekend's theatrical depth, it is totally worth schlepping out to Horizon Stage in Spruce Grove to catch the great Charles Ross and he performs all three of the first Star Wars movies in their entirety. By himself. He plays all the characters, sings all the music, flies all the ships and fights all the battles. Also known for the equally amazing and hilarious One Man Lord of the Rings, Ross is so good at this that he has been officially made a Jedi Knight by George Lucas himself! That sounds cooler than "endorsed by LucasFilm."
The show plays one night only: Wednesday, Oct. 25 at 7:30 pm.