Rogers Waters the real Pink Floyd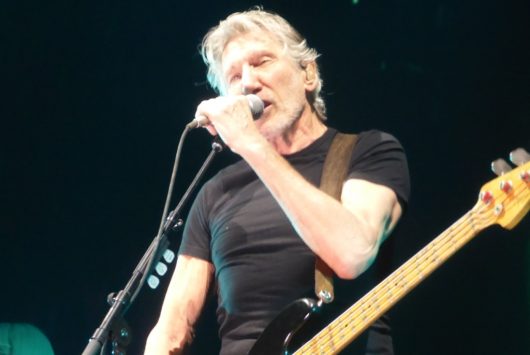 It was an adorable but edgy piece of political theatre.
A group of schoolkids from the Boys & Girls Club of Edmonton joined Roger Waters on stage at Rogers Place on Tuesday night to perform in Pink Floyd's biggest hit – the one that goes, "We don't need no education! We don't need no thought control! Teacher, leave those kids alone!" It's been making an impact on young people ever since it came out in 1979.
It comes off a bit darker in 2017. The kids made their entrance in orange prison jump suits, with black hoods over their heads, as if they'd been kidnapped by terrorists and were about to be executed. At the appropriate moment, they shucked their prisoner's garb to reveal T-shirts that read "iResist" – and the joyous choreography commenced. High fives all around!
Way to set the tone.
Another Brick in the Wall (Part 2) was just one key moment in a two act prog-rock spectacular that was more Pink Floyd than Pink Floyd was the last time the band-name-owners came to Edmonton in the mid-'90s – without Roger Waters, sadly.
This show in Edmonton was a warm and organic take on the classic art-rock legends, marked by deep cuts from Dark Side of the Moon and Animals, much of which Waters wrote, some of those gorgeous ballads like Us and Them (for which the tour is named), where every chord change feels like a new world; with a little new material slipped into the show, tracks from his latest solo album, Is This Life We Really Want? fitting in perfectly.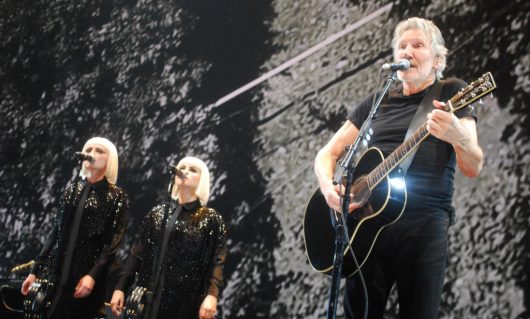 Musically, it was sublime, ambrosia for the Floyd fan. Waters has assembled a very fine band: Two bass players – including Waters – two lead guitarists (Dave Kilminster and Gus Seyffert) who would often wow the audience with double lead solos, both harmonized and in unison, a huge sound amplified by a quadraphonic PA system. True Floyd fans from back in the day can appreciate good quad. There were two keyboardists (Bo Koster and Jon Carin) to render the great walls of synths, one drummer (Joey Waronker), great enough on his own – and the icing on the cake, the two back-up singers Jess Wolfe and Holly Laessig, borrowed from the band Lucius. They were given generous time to wail in the instrumental masterpiece One of These Days, coming early in the show. It's always a good sign when the hair on the back of your neck stands up. All that was missing was the zonked out synth breakdown that makes Side 2 of Dark Side of the Moon such a treat for stoners.
People are going to bang on this as a "really good Pink Floyd cover band," but Roger Waters more than anyone has remained true to the form and spirit of Pink Floyd – musically and politically, and with his ambitious concert tours. Moreover, he has been brewing a righteous anger at the state of the modern world. Who hasn't?
While the show was heavy on soul and beautifully arranged treatments of Floyd classics, the set – and the impressive visual effects – were clearly designed to promote an agenda that frankly hasn't changed much since Pink Floyd started getting political so many years ago: In short, the powers that be must be kept in check lest tyranny ruin us all. The basic message is the same; the names and faces of the villains have changed – one in particular that inspired the epic 15-minute sonata Pigs (Three Different Ones). In case the metaphor was missed, a giant banner spelled it out: "TRUMP IS A PIG." Cue the giant flying pig. Should've had a giant flying Trump balloon. Maybe not. People would've popped it. The crowd sure cheered when Trump was lambasted via various unsavoury depictions (that included a flash of a tiny cartoon penis) on the massive jumbo-trons that dominated the arena. No word if Trump has tweeted a response. Waters is British. What does Trump care?
The 74-year-old torch-bearer of Pink Floyd obviously cares very deeply about the state of the modern world, and he's trying to channel it into his music. There are artists who say you shouldn't make political statements in music. Waters isn't one of them. At one point where the cheers never seemed to abate, he noted the wealth of positive energy in the room, saying, "If this is spread out to the body politic, how fucking cool would that be?" Most people seemed to agree that it would be, by the sounds of it.
The show repeats Wednesday night.