MUSIC PREVIEW: Depeche Mode the best mode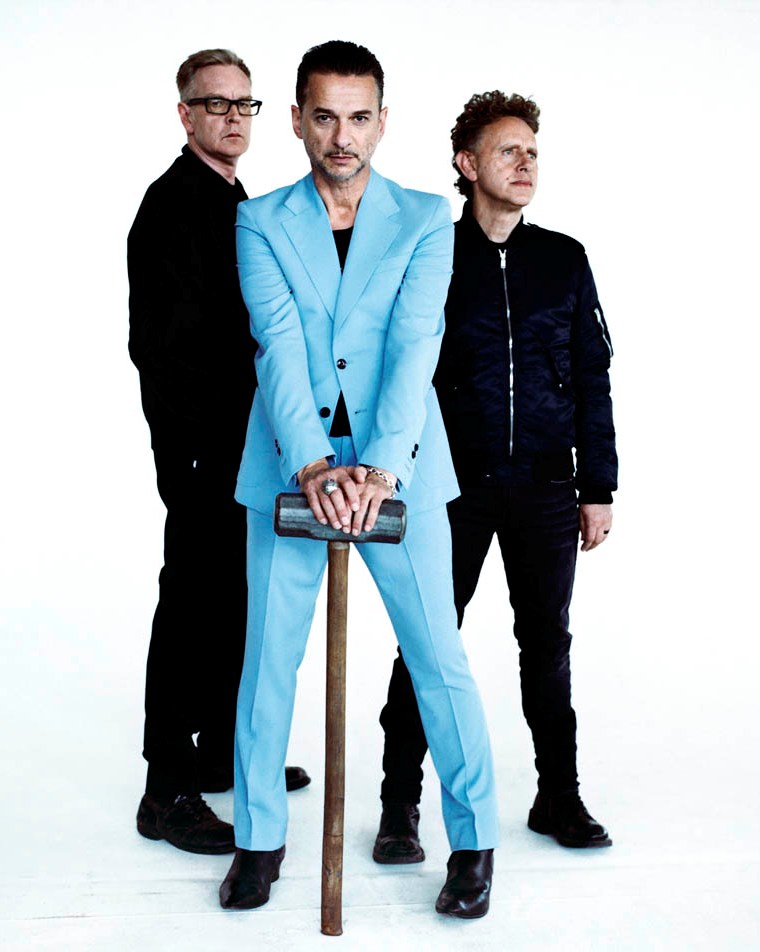 Someone recently posted on social media:
"You wanna go to Depeche Mode?"
"Depends what year it is," went the response. "Is it 1989? Am I in college? Am I high on ecstasy? Was ecstasy even invented in 1989?"
Or words to that effect. See, now this is the sort of shade a cult favourite like Depeche Mode has to put up with. Legends of electronic dance music long before it was called "EDM," the British band plays Rogers Place on Friday night – the big building, yet most of the general public would have difficulty humming, let alone naming, a single Depeche Mode song.
Personal Jesus – there's one. That 1989 hit with the instantly catchy deep shuffle groove (so suspiciously similar to Marilyn Manson's Beautiful People that he did his own version of the song) and its theme of finding God within yourself (or something) probably made the biggest impact. There are number of other hits that many people have heard even if they don't realize it, and perhaps these memories – like much of the '80s being the new '60s in that if you remember it, you weren't there – have been repressed. A common reaction to hearing songs we haven't heard for a while like People are People (1984) or Enjoy the Silence (1990) is, "oh, yeah, those guys."
Founding Depeche Mode singer Dave Gahan's deep, hollow vocals are uniquely compelling, floating over gorgeous melodies tucked inside lush beds of synthesized chords and funky beats in a group that's been working steadily (more or less) for the last 37 years. You know then when you hear them, and that's the hallmark of a memorable band. Now they're touring the world on their latest album, their 14th, called Spirit, hence the "Global Spirit Tour." The Los Angeles band Warpaint opens the show at 7:30 pm. Advance tickets from $35.
Friday 27
I Am Machi – Has "Edmonton's White Stripes" been taken yet? It has? By these guys? OK then. Nathan Stokland (guitar) and Jileane Stokland (drums) actually don't sound anything like the White Stripes. A married couple power duo format can go in many directions, this one in particular an originally jangly sound rich in quirk and grit, yet delivered with warmth and soul. Their latest and fourth recording is Magnetic North: The East EP. Halloween party show at Bohemia, with the opening acts The Spanish Flies and Phono Pony, 9 pm, $10 at the door.
Saturday 28
Scream Edmonton with Deadmau5 – Spooky story: This Canadian DJ and producer was sued by Disney over his mousy ear get-up, because now everyone confuses him with the real Mickey Mouse. But then a twist! Joel Zimmerman (Deadmau5's real name) discovered that Disney had used one of his songs in a cartoon without permission. He sued them right back. Oh, the irony! The cases have since been quietly settled, both parties are still doing very well, and Deadmau5 is the star attraction at the annual Scream Edmonton event at the Shaw Conference Centre. Featuring dozens of EDM artists all night long in a Halloween setting, this is the hottest ticket in town – it's SOLD OUT.
Gordon Lightfoot – This Canadian hero is the Energizer Bunny of folk music legends … oop, better watch that trademark infringement. Doesn't really fit anyway. Point is, at 78 years old, Lightfoot is still going strong, not just as a legend of folk music, but as an active performer and bonafide hitmaker whose songs like If You Could Read My Mind and The Wreck of the Edmund Fitzgerald have become as iconic as the artist himself. That happens sometimes. He's back again for likely not the last time, at the River Cree Casino. 9 pm, advance tickets from $40.
The Black Dahlia Murder – It wouldn't be a weekend in Metalton without a good metal show. This screamy speed outfit from Michigan, named sinisterly for an unsolved murder, tours upon its latest burnt offering, Nightbringers. Long night o' metal here, with the opening acts Suffocation, Decrepit Birth, Necrot, and Worm Witch. Starlite Room, 6 pm, advance tickets $33.50
Sunday 29
The Jesus and Mary Chain – These guys ought to have been on the bill with Depeche Mode, cut from the same basic cloth, general mood-wise, if not the sound – tartan, in this case. This Scottish band is known for a power-popped guitar-driven sound, and would also go well with being in college in 1989. Turns out ecstasy was around; it was called MDA. (Important disclaimer: Drugs are bad, m'kay?) Jubilee Auditorium, 7:30 pm, tickets from $19
The Creepshow – Do we even need to note that this is a Halloween show? For this entertaining punk-rockabilly combo that writes songs about horror movies, every night is Halloween. So the actual Halloween must be like Christmas for these guys. With Sammy Kay, The Devil's Sons and Electric Audrey II. Needle Vinyl Tavern, 8 pm, $15 advance