REVIEW: Testament of Mary one of the best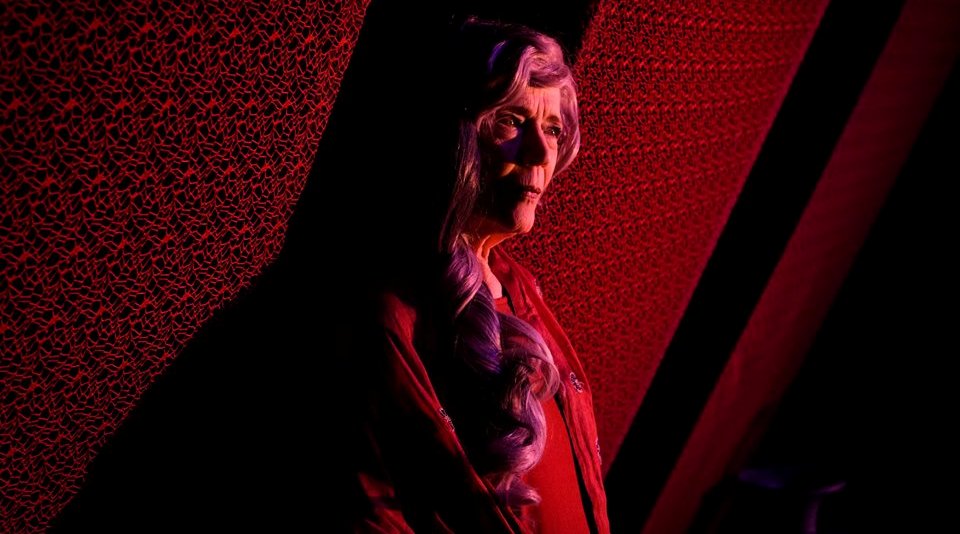 The small house where Mary was supposedly taken by the Apostle John after the Crucifixion sits on a mountaintop in Ephesus in Turkey. Irish Playwright Colm Toibin sets his play, The Testament of Mary, in this modest abode.
She is now an embittered old woman. Recently, two men have been appearing at her door. One supposedly is John, whom we assume is about to write his version of the Jesus story and he wants to get Mary's imprimatur. But the woman they see as the mother of God refuses to say what they want to hear. It's not that her memory is gone: "I remember everything," she says. "Memory fills my body."
"He will not come back," she barks.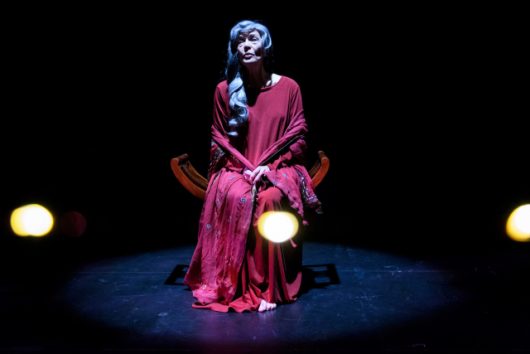 This is the premise of Tobin's play now in production by Edmonton's feisty little alternative theatre, Northern Light. Artistic Director Trevor Schmidt is justly famous for scouring the world looking for little-known plays, often reinventing them and presenting them to his loyal audience. The Testament of Mary is one of the best.
Mary's rage is directed mostly at the apostles whom she furiously refers to as "a band of misfits … something was missing in all of them as they swaggered about the countryside like a swarm of locusts." She holds them responsible for Jesus's death on the cross with their loud proclamations of her son as "the Son of God" and "King of the Jews," which brought him to the attention of the Romans and Elders.
She rememberers Jesus as a gentle, lovable child, who discarded his boyhood identity to become something else.
"I want no more miracles," she blurts out, suggesting that raising Lazarus from the dead was an unnatural act. In a chilling memory, she tells of the once shining Lazarus, who has risen as an inhuman creature, shambling and uncomprehending, on his way to a second death. She is suspicious of the turning water into wine "miracle" at the Cana wedding – the six stone vessels supposedly filled with water, brought in by Jesus' followers, appeared just too quickly at the event.
Her son, carried away by his own powers, didn't even recognize her. She realized, at that moment, she had indeed lost her son to the "unthinking energy" that surrounded him.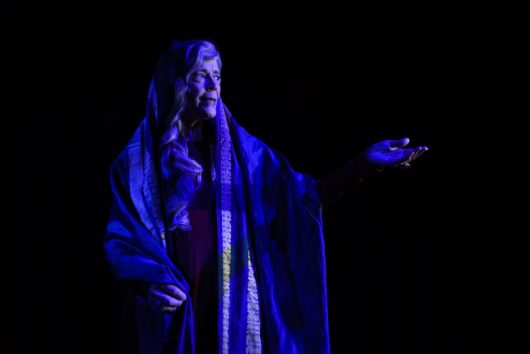 The Crucifixion, of course, is at the emotional and philosophical centre of her agonized memory. In a scene that will burn into your memory, Jesus' mother summons up her son's death as a bloody, pain filled renting of her tortured son's body. Abandoned by all – he screamed out his suffering as he was held down and nailed to the cross.
Edmonton actor Holly Turner found the play (it was performed to raves in both London and New York by Fiona Shaw) and brought it to Schmidt. Turner has been busy on the local scene. You may remember her at the Fringe in Love Letters and in a remarkable one-woman show based on Joan Didion's The Year of Magical Thinking. You can see why she was attracted, because seldom have performer and subject been so well-wedded. She pulls Mary's intense pain, anger and loss from some deep inner depth. She prowls about the stage – stark and strong.
Schmidt is certainly the director for this show. In a bold move, he sets his performer behind a net of small lights, which could have distanced the audience from the emotions on display – but surprisingly doesn't, keeping Mary present but removed at the same time. The set is spare but vaguely Eastern. Adam Tsuyoshi Turnbull's lighting is a big assist as the performer moves between areas of precise lighting. At times the lights go down as the actress approaches closely to the audience to address us intimately in the semi-darkness.
The play has been protested in the streets elsewhere – and someone ripped down all of Northern Light's posters in Edmonton – but I can't see why. The story of the Christ is spun in many directions already in the Bible and elsewhere. This is a valid, intelligent and moving variation. This is not the venerated, serene Mary of your youth who was seen as providing an intercession with her divine son but a real person whose suffering forces us to rethink the Greatest Story Ever Told.
The Testament of Mary, a production of Northern Light Theatre, plays in the PCL Studio Theatre in the ATB Financial Arts Barns, through Nov 4.