The Jesus and Mary Chain strangely Canadian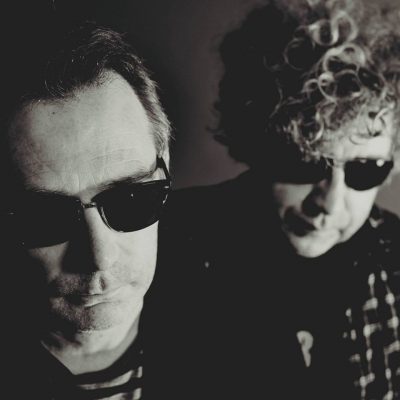 Maybe we were wiping away our tears after burying Gord Downie. Or maybe we're still rolling our eyeballs over cowering in the shadow of Trump as NAFTA negotiations evaporate. Or maybe we're just resigned to a fate of frozen sphincters on those ice floes that millennials threaten will make for a fitting farewell to those who ruined everything for them.
Either way, within the fog and strobes that accented The Jesus and Mary Chain's roughly one-hour set at the Jubilee Auditorium on Sunday night, one can't help but feel something rather Canadian that permeated the Scottish act's delivery.
Most of it had to do with the patter. Lead vocalist Jim Reid isn't exactly noted for his audience engagement, especially when you consider that he nearly decapitated an audience member with his mic stand years ago. But his banter sounded apologetic, almost as if he was atoning for the actions of himself and his cohorts, who in their prime swaggered with a defiant brashness that complemented their fuzz 'n' feedback pop.
"How are you all doing out there?" the singer asked at the start, almost fearful of how the thousand-or-so fans would react, before the band awkwardly launched in Amputation from their new release Damage and Joy. The segue into April Skies from their highly-lauded Darklands was equally tentative. It wasn't until the following number Head On (from Automatic, arguably J&MC's best album) that the band finally hit its stride.
Then there's the Jesus and Mary Chain's patented shoegazer form, which might entice frostbacks to interpret as an understated backlash against the over-the-top braggadocio of '80s American counterparts like Bon Jovi and Van Halen. That nuance was especially evident with brother and guitarist William Reid, looking more like a Phil Spector mugshot these days, as he hunkered over his six-stringer on stage left, hoping to go undetected near his two JESUS-stenciled amps.
While bands can be forgiven for peddling their latest sonic wares, Reid seemed almost embarrassed by his own sales pitch.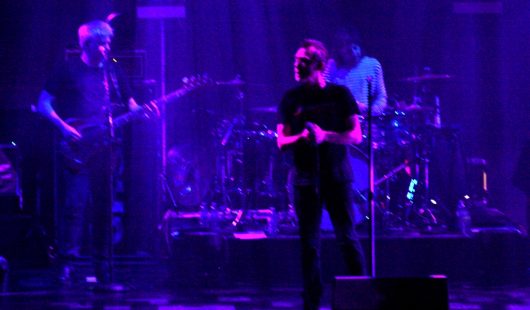 "We have a new album out," is all he said, before the band loudly banged out Always Sad, Black and Blues and Mood Rider. Too bad, as those selections from the outing stand out well enough to forget J&MC rejects like Stoned, Dethroned and Minki, preferring to recapture the spark of their more nascent days. But let's face it, the warble was textbook soft sell. Yep, very Canadian.
The band dedicated a quarter of their 16-song set to the new album, dividing the rest of the stint with selections from their more stellar Darklands, Automatic and Honey's Dead. To their credit, the set list was designed to avoid any slow moments in the show, although the Reid brothers seemed catatonic at times, preferring its younger recruits (guitarist Scott Von Ryper, bassist Mark Crozier and drummer Brian Young) to do the more animated heavy lifting. Chalk some of it to age, but considering that the Gen-X crowd showed more of a pulse bopping in their seats and aisles, it's a fleeting argument.
Curiously, while the band had reunited in 2015 to celebrate the 30th anniversary of their breakthrough album Psychocandy, none of the songs from that classic selection emerged in the Edmonton show until their encore. Even then, the Chain chose only two pieces (Just Like Honey and In a Hole), which went well with Sidewalking, a cult fave that can be found on the Barbed Wire Kisses compilation.
Overall, the group was tight; even the cacophonous guitars were woven into the songs much more artfully than their studio versions, which at the times of their release were rebellious at best and distracting at worst. Still, the subdued remorsefulness was puzzling, especially after just releasing an album that was devoid of the hubris that caused their downfall in the '90s in the first place. Just what the hell did they have to feel sorry about?
L.A.'s throwback goth gang Cold Cave started the night garbed in requisite black and trotting out a synth-laden set that would have sat well with its mascara peers during the Reagan years. Nothing against retro, but it would have been more interesting to hear how the group could have siphoned more original ideas out of the motif's short-lived first wave before it lost the ground war to grunge in the '90s. In short, not bad, but Cold Cave was still too close to aping the likes of The Cure and New Order to warrant a serious generational passing of the torch.