Mollys Reach scratches Reunion Itch
The "20 Year Itch" phenomenon reveals that any rock band reaching its platinum milestone experiences an incontinent gush of nostalgia. It results in re-releases of 20-year-old albums followed by theme tours to play said albums in their entirety. Even if the band is broken up, the Itch (which no penicillin can cure) can be potent enough to spur them together again – at least for one last gig.
It happens that Edmonton's post-grunge darlings Mollys Reach are back from an extended hiatus (15 years, close enough for rock 'n' roll) to play the Needle Vinyl Tavern on Saturday, Nov. 4.
They almost made it in those crazy pre-internet days. They had three records, catchy radio singles marked by crunchy guitars and sweet two-part vocals on top, a deal with BMG Music Canada, and were on their way. Until they weren't. Shit happens.
Older, wiser, less likely to drink their faces off or jump in a van to tour in the Canadian winter, the guys recently sat down to talk after rehearsal at singer-bassist Sean Rivalin's house. Also there was Lyle Bell (guitar, vocals), Randy Diachuk (guitar) and Steve Derpack (drums).
It's a little one act play!
(Setting: A large unfinished basement in North Edmonton filled with band gear and empty beer bottles.)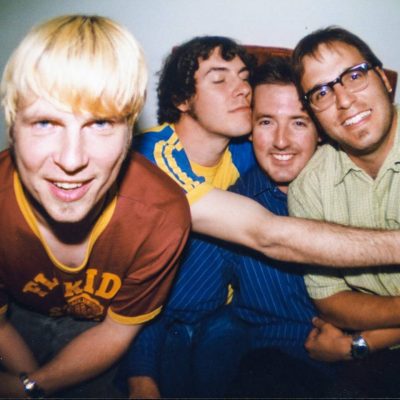 Lyle: Maybe 20 years is how long it takes for your kids to grow up, and you're free of the kids, and OK, I can play rock 'n' roll again! I'm the only one who doesn't have kids.
Sean: Mine are two years old and nine weeks. I'm late to the game. Maybe it's 15 to 20 years before you can all get into a room together.
Randy: There wasn't any bad blood. I think we just we went back into the rehearsal studio one day and it wasn't feeling right. We never really broke up. We never had a blow up. We just took our stuff home and didn't phone each other for 15 years.
Lyle: I can't even remember what the last show was.
Randy: Steve remembers every show we ever did.
Steve: It was the Rev on Boxing Day. With Greyhound Tragedy. We were good. The turnout was brutal … But getting together felt right this time. It's not like we didn't hang out. I play hockey with Randy, Sean and Lyle worked together – but all four of us have not been in the same room in 15 years.
Randy: We went for breakfast the other day. It felt like no time had passed at all.
Steve: Lyle's been busy musically, with Shout Out Out Out Out, Whitey Houston, The Wet Secrets, so it took a bit for him to see where he might have time to give attention to doing a reunion. Seems like it just kind of naturally happened at this time. I don't want to speak for you, Lyle.
Lyle: It's OK.
Sean: It took a little feeling around, too, I think. Does anybody else care?
Lyle: It's not even about that for me. I have no way to gauge if anyone will give a shit. It's more fun for us. We're picking the songs we want to play, one of them we'd never recorded before. And mostly stuff form the last record.
Sean: I remember how much we like the noisy bits.
Lyle: I actually think we were always heavier live than what ended up recordings. But once we started playing again, it was right there. That was surprising.
Steve: I haven't been playing music at all. I've been promoting concerts for the last 10 years, working full time. So I was really rusty.
Lyle: I don't detect much rust. I actually think we're playing better. And the show will be better because we're not going to be raging drunk.
Steve: Sean will be drunk enough for all of us.
(Laughter all around)
Lyle: Did we come close to making it? I think at the time it felt closer, but looking back now, meh, not really. We made a valiant effort and we went as far as we could have at the time. I think we've figured out how things work a little more since then. We didn't make it easy on the label. We could've jumped through more hoops like doing things we thought were lame.
Sean: Like they wanted us to dress up. In a hokey way.
Steve: This label's first band was a boy band. They didn't know how to deal with a rock band. They had visions of what we were going to become and we didn't fit into that mould.
Lyle: We did get asked to do a dance remix.
Sean: We missed the boat there.
Lyle: Our rock idealism was standing in our way.
Randy: We had this do-it-yourself sort of thing. So we fought against things they suggested that didn't fit in with our mentality at the time. Hindsight is so hard. Was that a good idea or as bad an idea as we thought at the time?
Sean: There we were brief moments that seemed close, but we were always into partying as opposed to treating it like a job, so that takes its toll.
Randy: It does. We didn't make the best choices. Going out on tour from January to March in Canada very year, horribly cold out, playing on a Tuesday, and you're literally playing to the bartender – so you drink.
(Knowing nods all around)
Lyle: Doing a reunion like this takes a decent amount of time, and I want to make sure it's good. I don't want to go out there and have it be crappy. That'd be a horrible reunion show.
Steve: Until we play the show, I'm fucking terrified.
Sean: We don't know if this will be just the one time or not. We're not jumping into the van again, that's for sure.
Randy: We did do a new dance number.
Lyle: We just recorded the song we never released at my studio. It's called Send in the Heavies, inspired by me not paying my student loan. We were getting actively harassed by a collection agency – way above normal. He found out we were in a band, and threatened he was going to come to the show: 'I'll be there in the front row, and I'll be seeing you …. Mr. Bell, avoid avoid avoid, Mr. Bell!' I got the sense he was having as much fun as we were listening to his messages.
(Laughter)
Randy: How does the old music hold up for us? There's a couple of songs that just take me back to the house we all used to live in. It absolutely captures that time.
Sean: I have a new appreciation for some of the songs, but the rankings changed.
Steve: They're a product of that time. It's a snapshot of who we were then.
Lyle: I have a hard time putting my brain back into that time period. It's not that different than it was. This is still a rock band. It doesn't seem weird to me. It probably is a bit anachronistic, but that's what we were. Did you ever see Vanilla Ice do Ice Ice Baby 2001, a nu-metal version? I never want to do that, trying to update just to keep up to the times. We're going to be playing these songs the way they were. Be true to who we are.
Randy: It's not like we're doing anything weird.
Lyle: The band dynamic is hilariously similar to how it was. Randy was saying it was like a time warp, and the gap seemed to disappear. Everyone's personalities are still the same. We never ended with any acrimony. We just took a break that ended up lasting 15 years.
(Curtain)
(N.B.: Some of the preceding quotes have been changed for brevity and clarity.)