REVIEW: John Ware gets the story he deserves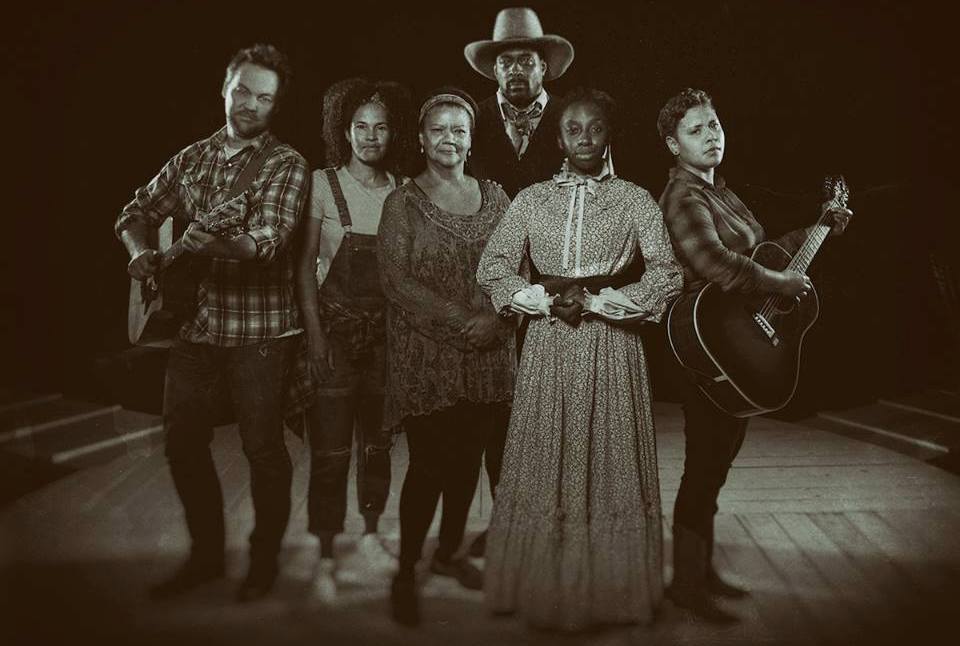 John Ware was the most famous Alberta hero you've never heard of – and the subject of a remarkable new play by Calgary playwright Cheryl Foggo.
John Ware Reimagined is an absorbing and ultimately touching production from Edmonton's Workshop West (from the original 2014 Ellipsis Tree Collective production in Calgary). It plays until Nov. 19 in the Backstage Theatre behind the Arts Barns.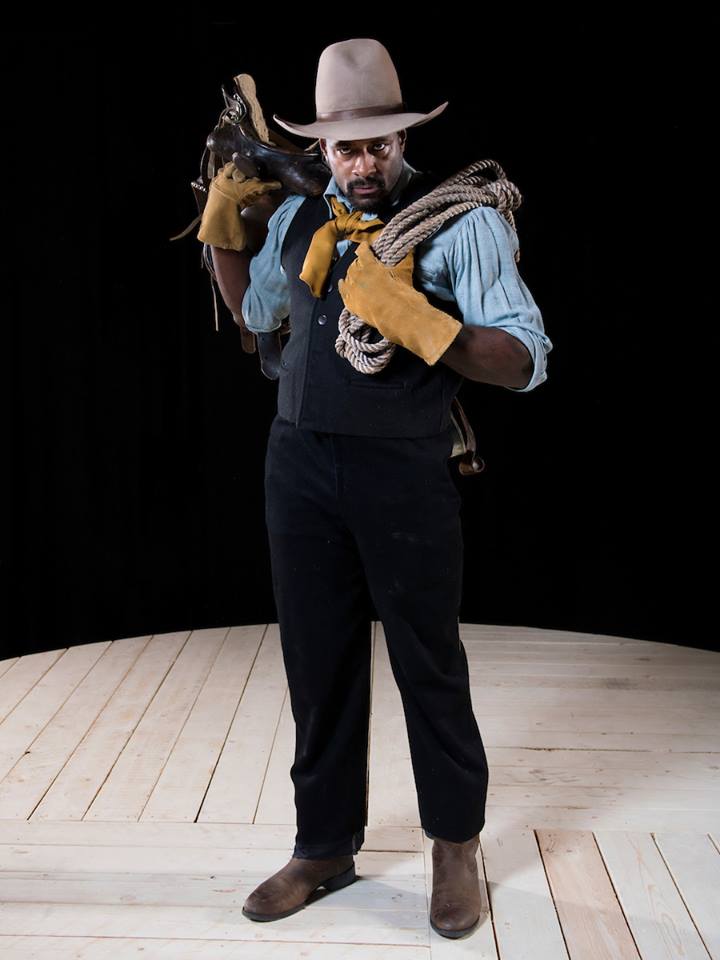 Ware's tale is the stuff of legends. He was born into slavery in 1845. Escaping the ruins of the Civil War, he was a natural born horseman, and found himself a cowboy in one of the first great northward Texas cattle drives in 1879. In 1900 he and his wife Mildred and their five children moved to the Calgary area where he ran a productive ranch for many years.
The story we know today is a blend of fact and legend – impossible to separate. But as the newspaper editor told Jimmy Stewart in Who Shot Liberty Valence, "This is the West, sir. When legend becomes fact, print the legend." It was said there was no horse Ware couldn't ride. The story was told that he was never bucked off. At one time his horse fell off a cliff and into a river. When the animal popped up through the water, Ware was still in the saddle. He popularized "throwing the hoolihan" (steer wrestling) which later developed into one of the building blocks of the Calgary stampede. It is said he discovered the Turner Valley Oil Field by flicking a match. He brought one of his children back to life by breathing into her when the child stopped breathing at birth.
Whether you believe all that or not, John Ware he laid the foundations of the cattle industry in this province. He was a man of prodigious appetites and boundless energy. A black man in a white world, he made his way with grace and hard work and earned the respect of all around him.
Playwright Foggo is the right woman for the job. She is an author, screenwriter and documentary maker (her new documentary on Ware is in the works with the NFB). Following the trail laid down by the Ware family a century ago, she is descended from the black Oklahomans who settled in Amber Valley here in Alberta.
Foggo's take on the legend blends two stories, from two different times, into one seamless tale. One is of Ware himself (played by Jesse Lipscombe – solid, commanding and every inch a charismatic cowboy), his conquest of the West and his courting of the lovely Mildred (Jameela McNeil – gentle but spunky), a lovely Toronto-born lass who never took to ranching in the West but loved Ware and gave him six children.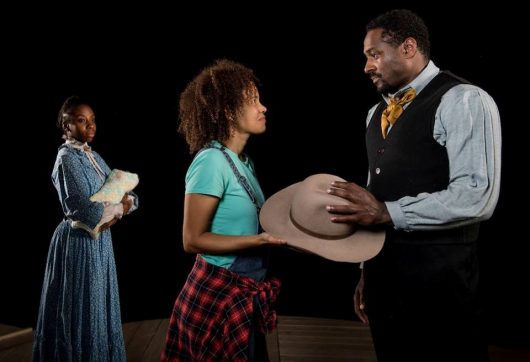 The other is a modern story of Joni (Kirsten Alter – an outstanding performance full of sparkle and personality), a modern Calgarian growing up in the shadow of the Stampede. Joni, who is black, suffers from some racism in her youth and generally brushes it aside but as she grows older, it begins to hurt more and more. Her biggest problem is that there is no one of colour in any classes she takes or any of the stories she reads in school – and then she discovers John Ware.
At this point, Foggo quite believably splices her two stories into one. Joni finds herself, both literally and philosophically, a part of Ware's life as he, in a harrowingly staged odyssey (by Calgary director Kevin McKendrick), undertakes a quite unbelievable (but apparently true) 114 mile trek through a blizzard, to get medicine for his sick wife and child.
The play is effectively staged on what looks like a huge horizontal wooden wagon wheel. The lyric and often haunting music (both in the background and in a clutch of tuneful songs) is (mostly) from composers Miranda Martini and Kris Demeanor, who dextrously accompany the production on two guitars. The singing from the performers is superb throughout.
Foggo never allows her characters to become stereotypes – they remain real. And in the person of John Ware, an obvious hero if ever there was, that is no mean feat.
In many places in the world, John Ware would be given the awareness and celebration he deserves. Perhaps this outstanding production from Workshop West will assist in bringing a true Alberta exemplar into a new, bright light.
Photos by Marc J Chalifoux