Mayfield's '80s sequel a riot of gnarly fun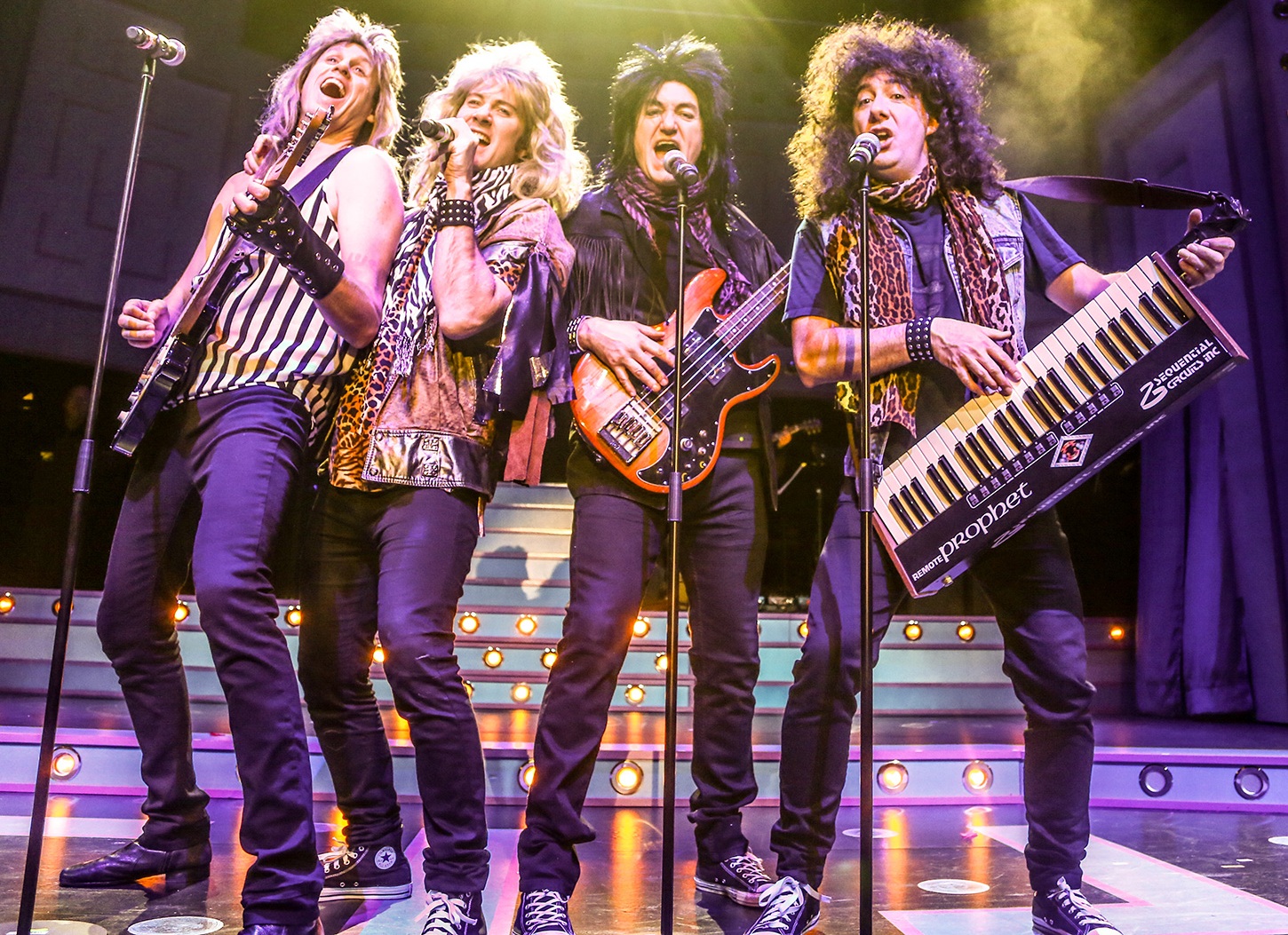 The 1980s decade was not the best of times. Following just after the cultural explosion of the '60s, it brought us bad hair, gay bashing, Margaret Thatcher and AIDS.
But after the astonishing success of the musical revue Back to the '80s in 2015, the Mayfield Dinner Theatre has deemed to go back to the font with Part 2: The Adventure Continues.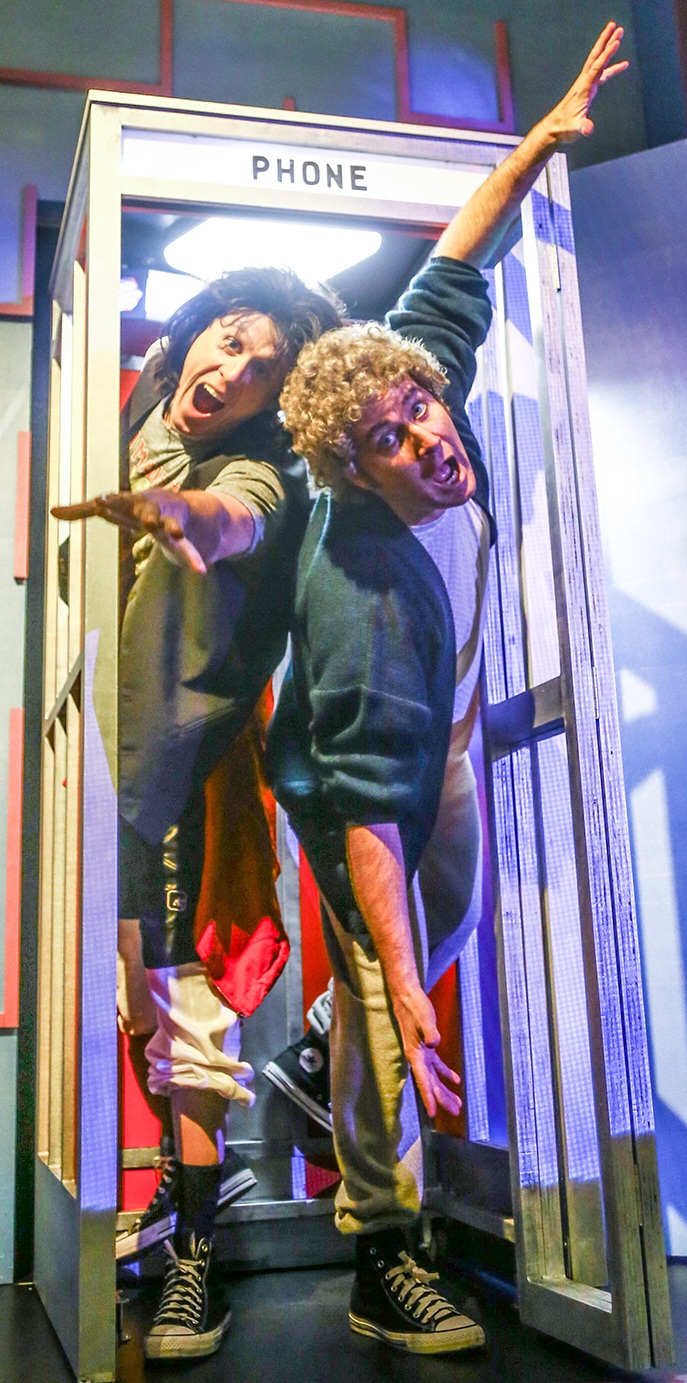 The Mayfield's hugely popular pop music shows – The Super Groovy '70s, The British Invasion – have developed into an annual Christmas bacchanal running for three months and attracting large crowds of buffet-sampling, nostalgia-loving grey hairs. And who amongst us has not screamed out "Who Ya Gonna Call?" Has gaming ever recovered from the loss of Frogger? Have you ever longed to go back to the future in Dr. Brown's DeLorean? Then this is a show for you.
After a while, all these music-filled memory-tinged shows from the Mayfield tend to turn to mush (unlike the buffet's scalloped potatoes), but I do remember their original '80's bust-out as one of the best. There is only so much you can do with these vehicles with their endless parade of top-of-the-chart hits and familiar cultural touchstones. The result could be fairly flat with performers strung out along the stage singing refried versions of overly familiar chart toppers. But the Mayfield – with long-time collaborators, writers Will Marks and Gerrad Everard, and musical/artistic director Van Wilmott – refuses to do that. They have traditionally thrown considerable resources at the shows, infusing them with a bouncy, fizzy, spandex-clad enthusiasm that inevitably drags you along.
There is a loose plot line as Bill and Ted ask us to join them in their time machine phone booth for their latest adventure: a search for true love. It requires making a mix tape to win the love of their chosen maiden.
The cast manages often uncanny recreations of the original stars and you'll see a load of them parading by for two and a half hours (with a 20 minute intermission):
Joan Jett (I Love Rock and Roll), John Cougar Mellencamp, a hilarious take on the Blues Brothers, Starship (They Built This City – dubbed by Rolling Stone as the worst song of the '80s), Madonna (Vogue – in a remarkable recreation of the video), Milli Vanilli (seen lip syncing), Phil Collins (Take a Look at Me Now – Collins should only have a voice as good as Kieran Martin Murphy who sings it here), the obligatory Michael Jackson (Jahlen Barnes – who's got the voice and the moves), Mick Jagger and Joe Cocker. Laura Mae Nason, who adds an impressive superstructure to become Dolly Parton, nails Nine to Five – leading a string of unfortunate (but inevitable) boob jokes.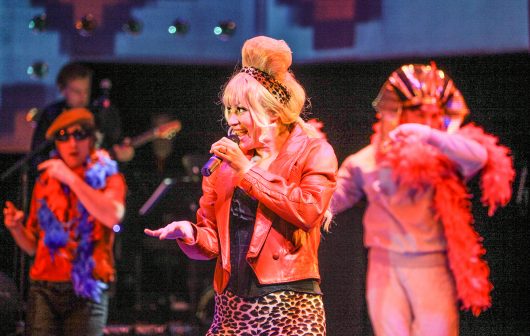 I'd add more to the list but they kept changing so fast it was hard to tell just who is who. Others in the cast (smaller but no less talented than in other years) include Brad Wiebe, the inestimable Pamela Gordon, Gerrad Everard, Kevin Dabbs and Vanessa Cobham (who performs a smokin' dance to Flashdance).
You can detect the practiced and creative hand of stager Dave Horak and the delightful engaging and spot-on period choreography of Christine Bandelow – who joins the cast in December. The hardest working person is the back stage magician who keeps a bewildering wig and costume thing going as the performers change characters and clothes (costume designer Leona Brausen) in what seems like seconds. T. Erin Gruber's mind-blowing projections are a stand-out from beginning to end.
All the performers are amazingly multi-talented and there is a sense of totally rad and gnarly fun, good times being had by all.
One does wonder: Why no Bruce Springsteen? And why, when the production begins to run aground in '80s hair rock, couldn't there have been just a bit of Canada? There are so many performers to chose from – Neil Young, Leonard Cohen, Robbie Robinson, Corey Hart, April Wine, Rush, Alannah Myles (won the Grammy Award for Best Female Rock Performance for Black Velvet) and others. What a great closer Parachute Club's Rise Up would have made.
Maybe we'll just have to wait for Part 3.
Back to the '80's Part 2: The Adventure Continues runs at the Mayfield Dinner Theatre through January 28.