Hadestown one HELL of a musical
The first thing you see when you enter the theatre is a vast empty space with a huge bleached tree reaching out with leafless arms. Winter's coming. It's a powerful invitation and a warning of the wonders and dangers that are to come in the new musical Hadestown.
It's a simple enough start to a voluptuous journey through time, telling of a tale of love and loss that was old when the world was young. Anais Mitchell's show is seeing its Canadian premiere at the Citadel Theatre until Dec. 3, on its way to a major show on Broadway next year.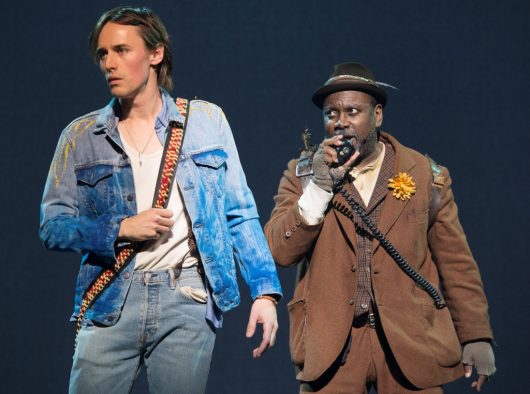 The story of how Hadestown got here is something of an odyssey itself. Mitchell, a bluesy folk singer from Vermont, first set down Hadestown as a song-cycle turned folk-opera in 2006. The durable vehicle toured, developed into a concept album and caught the eye of director Rachael Chavkin – who is currently Broadway's golden girl with a string of imaginative productions culminating in the mega-hit Natasha & Pierre and the Comet of 1812.
Chavkin saw great possibilities in Hadestown and spun it into a modest off-Broadway hit. The show's fresh, imaginative staging caught the eye of critics – "Stunning … ravishing" burbled Variety – and the dollars of ticket buyers. A lot of them. So many that a major Broadway production was envisaged.
The Citadel's Daryl Cloran saw the off-Broadway show and was enchanted. When he heard that a move to Broadway was planned, he immediately set out to promote the Citadel as the most logical place for the traditional out-of-town tryout (great theatre, ace technical crew, traditional proscenium arch, lots of experience mounting big shows for export). His sheer persistence and good ol' western Canadian chutzpa led to Thursday's glittery opening.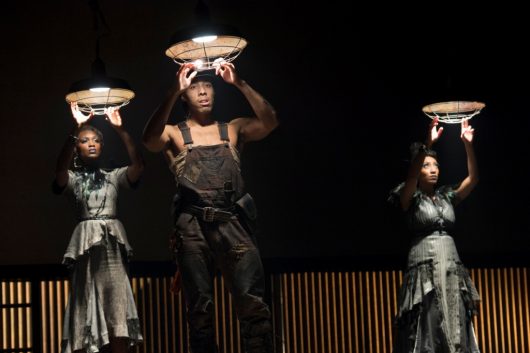 What do you get for your chance to be part of The Broadway experience? Something really special. Something that is utterly unlike anything ever seen before. Sure, the elements are familiar – lyrical accessible music that would be right at home in a Louisiana bayou or Cape Breton ceilidh. There are stellar performances from some Broadway regulars (and a number of Canadians), and inventive staging from a creative director who respects the purity and simplicity of the material.
Chavkin's original off-Broadway success was largely due to her ability to use space while maintaining a welcoming intimacy. The opening number, Road to Hell, besides featuring a killer trombone solo from Audrey Ochoa, has the avuncular narrator Hermes (Kingsley Leggs) leading the house in a call and response telling of the "hard times" in "a world of gods and men."
The Three Fates sing, "Flood'll git ya if the fire don't!"
The cast is surprisingly small – only 12. At the back, in full view of the audience, the modest but mighty seven piece live orchestra generates the cozy feeling of a living room hootenanny.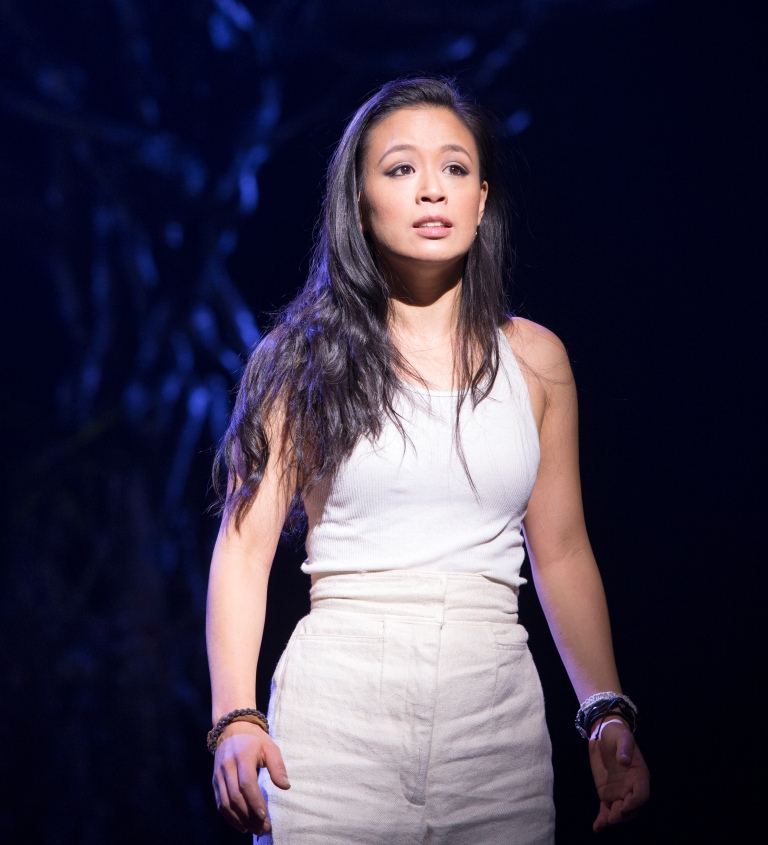 Hadestown is Mitchell's retelling of the Greek myth of Orpheus and Eurydice. She plays a bit fast and loose with the original, but after centuries of retelling, what myth doesn't have many variations?
Orpheus (Reeve Carney) is a slim and sensitive Woody Guthrie-type balladeer with a guitar on his back. He takes one look at Eurydice (T.V. Carpio) and is immediately entranced by her innocence and luminous beauty. He promises to protect her from their bleak world with his music. But, alas, a lackadaisical fellow, his passionate versifying is not enough to hold off starvation, and she succumbs to the blandishments of the suave and seductive God of the Underworld (and mega-tycoon) Hades (Patrick Page). He promises her relief from the privation she faces with the hapless Orpheus. Security at the expense of Freedom. Eurydice joins Hades in Hadestown, an expressionist infernal hell of factories and endless labour – surrounded by a wall.
In a prescient song (written long before the coming of Trump), Hades intones, "Why do we build the wall, my children?" And the blank-eyed masses reply, "We build the wall to keep us free. To keep out the enemy." It is an anthem of surpassing power delivered with an ever-rising ferocity by Page. He has an amazing range, and his foghorn bass grinding out Why We Build the Wall qualifies as a show stopper.
In another branch of the narrative tree, Hades' beautiful wife Persephone (Amber Gray) brings Spring each year to the upper world, and returns to Hades to await the return of her season.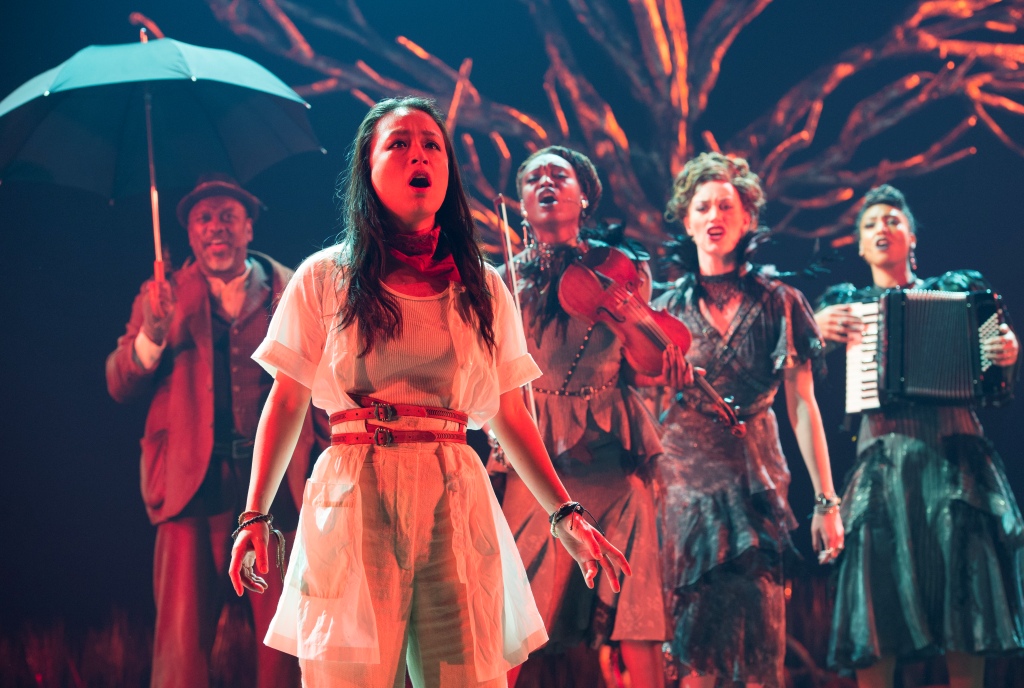 Orpheus discovers where his love has gone and sets out on a dangerous journey to bring her back. And the ancient myth, with its New Orleans-influenced music and '30s depression setting, works its way through to its inevitable tragic conclusion.
Long after the lights go down, you will find yourself still held in the grip of the seductive world of vivid emotions created by these gifted people. It's hard to find anything but praise for the experience. The majority of the cast, veterans burnished in the fires of Broadway, demonstrate their talent in every song they sing. Carney (who played Spiderman in the recent Broadway production) as the free-spirited Orpheus, is indeed a man to turn a maiden's heart, trilling of love in a clear high tenor.
"He could make you see the world as it could be," observes Hermes.
Carpio's Eurydice is an incandescent beauty with a beguiling voice and manner. The two share a torrid love scene. Leggs brings a warm baritone, a natural storyteller's incantation and a bit of cynical world-weariness to the proceedings. Gray is a sexy, alluring fire-cracker as Persephone – a lady this hot could certainly bring on an early spring. Page (who was Spiderman's nemesis, Green Goblin, on Broadway) is a commanding force – surely one to follow through the gates of hell.
Mitchell's lyrics are superb – carefully crafted and full of imagery. Rachel Hauck's set also honours the simplicity of the original. It features a double turntable set in a circle in the middle of the stage.  The inner and outer elements spin together or move in opposite directions – subtly placing the actors into an intensely dramatic visual dynamic. David Neumann's choreography is inventive and adroitly performed by the cast.
Somehow, in sadness of the ending of the myth, Hermes finds a glimmer of hope in the very telling of the tale. "It's a love song," he sings, "and a tale of a love that never dies."
This is a journey you'll want to take here at the Citadel because when it leaves for New York, you may not be able to get a ticket for some time.
Photos by David Cooper