PLAYBILL: Havana cigar for company birth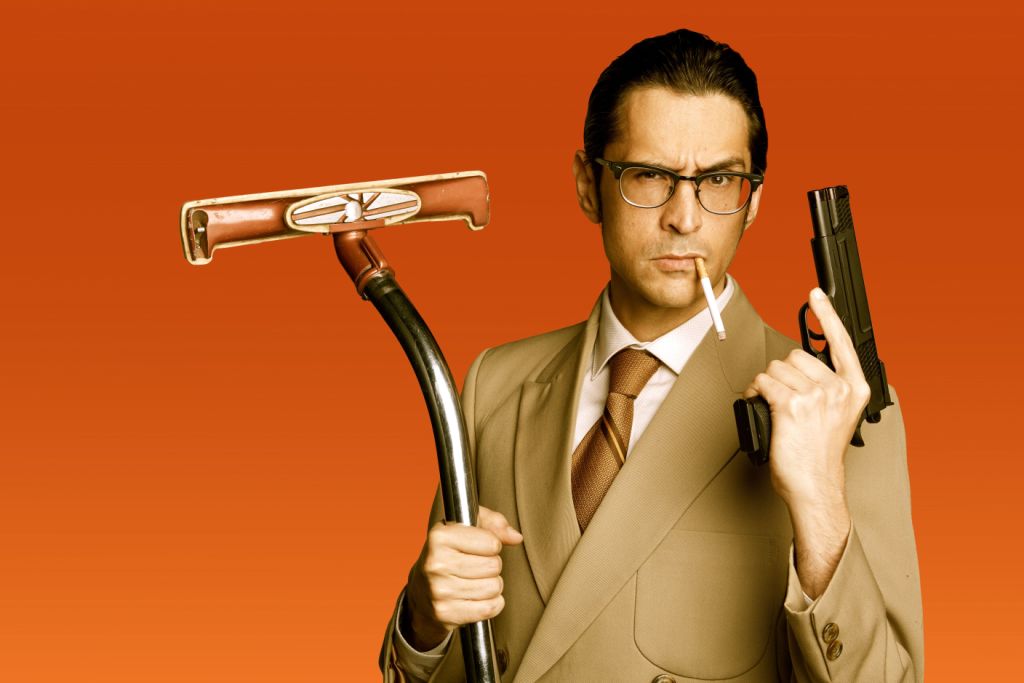 A new Edmonton theatre company has crawled out of its cocoon – though it's pretty much been here the whole time.
Say hello to The Varscona Theatre Ensemble – with longtime local actor Jeff Haslam at the executive producer's wheel. This is a new brand for what he and in fact most of the people inside the Varscona Theatre (both new building and old) have been doing for longer than we've had the internet. We're foggy on the exact date they started, because, you know, no internet. It has to be ages and ages, though.
The VTE's official first production will be the spy thriller spoof Our Man In Havana, by the Bright Young Things company-within-the-company. Directed by Kate Ryan, the play is said to be rip-roaring stage adaptation of Graham Greene's novel that deals with a vacuum cleaner salesman who pretends to be a spy in '50s Cuba to raise money to buy his daughter a pony. At least that's what it says in the press release. Who's got time to read a novel synopsis these days?
Haslam says in same press release that the VTE will put "emphasis on the actor and the word" – and with that has cast four actors (Mark Meer, pictured, Belinda Cornish, Mathew Hulshof, and Ian Leung) to play 32 different roles.
"There will be plenty of opportunity for the audience to witness some of the best acting from some of Edmonton's finest actors," Haslam says.
Our Man in Havana plays Nov. 23-Dec. 2 at the Varscona Theatre.
Pawâkan Macbeth: A Cree Tragedy
You've seen Shakespeare before – but never like this.
Indigenous playwright Reneltta Arluk has imagined Shakepeare's darkest drama as being part of Cree history – in particular focusing on the war against the Blackfoot during a time when white men were unknown in the so-called "new world." It's all very familiar: A great but troubled warrior haunted by an evil spirit is made thrall in a plot to kill their Chief. Spoiler alert: It's not going to end well.
A co-production of Akpik Theatre and Theatre Prospero, Pawâkan Macbeth runs Nov 23-26 at the ATB Financial Arts Barns in Edmonton.
Sister Act
We can never have enough singing nuns! They're supposed to be all holy and severe, but there they are, singing as if they don't have a care in the world. Such a twist.
Singing nun movies have been with us a long time – so it was inevitable there'd be stage musical about singing nuns. Sister Act was a hit in London and on Broadway seven years ago, now the sturdy vehicle will "break in" MacEwan University's fancy new Triffo Theatre in Allard Hall Nov. 22-Dec. 2.
With music by the award-winning Alan Menken, direction by MacEwan's own Jim Guedo, and a plot straight out of a 1992 Whoopi Goldberg movie where a singer is threatened by the mob and put into protective custody in a convent, where she winds up touching the hearts and souls of everyone around her, and we all learn something in the end – which in fact it was before it was made into a musical – this should be a winner for the new MacEwan theatre.

It's a Wonderful Life and Elf The Musical JR
If you can't get into the Christmas spirit with a double-header of life-affirming Christmas shows performed by the St. Albert Children's Theatre, then you have NO SOUL. In which case what are you doing here in the first place?
That's a bit harsh. Best put miscreants on the naughty list for now, and plug a two-in-one production Nov. 23-Dec. 3 at the Arden Theatre. They're doing the classic It's a Wonderful Life – where a man finds out he's needed – and the somewhat lighter but still deep and meaningful Elf the Musical Jr. – where a man finds out he's human, but still needed to help Santa.
Back to the '80s, Part 2
With more than 200 costume changes, squads of talented singers, a crackerjack band and dozens of hits of the past – from Prince, to David Bowie, to The Rolling Stones, to Madonna, it really never seems to end – this show is officially the most jam-packed 1980s musical revue in history. If only the real '80s could've flown by this quickly or with such entertaining impact. This show is a RIOT.
Back to the '80s Part 2: The Adventure Continues runs until Jan. 28.
Hadestown
Trust Colin MacLean on this because he doesn't say it every time: Get tickets to Anais Mitchell's remarkable new show Hadestown until Dec. 3 at the Citadel Theatre WHILE YOU CAN – because they're going to be scarce when this steampunk musical retelling of the myth of Orpheus and Eurydice opens on Broadway in New York next year. Its stars – including the guy who played Spiderman in the short-lived Broadway show – will be feted and celebrated and make appearances on James Corden. Hadestown will the next Broadway phemon since Hamilton. Just you wait.
Jabberwocky
Whatever drug Lewis Carroll was on when he wrote his "Jabberwocky" poem in 1871 you don't need to get the most of an amazing stage production in Edmonton in 2017. In an enthralling tale of rabbits, monsters and inner demons told in yawps and grunts, the Old Trout Puppet Workshop is presenting this "puppet extravaganza for adults" at the Roxy on Gateway Theatre until Nov. 26.