MUSIC PREVIEW: Needle orphans find new gigs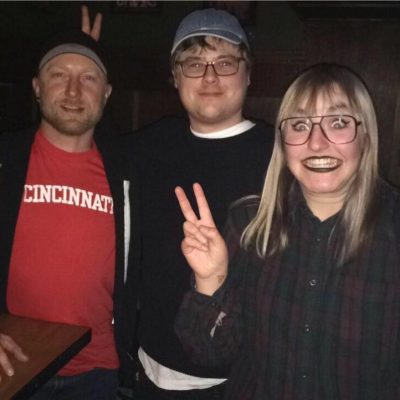 Local music people are scrambling to reschedule shows cancelled after the recent indefinite closure of the Needle Vinyl Tavern, in the wake of allegations of sexual harassment against one of the club's owners.
This place ran live music seven nights a week, sometimes two shows a day – so there are a lot of orphans.
Several acts were quickly accommodated, like Thursday night's highly-anticipated show by Cold Specks, which went down at 9910 instead.
The local power pop trio Brunch Club (pictured), meanwhile, moved its gig on Friday night to Aria's Bistro (formerly known as Cha Island), and in solidarity with the issue has made the early show (6-8:30 pm) a fund-raiser for the Sexual Assault Centre of Edmonton (SACE). Tickets are $5 at the door. Another show at the Buckingham on Whyte on Sunday night will also donate all proceeds to SACE: There are a bunch of acts performing, starting at 7:30 pm, including Feminal Fluids, something called Don't Not Talk To Strangers, and the Black Label Burlesque show. Tickets are $10 and only available at the door.
There are more SACE fund-raisers coming up, an example of positive action spurred by unpleasant events; and many of the scheduled acts at the Needle in the coming weeks will be finding new homes. No word at this time on the future of the Needle. All advance tickets held will be honoured for the new venues. Watch this space for more details!
Friday 24
Thelonious Monk's 100th Birthday – In a land long ago and far, far away came this heavy cat, a legend of jazz composition and famous piano player whose fans sometimes wondered if he could actually play the piano at all. He had a "weird" style. The jury is back: Yes, he could. Like no one else. His weird and unique songs, too, are still with us. Monk would've been right at home in Edmonton, Home of the Weird. At the Yardbird Suite Friday and Saturday, a who's who of Edmonton's heavy cats will present a centenary Monk celebration in big band form, collectively known as the Yardbird Suite All Stars. Show at 8 pm, tickets $24 for EJS members, $28 for guests.
Rosie and the Riveters – This kooky, cutesy trio of old-fashioned 1940s-styled songbirds from Saskatoon isn't merely novelty schtick from yore – though if you like that sort of thing, Fort Edmonton Park's Capitol Theatre is just the place for you. This group does original music along with takes on the great American songbook, and has one album to their name, called Good Clean Fun. Show at 7:30 pm, advance tickets $25
No Problem – Here's a band that apparently caught wind of what was going down at the Needle before anyone else did, and promptly moved their show to Brixx (downstairs from the Starlite Room). The Edmonton punk band has six recordings, the latest being Kid Killer from 2015, and another in the can almost ready to go. The James T. Kirks and Screaming Target open the show at 8 pm. Advance tickets $10.
Saturday 25
Kid Koala – Neither arboreal herbivorous marsupial nor technically a "kid" anymore, this Toronto DJ and turntablist has worked with a surprising number of eclectic artists, and is touring with his new solo album, Music to Draw To (he also writes graphic novels, so the title makes more sense). Rec Room, 9:30 pm, advance tickets $20
Wildwood – Here we have some Alberta classic country so raw, real and hurtin' you'll cry in the beer you told the guy to hold while you danced with his girlfriend, and then he drinks your beer, or something like that. These guys have been around. They started playing trad country covers, but soon it became more. The sweet and sultry vocals of Tanyss Nixi distinguishes the music of Wildwood, with "Not Fat Anymore" Dave Johnson (of the band Fuzz Kings) as the wingman. Not much Nashville bro-country here, so we must have to call it "alt-country." CD release show at the Almanac. Also on the bill is Jody Shenkarek and Country Vulture, and Goldtop. 7 pm, $15 advance
Sunday 26
Current Swell – Here's another hot act whose show at the Needle was moved – in this case to the Starlite Room … and it's sold out already. The surfy folky poppy Victoria band is touring on the back of their latest album, When to Talk and When to Listen. Close Talker opens the show at 8 pm.