PLAYBILL: In with Gretzky, out with DISNEY!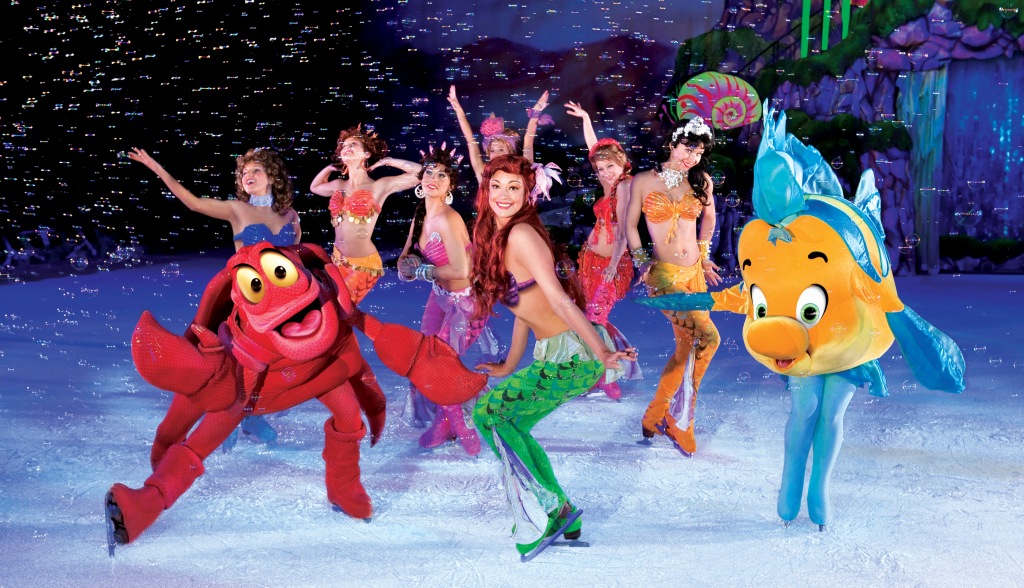 Northlands Coliseum will be hosting its last show ever this weekend. After that, what? They're tearing it down to build a domed waterpark? Not super clear on that.
Anyway, capping 43 years of memories, where once Gretzky skated will now be the icy stage for Mickey and Minnie Mouse and all their friends – stars arguably bigger than Gretzky and Connor McDavid literally rolled into one costume at Disney On Ice. Think about it: Gretzky was traded to the Kings, which is in Los Angeles, which is home to Disneyland. Coincidence? Maybe. Playing Nov. 30-Dec. 3, Disney on Ice is presenting a new show called Follow Your Heart, which features characters from Frozen, Toy Story, Finding Dory, and Inside Out, plus Cinderella, Rapunzel, Tiana and other Disney Princesses.
Take your little girl and tell her about the "good old days."
Stevie Wonder was the first act at the Edmonton Coliseum when it opened in 1974, and in addition to some sporting events, has hosted thousands of concerts from Eric Clapton to Prince to Pearl Jam to Justin Bieber.
The last event of any kind – a hockey game between NAIT and the U of A – happens on Dec. 9.
We're going to miss the old barn.
Doll House
Didn't we just do this? Turns out Walterdale did a run of the original Henrik Ibsen play A Doll's House in October.
This time, in a U of A Studio Theatre show Nov. 30-Dec 9 at the Timms Centre of the Arts, an artful adaptation by Beau Coleman is promised, moving the tale of a frustrated housewife from Victorian Age Norway to America in the 1950s. There, now that's better! The press release offers a quote from noted feminist writer Betty Friedan: "As she made the beds, shopped for groceries, she was afraid to ask even of herself the silent question – is this all?"
Short answer: No.
So You Think You Can Dance
Weird month for theatre. Peppered in a light schedule that bulks with Christmas sap as December wears on are events you don't know how to categorize. Like the live touring show for So You Think You Can Dance – happening one night only, Sunday, Dec. 3 at the Jubilee Auditorium. Call it live theatre: The top 10 finalists from the latest season of the show are touring across North America, and are expected to prove that yes, indeed they can dance.
Hey Ladies!

Who doesn't love a good office Christmas party – a great opportunity to get way too drunk on eggnog and let the people you work with know what you really think of them, and then bone up on your resume-writing skills.
At the Roxy on Gateway Friday, Dec. 1 at 8 pm, the ladies and one gentle-man of Hey Ladies! will recreate the annual yuletide office ordeal in gory, glorious detail. Guests and attractions include Bad Santa, the Office Party Matchgame, dancing, gifts, prizes and the opportunity to sample the "ultimate winter comfort brew." Just watch those girly drinks. They sneak up on you.
The Music of Star Wars
We're totally not sure where to put this. Classical music? Theatre? Cinema? Science fiction? Nerd culture? Perhaps it's a little of all of them and none greater than the sum of their parts.
If we're talking composers, it's really John Williams being celebrated by the Edmonton Symphony Orchestra at the Winspear Centre Nov. 28-29. The composer's works in what may be the cinematic zenith of the 20th Century will surely be remembered 400 years from now as fondly as Mozart and Beethoven. Mark my words, you must.
Hadestown
Trust Colin MacLean on this because he doesn't say it every time: Get tickets to Anais Mitchell's remarkable new musical WHILE YOU CAN – because they're going to be scarce when it opens on Broadway in New York next year. Its stars – including the guy who played Spiderman in the short-lived Broadway show – will be feted and celebrated and make appearances on James Corden. Hadestown will the next Broadway phemon since Hamilton. Just you wait.
What we'll see until Dec. 3 at the Citadel Theatre for its Canadian premiere is almost exactly the same thing New York audiences will see: a retelling of the Greek myth of Orpheus and Eurydice in steampunk musical steeped in the music of New Orleans. It's something you don't get to see every day – and Colin doesn't say that every day, either.
Our Man In Havana
There's maybe too much basil exposition in this complicated spy spoof stew that's based on a novel by Graham Greene – who was in fact an actual spy. But you couldn't ask for a better company of "Bright Young Things" to pull all the threads together for a hilarious cloak 'n' daggers romp through 1950s Cuba. Four actors – Mark Meer, Belinda Cornish, Mathew Hulshof, and Ian Leung – play 32 different roles. Our Man in Havana plays until Dec. 2 at the Varscona Theatre.
Sister Act
Singing nun movies have always been with us – so it was inevitable there'd be stage musical about singing nuns. Sister Act ran in London and on Broadway seven years ago, now the sturdy vehicle is breaking in MacEwan University's fancy new Triffo Theatre in Allard Hall until Dec. 2.
With music by the award-winning Alan Menken, direction by MacEwan's own Jim Guedo, and a plot straight out of a 1992 Whoopi Goldberg movie where a singer is threatened by the mob and put into protective custody in a convent, where she winds up touching the hearts and souls of everyone around her, and we all learn something in the end – which in fact it was – this should be a winner for the new MacEwan theatre.
Back to the '80s, Part 2
With more than 200 costume changes, squads of talented singers, a crackerjack band and dozens of hits of the past – from Prince, to David Bowie, to The Rolling Stones, to Madonna – this show is officially the most jam-packed 1980s musical revue in history. If only the real '80s could've flown by this quickly or with such entertaining impact. This show is a RIOT.
Back to the '80s Part 2: The Adventure Continues runs until Jan. 28.
It's a Wonderful Life and Elf The Musical JR
If you can't get into the Christmas spirit with a double-header of life-affirming Christmas shows performed by the St. Albert Children's Theatre, then you have NO SOUL. In which case what are you doing there in the first place?
That's a bit harsh. Best put you on the naughty list for now, and plug a two-in-one production until Dec. 3 at the Arden Theatre. They're doing the classic It's a Wonderful Life – where a man finds out he's needed – and the somewhat lighter but still deep and meaningful Elf the Musical Jr. – where a man finds out he's human, but still needed to help Santa.