Modernized Doll House an artful adaptation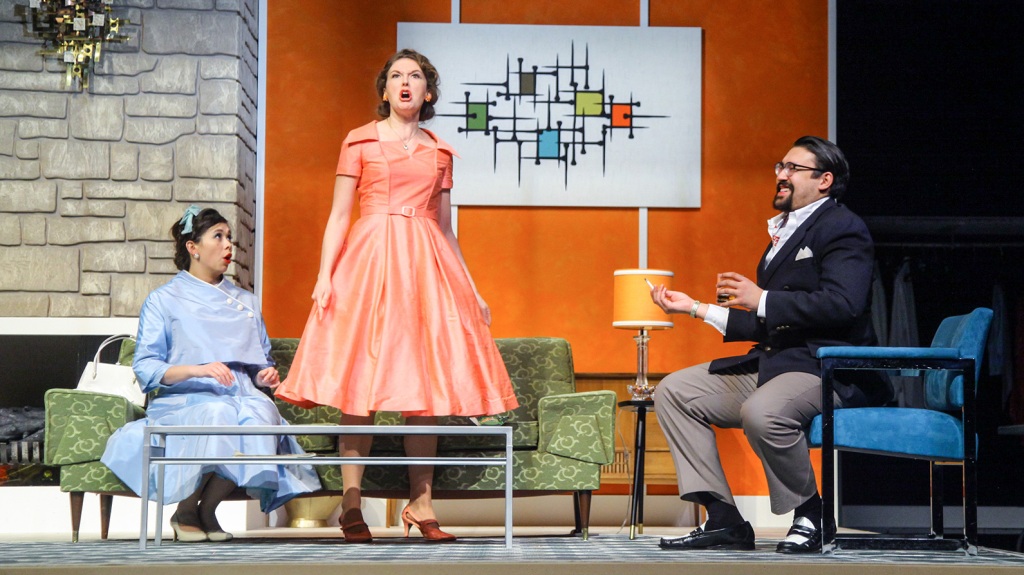 At the end of Henrik Ibsen's 1879 bombshell A Doll's House, a liberated wife walks out on her husband and slams the door behind her. It became known as "the door slam heard around the world."
The wife, Nora, was unfulfilled in her marriage and her headlong exit at the end of the play set off a firestorm (really – riots, newspaper headlines and all – while, incidentally, filling theatres) as audiences were outraged by the premise that marriage, children and a loving husband were not enough for this uppity woman.
The play still finds resonance in today's society and is still very popular – in 2001 it was the most produced play in the world.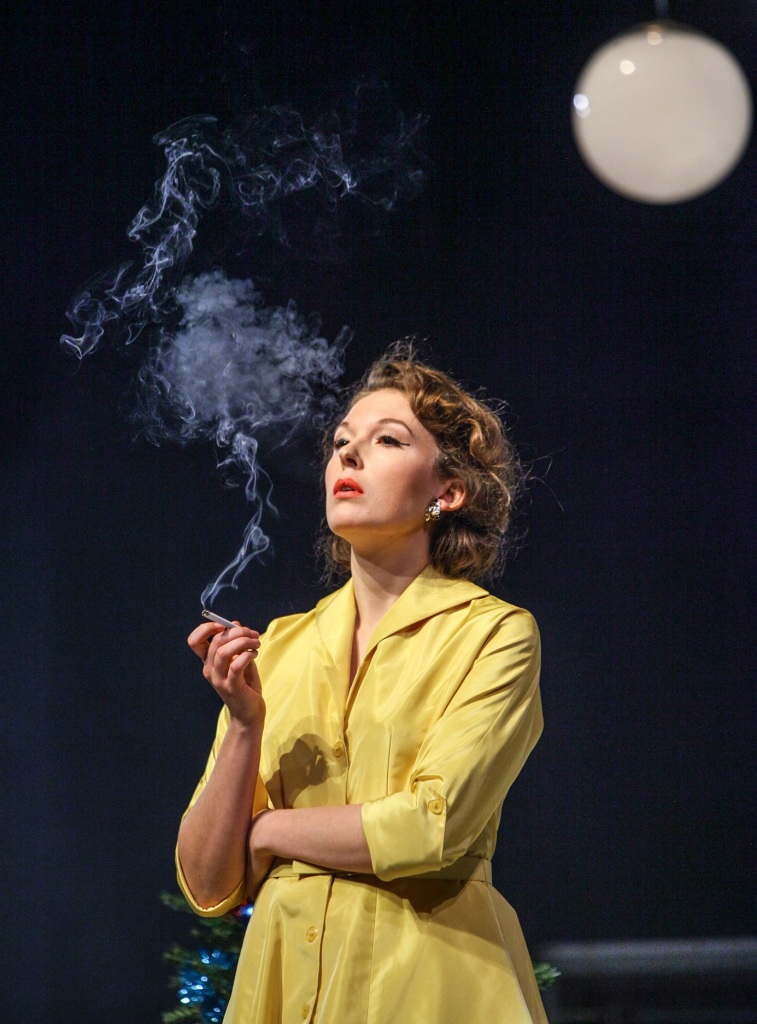 For the current U of A Studio Theatre production Doll House, at the Timms Centre for the Arts until Dec. 9, playwright Beau Coleman finds a logical relocation for Ibsen's durable classic. She places her modern adaptation squarely down in that other time when a woman's place was hotly debated – the America of the 1950s, shortly after the publication of Betty Friedan's The Feminine Mystique. Significant numbers of women responded angrily to the book, which they felt implied that wives and mothers could never be fulfilled and that the polemic "undermined their stability, devalued their labour, and disrespected their intelligence."
The Feminine Mystique sold over a million copies and popularized the phrase "the problem that has no name."
Writer-director Coleman certainly understands Ibsen's premise and dramatic intent. She has recharged the original, slimmed it down, focused it, magnified the issues and located a time when a whole new generation would be stirred by her version of the original playwright's pointed dialogue and controversial views.
There is not an ounce of fat in this adaptation. The whole evening clips along.
Sofia Lukie's set is simple but evocative. It indeed looks like a doll house – set on a platform with a single wall behind decorated with well chosen '50s bric-a-brac. The furniture is just how you remember you mother's living room. Coleman's ace production begins with Peggy Lee's ode to isolation and cynicism, "Is that all there is?" Lee could have written the song for this show. All the music, featuring Nat King Cole, Perry Como and Gordon Jenkins, is well chosen.
Ibsen's timeless study of the need for domestic honesty and spiritual liberation has Nora (Gabby Bernard), as a suburban housewife. On the surface she's bubbly and accommodating to her successful husband. But even in the early scenes of seemingly wedded bliss, in full-diva Joan Crawford mode, the actor communicates a barely controlled hysteria. Tom (Matt Mihilewicz) seems everything a husband should be. He obviously loves his wife and they seem to live a blissful relationship. But all is not what it seems. He sees his companion as an appendage, a child in a doll's house, calling her his little "skylark." As the levels peel back, this fine actor reveals that he is narcissistic, ego driven, selfish and more concerned with public reputation than with actual morality.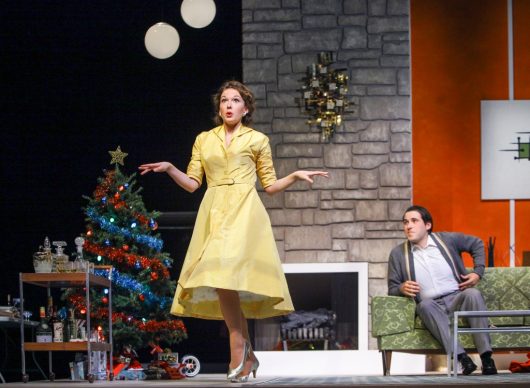 Nora has a secret. When Tom suffered a nervous breakdown, she borrowed money from a sketchy lender, Neil Kramer (Connor Suart), co-signing the deal with a forged copy of her dead father's name. Kramer is fired by Tom for ineptitude in the bank and blackmails Nora to get his job back. An old friend, Christine (Kiana Woo), persuades Kramer to back off his claims. But an angry Tom abandons his wife on moral grounds. When the danger of legal action fades, he retracts his blazing recriminations and "forgives" her. But, it's probably too late for Nora's marriage as she has finally realized the truth of her situation.
We think it's too late. Ibsen purposefully left his ending ambivalent.
Bernard is superb. She may act in the grand manner of '50s Douglas Sirk soap operas, but she finds ample room for subtlety and space for a good deal of heart wrenching pain – especially in her recreation of the famous tarantella (in this version a mambo) as Nora, verging on madness, performs for her husband. As in the original, Mihilewicz isn't given a wide range of emotions – from preening husband to raving hypocrite – but he lets us know just how shallow a jerk he is. Woo is solid and very funny in a scene where Nora is trying to explain away the daily presence of a family friend, Dr. Rank (Alex Cherovsky), who is obviously in love with Nora.
Coleman is a perceptive director with many distinctive touches. Bernard never leaves the stage even during intermission. The other characters circle the stage moving in and out of the light, giving the feel that life is going on even as the emphasis is on the stage. Coleman uses lighting, theatrical movement and clever placement to advance her story.
By slimming down Ibsen's three acts, Coleman does miss out on some of Ibsen's main points. We never get much of a feel for Nora as a doll in a doll's house. Also, the act of leaving a loving husband and children that so horrified Victorian audiences is muted. In the original, Nora comes to the feeling that she never loved her husband and suggests that many women feel the same way. Here Nora speaks mostly for herself.
And she never leaves (gasp!) slamming that darn door.
These are small quibbles, though, in the admirable and often compelling adaptation that amply demonstrates that a classic of world theatre can still function as a challenging contemporary drama.
Photos by Ed Ellis