PLAYBILL: You will be visited by 4 ghosts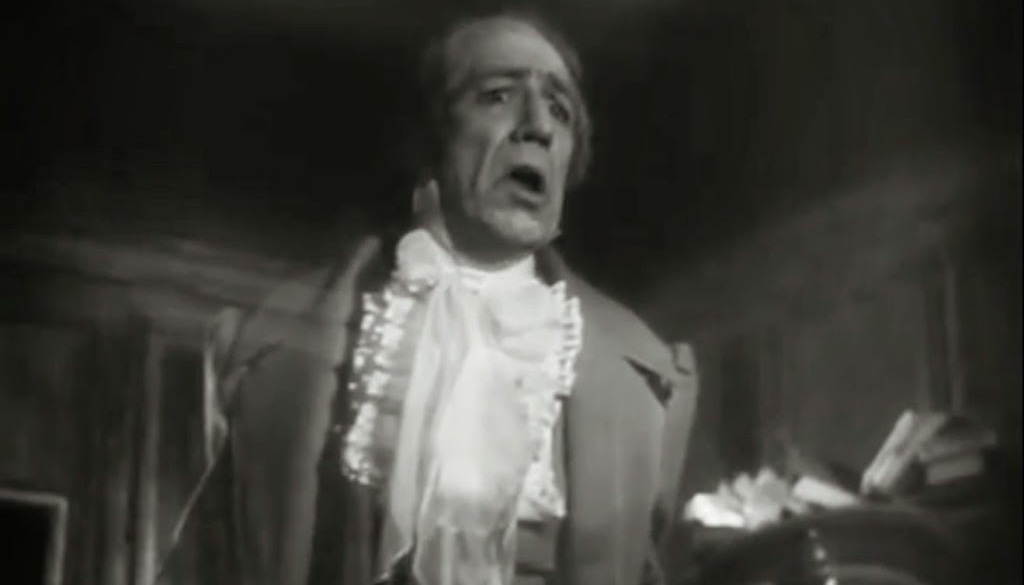 Scrooge … Scrooge … SCROOGE, wake up! It's me, your former partner, Jacob Marley. Why I've turned into a ghost whose only gig is to warn to you not to be so greedy is beyond me. "Don't end up like me," I'm supposed to say. But I was a generous guy! People liked me! Didn't you see that movie with Bill Murray? But apparently there were some, you know … allegations made against me for inappropriate sexual contact, purely innocent, I swear, all in fun – and then I died, so now I'm a spirit doomed to talk to you this one time. Is that fair? Quit blubbering! I have a job to do. Scrooge, you will be visited by three ghosts. Four if you include me. We all just want you to know: SILENCE DOES NOT EQUAL CONSENT! I must repeat this truism for all eternity. Wait, where are you going? Come back here! You're not supposed to flee the supernatural visitation!
Enough of that. One toys with Charles Dickens at one's peril.
Though there have been many variations of his classic 1843 novel A Christmas Carol, the Citadel Theatre is playing it straight in its annual show playing until Dec. 23. Don't fix what ain't broke. With a dependable adaptation by Tom Wood, and new Scrooges played alternatively by local veterans Julien Arnold and Glenn Nelson, this fable of forgiveness and redemption set in a more innocent (yet wretched) time – the Victorian era.
There seems to be a lot of 1800s material in Edmonton theatre lately. Could we be entering a new Victorian era?
Shatter
Nearly two thousand people were killed and more than 9,000 injured when a French ship filled with high explosives collided with a Norwegian ship near Halifax Harbour in 1917. An entire neighbourhood was destroyed.
Now there's a cheery theme for a Christmas play!
The Walterdale Theatre is presenting Trina Davies' play Shatter, dealing with the aftermath of the Halifax Explosion, and it opens on Dec. 6 – 100 years to the day since the tragedy. The playwright has zeroed in on four characters (and a gang of ghosts) to tell the story, to show in detail how the lives of survivors were turned upside down. In a press release, director Josh Languedoc says, "I just want audiences to feel the emotional weight of this tragedy by seeing themselves as these characters."
Shatter plays until Dec. 16 at the Walterdale.
Lizzie
Now we have a Christmas play about an axe murderer?
At least it's a musical – a rock musical. Playing until Dec. 10 at the Strathcona High School Stage (10450 72 Avenue), there's a band telling the story of a young girl who allegedly chopped up her parents in 1892. Four women fronting a six-piece rock band, to be exact, expressing (according to the press release), rage, sex, betrayal, and bloody murder … not necessarily in that order. Sounds like it could be fun. Too soon?
The Nutcracker
Now we're talking wholesome family Christmas entertainment.
The Alberta Ballet also has tradition – longer than the Citadel's Christmas Carol. This is the big one: The Nutcracker, another Victorian era work with music by the great Pyotr Ilyich Tchaikovsky. With Tin Soldiers and the Sugar Plum Fairy in a Kingdom of Sweets portrayed by the world-class dancers of Alberta Ballet, the annual spectacle plays at the Jubilee Auditorium Dec. 7-10 – complete with the talents of both of Alberta's major orchestras, the Edmonton Symphony and the Calgary Philharmonic. Take your kids.
Naked
For another side to the world of dance, find a babysitter and make it a date night for this aptly-named show from Mile Zero Dance. There's no grey area here. The performers Tony Olivares and Katrina Smy will indeed be dancing naked – Dec. 8-9 at 8 pm at Spazio Performativo (10816 95 Street).
Hey, it's art! The press release reads, "The work is inspired by the stages of humans in the amniotic sac: our muscles, bones, sensorial development, the contractions, the breath, our blood and our birth."
Doll House
Walterdale did a run of the original Henrik Ibsen play A Doll's House in October. This time, in a U of A Studio Theatre show until Dec 9 at the Timms Centre of the Arts, an artful adaptation by Beau Coleman is presented, transporting the tale of a frustrated housewife from Victorian Age Norway to America in the 1950s. The press release offers a quote from noted feminist writer Betty Friedan: "As she made the beds, shopped for groceries, she was afraid to ask even of herself the silent question – is this all?" Short answer: No.
Back to the '80s, Part 2
With more than 200 costume changes, squads of talented singers, a crackerjack band and dozens of hits of the past – from Prince, to David Bowie, to The Rolling Stones, to Madonna – this show is officially the most jam-packed 1980s musical revue in history. If only the real '80s could've flown by this quickly or with such entertaining impact.
Back to the '80s Part 2: The Adventure Continues runs until Jan. 28.