PLAYBILL: Time travel terror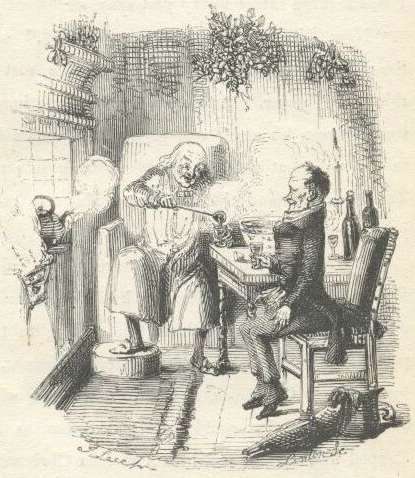 The trouble with Christmas spirit is that it only seems to come at Christmastime.
For many people it's just an expensive annual festival of indulgence in favourite sins – sloth, gluttony and lust, not necessarily in that order – in the company of loved ones, if you're lucky enough to have any. You help the poor more than usual, because this is the time of year when people help the poor. Then once the leftovers are put away, we fret over when we're going to do on New Year's Eve (verily the most depressing holiday of the year), before we all revert back to our usual selfish, greedy, lonely selves for the next 11 months. Oh, woe is me! To witness what I cannot share, but might have shared on Earth, and turned to happiness!
Will it take being terrified by time-traveling ghosts to make the Scrooges among us change our ways and keep Christmas spirit the whole year through?
"Scrooge was better than his word. He did it all, and infinitely more; and to Tiny Tim, who did not die, he was a second father. He became as good a friend, as good a master, and as good a man, as the good old city knew, or any other good old city, town, or borough, in the good old world. Some people laughed to see the alteration in him, but he let them laugh, and little heeded them; for he was wise enough to know that nothing ever happened on this globe, for good, at which some people did not have their fill of laughter in the outset; and knowing that such as these would be blind anyway, he thought it quite as well that they should wrinkle up their eyes in grins, as have the malady in less attractive forms. His own heart laughed: and that was quite enough for him.
"He had no further intercourse with Spirits …"
Sleeping Beauty
Pantomime as a form of theatre has been around for millennia, its origins at least from Roman times. Old, too, is the story of Sleeping Beauty – in which a woman is awakened from a magical coma by a non-consensual kiss – which dates from the 1300s.
Then we have a venue literally as old as the hills: Fort Edmonton Park, with structures, fittings and furniture (if not actual location) dating as far back as the 1700s.
Talk about time traveling!
And now, in the year 2017 going on '18 at the olden Capitol Theatre until Dec. 31, the Fort Edmonton Players present a family British-style pantomime of Sleeping Beauty – so expect a merry time of song, dance, slapstick and … are there actual mimes in pantomime? And of course audience participation.
A press release urges, "Be sure to go crazy."
Burning Bluebeard
More pantomime – but this Christmas play by Jay Torrence has a tragic backstory: The aftermath of the fire that destroyed Chicago's Iroquois Theatre in 1903. The play opens as six clowns emerge from the charred ruins to stage the Christmas pantomime they never got to finish, or maybe they're clown ghosts and have to it every year – trying to reach that magical "happy ending."
Burning Bluebeard, by the Edmonton Actors Theatre, plays until Dec. 23 at the Roxy on Gateway.
The Best Little Newfoundland Christmas Pageant … Ever!   
Here we have a Christmas play within a Christmas play, set in Newfoundland, where the people are so delightful and down to Earth. And whether you think theatre like this perpetuates stereotypes about Newfoundlanders or not, it's hard not to get caught up in the heartwarming story in this play that wins the prize for longest Christmas play title – presented by Whizgiggling Productions for the eighth year in a row until Dec. 23 at the Varscona Theatre.
Back to the '80s, Part 2
With more than 200 costume changes, squads of talented singers, a crackerjack band and dozens of hits of the past – from Prince, to David Bowie, to The Rolling Stones, to Madonna – this show is officially the most jam-packed 1980s musical revue in history. If only the real '80s could've flown by this quickly or with such entertaining impact.
Back to the '80s Part 2: The Adventure Continues runs until Jan. 28.
Fiddler on the Roof  
It's not a Christmas play specifically, but great big musicals have become a holiday tradition for Festival Place and the Festival Players within. This year, until Dec. 30, with all the bells and whistles and 30 singers and a 15-piece orchestra, they present the classic Fiddler on the Roof. You don't have to be a rich man (or woman) to afford tickets – but they're going fast.
A Christmas Carol
And here we come to the crux of the gist of the thesis at last: There have been many clever variations of this famous Christmas story about Scrooge's time-travelling redemption at the hands of three (four) ghosts, but the Citadel Theatre plays it straight Victorian in a story that literally hasn't been improved since it was written by Charles Dickens more than 150 years ago (last lines in the text of the book, quoted above, plus Marley) – though a lot of people have made some very good tries. Point here: "Scrooge" wound up as the good guy in his own story. It may be a teaching moment.
With the dependable adaptation by Tom Wood, and Scrooges played alternatively Julien Arnold and Glenn Nelson, A Christmas Carol plays until Dec. 23.