New Year's Eve Music Preview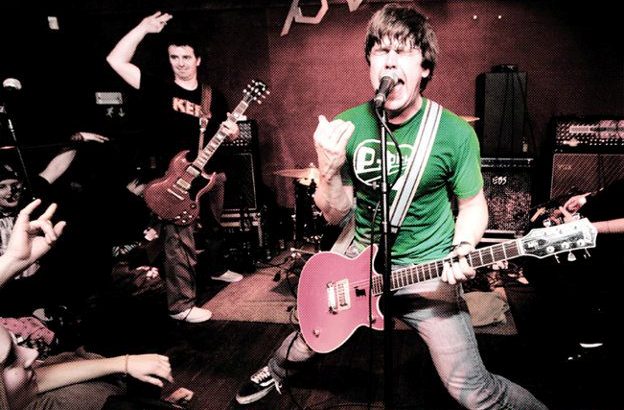 From cover bands to original bands – and is there anything else? – the city's favourite local venues have a little something for everyone this New Year's Eve.
Of greatest interest to Edmonton music fans might just be a couple of bands that have started gigging again after a bit of a hiatus. Calgary's Chixdiggit (above) released an album in 2016 after being quiet for a long while, and are ringing in 2018 at the Buckingham. Meanwhile, across the river, Shout Out Out Out Out, one of the city's craziest rock bands, are performing at 9910.
Here's the full list, in alphabetical order just to be totally fair – because we're nothing if not fair.
Back Porch Swing
A cadre of the city's best folk and singer-songwriter performers will be featured at this gig. St. Albert's Penny Malmberg, of roots-folk band Back Porch Swing, is the mastermind behind this tradition, which supports the Edmonton Food Bank. Also performing will be Celeigh Cardinal, Vissia, Bardic Form, Benjamin Williams, as well as others. McDougall United Church, 7:30, FREE, with donations (non-perishable or cash) to the food bank welcomed.
Chixdiggit
This Calgary pop-punk act were in their heyday in the late 1990s, but put together a quirky little EP in 2011 called Safeways Here We Come, and followed that up with the album called 2012, which was released in 2016. Yes, it's that quirky, too. The band has continued to perform since, and shows no signs of letting up. The band was a favorite of many Edmontonians back in their first peak, and have thankfully reclaimed that magic in their shows and on stage. The Old Wives, and Slight Brains, also perform. Buckingham, 8 pm, $25. BUY
Chronobot
Another gig featuring some of the city's best live bands, this alt-noise five-piece includes musicians from across the prairies, from Winnipeg to Saskatoon to Prince Albert. The band's most recent release was January's Spliffs N' Splits, which featured tracks from a pair of previously released splits, as well as an original song, all of which focus on the band's slow, fuzz-heavy rock sound. Two more of the local scene's favorite bands, Rebuild/Repair and Labradoodle, also perform, as do Black Thunder and Dead Fibres. Sewing Machine Factory, 8 pm, $17,  BUY
iVardensphere
This local experimental project released their debut album in 2009, and have been going strong since. Their eclectic sound blends noise, electronic, industrial, and world music into an utterly enrapturing (and somewhat trippy) experience. Their 2017 release Exile received high praise from a diverse assortment of critics. Nazz Nomad, BlueJay, and Borys will also perform. Starlite Room, 8 pm, $5, BUY
Nearly Neil
Bobby Bruce's tribute to the great Neil Diamond focuses more on the singer's early days, from his releases in the mid-'60s such as Sweet Caroline and Holly Holy, to his spate of top 10 hits in the early '80s, such as America and Hello Again. Casino Yellowhead, 6 pm, SOLD OUT.
Prism and Lee Aaron
These Canadian musical stalwarts both had their heyday back in the '80s, but continue to tour off and on, and even continue to release new material to this day. Hard rockers both, Prism is probably best known for their hits Spaceship Superstar, Young and Restless, and Armageddon. Aaron's most popular tracks include Whatcha Do To My Body and Hands On. Century Casino, 9 pm, $73 and up. BUY
Shout Out Out Out Out
One of the city's most illustrious performing bands (right), with a live show that'll blow your pants off. And your shirt. And yes, your shoes and socks. The electro-punk outfit has laid a little lower in the last few years, with their last official release in 2012, but they do get together off and on to put on a show. And what better reason than New Year's Eve. 9910, 9 pm, $20, BUY
Snake Oil
This late 1900s cover band ('70s, '80s and '90s) takes their performances to heart – though Heart is probably one of the few bands you won't hear them perform. From Kiss to Def Leppard, from AC/DC to Poison, you'll not only hear all your favourites impeccably reproduced, but the musicians, some of them whose names you'd recognize from CanCon bands of those days, also dress up and perform exactly like the original performers would. River Cree, 7 pm, $36.75 and up, BUY