MUSIC PREVIEW: K.Flay cuts deep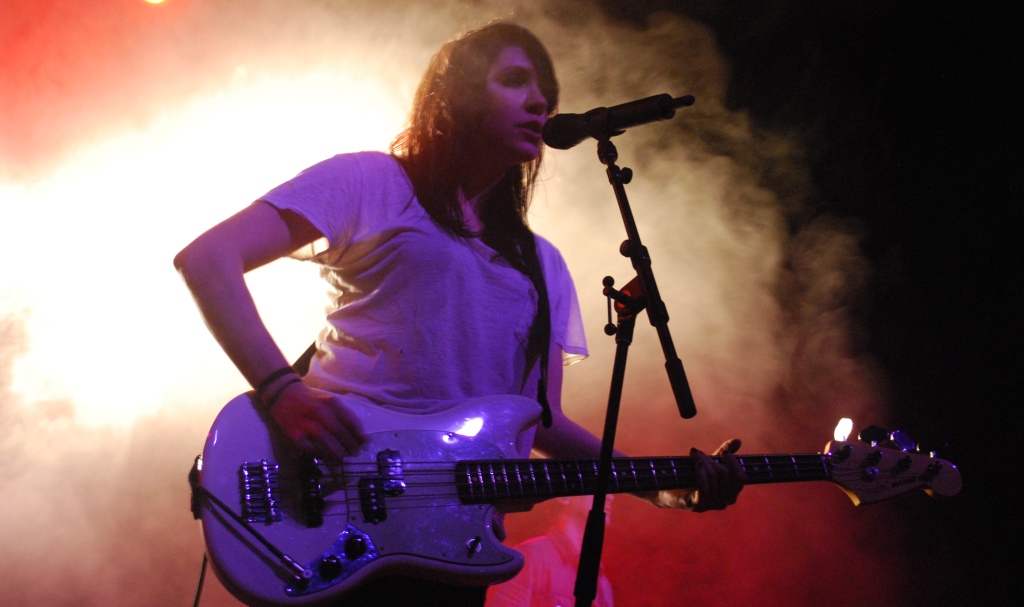 Kristine Flaherty isn't the only artist to reference self-harming in a song. From Alessia Cara's Scars to Your Beautiful to Linkin Park's Breaking the Habit, to Johnny Cash singing about hurting himself with Nine Inch Nails, it's a thing. Blood in the Cut is just the latest self-harming hit to strike a nerve.
Playing the sold out Union Hall on Tuesday, Jan. 23, K.Flay is her stage name: a Chicago artist who identifies as hip hop but sounds like a schmoz of everything else: Electro-pop, indie rock, punk rock, jazz croonery, and a unique style of spoken word poetry performance that you could call "rap," though actual rappers probably wouldn't. It's getting so hard to rack this new-fangled music. From origins making homemade mix-tapes in college in 2003, K.Flay calls it "genre defying." That's a big help.
Her songs are edgy, personal, and contain hidden positive messages. From her latest and third album Every Where Is Some Where come depressing odes to heartbreak like Black Wave, and FML, which as everybody knows is internet slang for "fuck my life." Blood in the Cut sports a steampunk groove that frames a grim little story of heartbreak, with more self-harming thoughts like "take my arm, break it in half" and "take my head and kick it in."
In addition to expertise in genre-defying, K.Flay demonstrates vocal range from soft and sweet to hard and desperate. As she was opening for Mother Mother last year (above), she's surprisingly normal and pleasant on stage considering the dark material, and may be using her alter-ego to exorcize disturbing thoughts, instead of pushing them away.
Friday 19
Honeymoon Suite – In case you think instant one-hit wonderment is a modern curse, this Canadian band scored its biggest hit with its very first single: New Girl Now, a peppy heartbreak-rebound-relationship song that struck a nerve in 1984. "I've got a new girl now and she's a lot like you." A lot of complicated emotions in that one line. Certainly there were other hits in the Honeymoon Suite's surprisingly short first incarnation – only about six years – Feel It Again, Love Changes Everything, and after the '80s goldrush wore off, supplanted by grunge rock, the band made too many member changes to count and continued to tour before announcing in 2007 the reformation of the (more or less) original line-up of Johnnie Dee, Derry Grehan, Ray Coburn, Gary Lalonde, and Dave Betts. In 2016 they released their first record in more than nine years, Hands Up. River Cree Casino, 9 pm, advance tickets from $35
Rellik and the Dirty Boots – K.Flay isn't the only artist messing around with hip hop styles. The award-winning local aboriginal rapper Rellik has assembled a funky rock band of real musicians, plus a DJ, to back his rhymes, resulting in yet another interesting form of "fusion" that's hard to categorize. Opening the show at The Forge will be Jay Gilday, and The Newcastle Kings. 8 pm, $10 advance
Saturday 20
Còig – You couldn't get more Cape Breton if you tried – yet this freshly-minted weirdly-named foursome from the Promised Land of Canadian Folk makes it look easy: From instrumental jigs and reels performed with piano, banjo and two fiddles, to haunting Gaelic vocal ballads, it sounds like magic at the folk fest. The band tours on its latest record, Rove, and plays for the Northern Lights Folk Club at the Parkview Hall. Opening the show is Daniel Champagne. 8 pm, tickets $22
Heavy Bell – What do you get when you mix indie folk, Shakespearean theatre, and a 1945 novel by a troubled Canadian poet? Something that hasn't been done before – in case you think it's all been done before. This duo features Matt Peters from Royal Canoe and actor-singer Tom Keenan on a "song cycle" called By Grand Central Station (based on Elizabeth Smart's book By Grand Central Station I Sat Down and Wept). They'll play it for you at the Almanac, doors at 7 pm, $15 advance
Space Classic – This local project, the work of one Jesse Nakano, combines electronic elements with acoustic percussion, the occasional guitar and echoey, reverberant singing – and therefore lives up to its name! Love it when that happens. CD release at the Mercury Room. Upper Lakes opens. 8 pm, $10 advance
F&M – They're calling the officially-goddamn-finally-opened new venue The Aviary a "listening room," and what they're listening to on this night (besides the ghosts of parrots that used to inhabit the building; it used to be a bird store) is some good old fashioned "Folk Noir" – which one assumes is "dark folk," as if most folk isn't dark enough already. Paired French wines may help us understand. Specialists in this sort of thing for years, F&M pairs with opening act Tanyss Nixi (of the new local country band Wildwood) for the 8 pm show, ALL AGES, tickets $10 advance.
Duchess Says – What Duchess says, Duchess does! This is what happens when you give a bunch of synthesizers to a hardcore female-fronted punk band from Quebec. It's new wave magic: cold songs given that little extra voom from distorted guitars so often lacking in this sort of thing. Opening the show at the Rec Room will be the bands Partner and Wares. 8:30 pm, $15 advance