Russian opera hacked in superb Onegin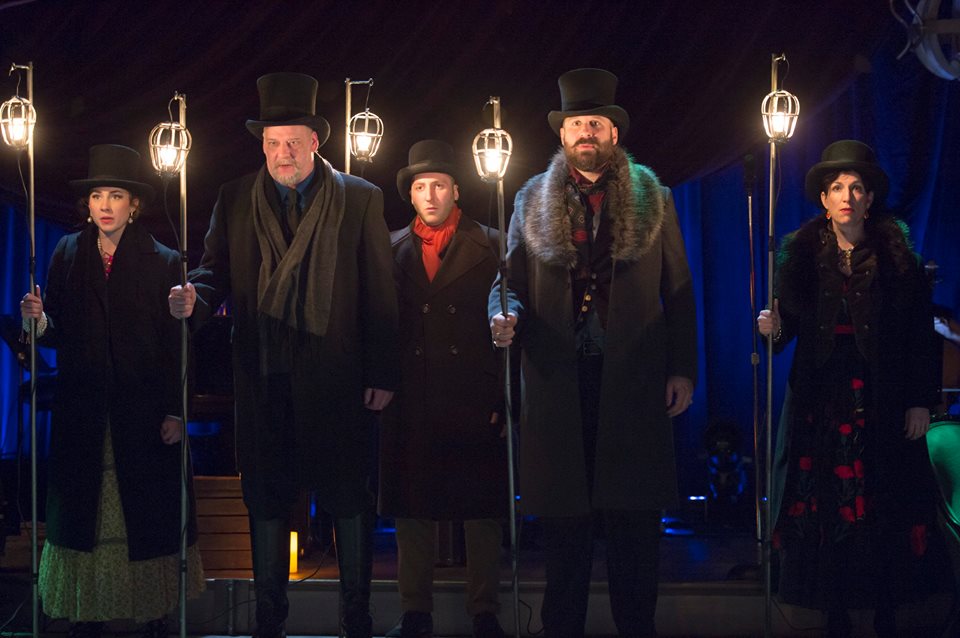 Back in February of 2014, two gleeful Vancouver musical buffs, Veda Hille and Amiel Gladstone, presented A Craigslist Cantata in The Club at the Citadel. It was a sprightly song-and-dance look at some of the weird items presented for sale on the internet bazaar. It was a hit here, as it was elsewhere across the country.
Hille and Gladstone are back – but they are after much bigger game this time. Their latest effort – at the Citadel Theatre until Jan. 27 in a Catalyst Theatre-Vancouver Arts Club production – comes with a trail of great reviews and sold-out houses across the country as it takes on Pushkin (Russia's Shakespeare) and Tchaikovsky (arguably Russia's greatest composer).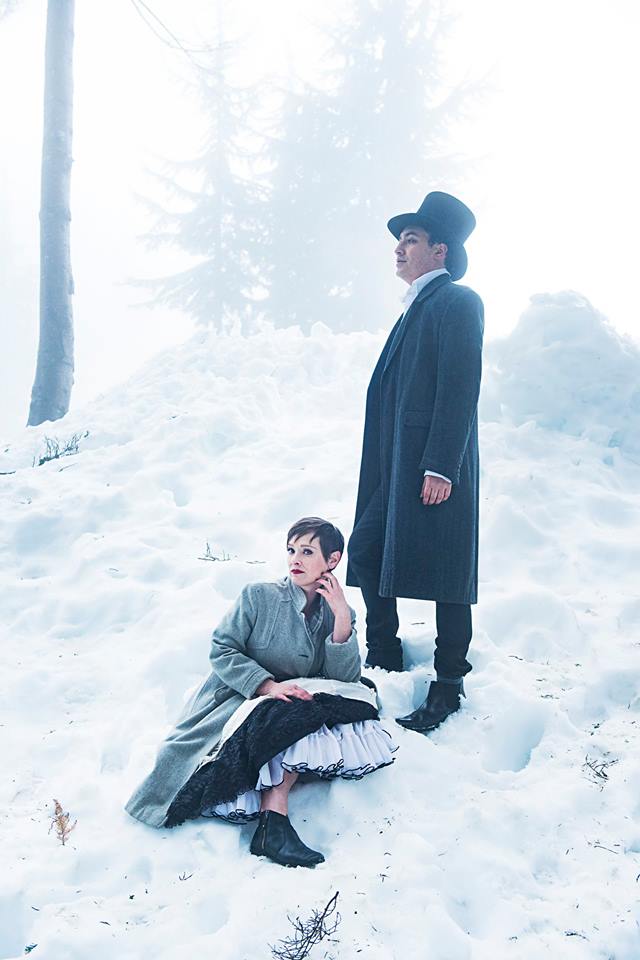 The duo's take on Onegin, one of opera's greatest classics, straddles two worlds. The story is set in early 1800s Russia, while the catchy, occasionally memorable words and music are very much today – what the composers call "indiefolkrockchamberpop." In other words, it's a melange of all sorts of styles. It is skillfully assembled, the individual songs well realized and the internal musical logic builds steadily throughout the show. The production is mostly sung-through but even the narration that holds the big numbers together is conversational and listenable.
What follows is a dark tale of passion, desire, lost hopes and haughty pride settled in a frosty Russian dawn in a field with pistols at 20 paces.
Amiel Gladstone's production underlines the theatricality of the endeavour as he directs to take full advantage of the show's inner sense of fun. The evening begins with the cast casually talking to the audience. At one point, they offer us shot glasses of (we are assured) real vodka. The show constantly breaks the fourth wall and plays with the conventions of theatre. The able writer-director manages an effective bit of audience participation by having his characters enlist us to deliver love letters. At times, the performers pick up mics and sing out to the audience as if at a rock concert. So, the production doesn't take itself too seriously – except when evoking the power of Pushkin's tragic tale.
Soon after the opening we find ourselves confronted with that most Russian of traits: boredom. It's presented, however, in a lively number (Oh, Dear Father) declaring that the company wants to "break us open…" to charm and entertain us. We meet Vladimir Lensky (Josh Epstein), an ardent young poet and his world-weary but charming aristocratic friend Evgeni Onegin (Alessandro Juliani). In an effort to cheer his fashionably melancholy visitor, Lensky introduces him to the vivacious girls next door. The Larin sisters are the fun-loving Olga (Lauren Jackson), and her older sister, Tatyana (Meg Roe), a lovely, bookish and shy young lady. Vladimir and Olga, lifelong lovers, soon pair off and plan their marriage. The introverted Tatyana flares into immediate obsession with Evgeni. He isn't much interested – brusquely telling her, "I am not made for this." Just to prove he can, he then flirts with Olga. Vladimir mistakes the brief idyll between the two for something more than it is and his jealousy consumes him.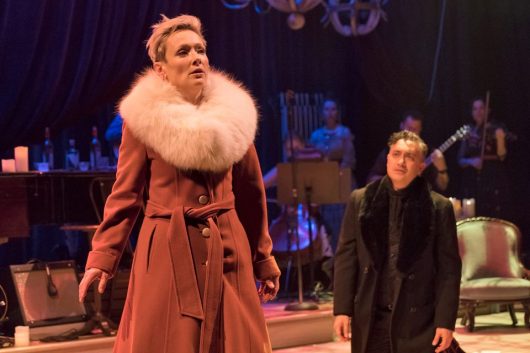 Fans of the opera can enjoy this production for its own charms without fearing any loss of respect for its older, more staid brother. The creators obviously have regard for the original but they certainly put their own stamp on the show. The words and music are fresh and convincing and influences from many sources flit by. The cumulative creative brew is often enchanting. The hard working trio – called "The Ungrateful Dead" – that accompanies the evening is occasionally augmented by cast members who play a large number of instruments.
Drew Lacey's set is deceptively simple – a lot of books and some chandeliers – but very atmospheric and practical. The same is true of John Webber's subtle pinpoint lighting. Tracey Power's choreography works seamlessly into the narrative.
The performances are superb. Roe particularly stands out as a vulnerable soul lost in a sea of conflicting emotions. Her delivery of Let Me Die, a plaintive but epic love letter to Evgeni, is a high point of the first act – and the song returns in the second with a powerful new meaning. This appealing performer can be achingly intimate or belt when a song demands. Epstein is an affable narrator who leads us through the tortuous relationships with a full-voiced tenor. Jackson's Olga is notable for her lovely voice and clarity of tone; and Nadeem Phillip provides vital comic relief as a smitten Frenchman who dubs Tatyana the "Queen of the Night." Juliani is commanding from the second he appears in a cloud of smoke – and with his impressive range, makes the pain of his self-discovery at the tragic climax a palpable thing. This is, after all, based on an opera.