PLAYBILL: Whose Worst Year Ever?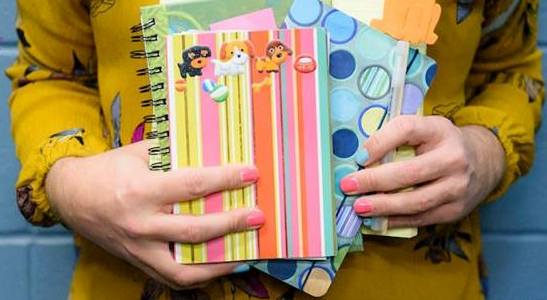 One wonders how much of himself – or current politics – Trevor Schmidt will bring to his role of a grumpy 12-year-old girl in Worst Year Ever.
The Northern Light Theatre artistic director will play "Charlotte" in what we must presume is an autobiographical tale by playwright Charlotte Miller (who's given Schmidt "permission" to do the piece, in case anyone was wondering; don't producers always have to get the playwright's clearance?). The premise is common in Young Adult fiction: a kid has been forced to write essays about various terrible events: summer vacation, Thanksgiving, Christmas, spring break – and also probably the moment she was assigned to write all those essays.
Schmidt is known for playing a variety of female roles, though it's not certain if he's ever told the story of one so young.
Worst Year Ever plays for two nights only, Friday, Jan. 26 and Saturday, Jan. 27 at the Playhouse, as a fund-raiser for the rest of NLT's season – which includes Do This In Memory of Me in March, about a little girl who challenges the rule that she can't become an altar boy; and in April, a play called Slut, about a women unjustly accused of running a brothel. The company's season opener ran in November: A triumphant production of The Testament of Mary, a one-woman play about Jesus's mom setting the record straight about her son (spoiler alert: NOT the son of God).
Sensing a theme? Of course you are. Schmidt chooses and directs all of NLT's plays (though he rarely appears in them), and you don't have to look hard to find the connecting threads.
The Listening Room
You really can't beat the drama of a good old-fashioned post-apocalyptic dystopia. Oh, dear, you think, I certainly hope we're smart enough not to end up like that! Then you get the chills because we just might if we're not careful.
In this grimly futuristic Cardiac Theatre production by Michaela Jefferey, at the Studio Theatre until Jan. 28, a group of teenage survivors huddled in a desert compound use "antiquated 21st Century technology" to find electronic traces of old civilizations still bouncing around in space. The fragments they find fills their need for meaning in a meaningless, illiterate existence – but then The Council steps in to make sure they don't find too much meaning, capice? Sound familiar? Yes, we were all forced to read A Canticle for Leibowitz in high school – or perhaps you were thinking of a political event more recent?
Night Cuts
Now you can get a haircut and see an experimental dance show at the same time! Real time saver.
No, Night Cuts isn't a fan-fiction of The Barber of Seville. It's a new work by Mile Zero Dance's Gerry Morita that combines improvised dance, live improvised music and live haircutting – so the dancer dances to the stylist, who cuts hair in tune with the musician, who improvises to the dancing? This is one of these "must see to believe" sort of happenings.
The first of three shows runs Saturday, Jan. 27 at Spazio Performativo and features musician Gel Nails, dancer Jeannie Vandekerkhove, and "Tony the Venetian Barber."
Showtime on Broadway
Show tune enthusiasts won't want to miss this large-cast revue happening Jan. 26-27 at the Westbury Theatre. Among the Broadway smashes the Broadway Bound singers will be singing are songs from Oliver, Annie, Oklahoma, and Matilda, plus numbers from both The Wizard of Oz and The Wiz!
Onegin
It's nice to imagine that the great classical composers could jump into a time machine to see their work made into "rock operas" hundreds of years later – and that they'd like it.
In Onegin, presented by Catalyst Theatre on the Citadel's Maclab stage until Jan. 28, Tchaikovsky's opera Eugene Onegin has been given "indie-rock" makeover. Setting, costumes and songs have been modernized, but the story is effectively intact: Rich Russian dude gets into a complicated love rectangle, which results in a duel, along with heartbreak, betrayal and death. It is opera, after all.
Slumberland Motel
Now the "brief nudity" warning in this play can be, er, revealed: The sight of a buck-naked Julien Arnold should be declared a national treasure, like Niagara Falls or the Rocky Mountains.
In the world premiere of a new Collin Doyle comedy-drama until Feb. 4 at the Varscona Theatre, Arnold and Reed McColm (who remains clothed throughout) star as a pair of burned-out vacuum cleaner salesmen forced to share a cheap motel room that smells of stale beer and broken dreams. Into their lives – via that mysterious locked door one always finds in cheap motel rooms – comes a mysterious woman (Aimee Beaudoin), who changes their lives forever.
Shakespeare's R&J
There were reports that audience members walked out of this play when it opened off-Broadway in 1997 – due to its homo-erotic content. Today? Not so much controversy. At the Roxy on Gateway Theatre until Jan. 28, Kill Your Television Theatre imagines what happens when a Catholic boys school not only bans Romeo & Juliet – but makes reading it a sin! Drama unfolds when the boys decide to rebel and act out the play, and realize that someone has to play the role of Juliet.
Soiled Doves
You know what would've given the Ian Tyson-Corb Lund show a kick? Cowboy burlesque dancing! At the ATB Financial Arts Barns until Jan. 26 is special show presented by Send In the Girls Burlesque that touches on the storied origins of this artform. Soiled Doves: A Burlesque With Boots On promises to be a throwback to olden times, when a brave troupe of burlesque dancers held their own in the wild, wild west.
The Humans
And you thought dinners on Downton Abbey were awkward. Fresh from New York, The Humans is a black comedy that takes place entirely within a ratty apartment during a family Thanksgiving feast that slowly turns into a hollow mockery of the concepts of "thanks" and "giving." Playwright Stephen Karam has populated this dinner-from-hell with two bedraggled lower class parents, self-obsessed millennial offspring, and for added fun, a demented grandmother prone to random bursts of rage. Also maybe ghosts.
The Humans runs until Jan. 27 on the Citadel's Shoctor stage.
Back to the '80s, Part 2
Last chance for the '80s! At the Mayfield Dinner Theatre until Jan. 28, Back to the '80s Part 2: The Adventure Continues features more than 200 costume changes, squads of talented singers, a crackerjack band and dozens of hits of the past – from Prince, to David Bowie, to The Rolling Stones, to Madonna. This show is officially the most jam-packed 1980s musical revue in history. If only the real '80s could've flown by this quickly or with such entertaining impact.