K.Flay rocks hip hop and headbangers in Edmonton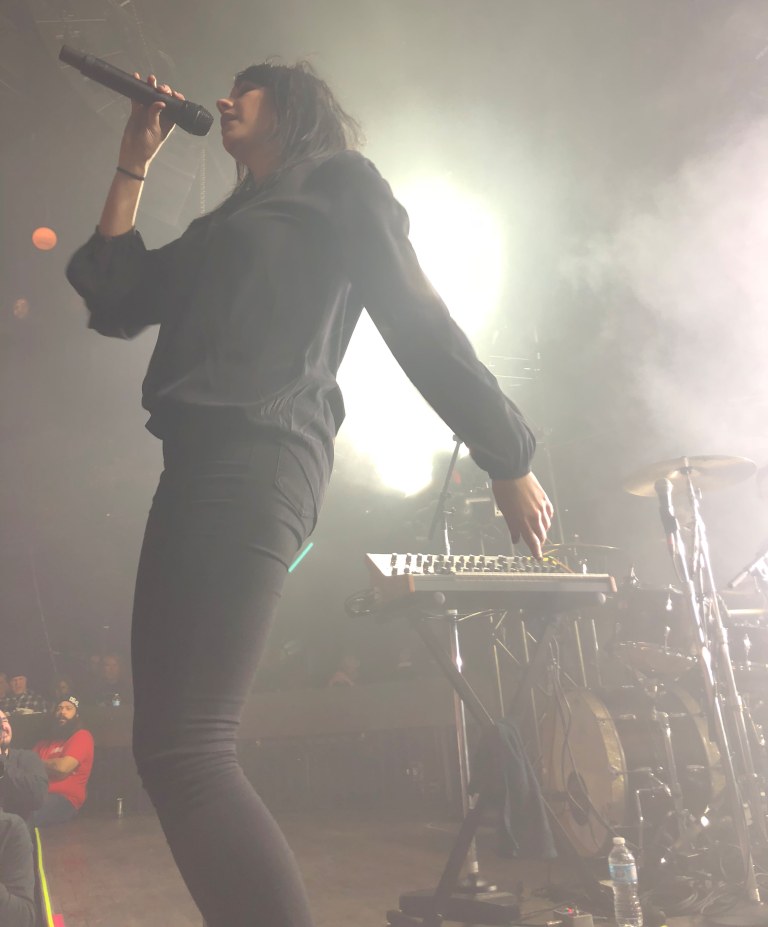 The music of K.Flay can make you dance – but her lyrics can break your heart. Her music is almost enough to make you forget that the Union Hall is one of Edmonton's least favourite concert spots – where she performed a sold-out show on Tuesday night. The pit is fun enough, but if you're average height you're likely to be stuck behind some giants or have your view obstructed by one of the many pillars.
The night opened with tour mate Sir Sly, an indie pop band from Los Angeles known for their hit song High. It was little auto-tuney, but the crowd seemed to like it, and everyone danced. Around the edges of the stage people buzzed with excitement, a weird collection of goths, hip hop fans and headbangers – and everyone packed into the small pit when the headliner hit the stage.
Kristine Flaherty, better known as K.Flay, has a voice that draws you in. She's a Gothic Kathleen Edwards with a hint of Emily Haines. She's Stanford-educated, but unconcerned with convention. She doesn't go in for the hypersexual image expected of women in music. When K.Flay takes the stage she is clad in black, every inch of her still emo of the '00s. A look in the crowd revealed only one or two people rocking the matte black lips.
Like Die Antwoord, K.Flay transcends genres. With a lot of songs from her latest album Every Where is Some Where, it's a mixture of singing, lyrical hip hop and a lot of heavy industrial beats that sometimes drowned out the lyrics, though that didn't seem to bother the crowd. People sang along to every word.
The weather was warm for Edmontonians, but K.Flay admitted that being this far North was a little scary for her as a California dweller. She's on tour this January with Canadian stops also in Calgary and Vancouver. Flay has also just had two Grammy nominations on the strength of her hit Blood in the Cut, including Best Rock Song. The crowd went wild with that one. It's a very emotional song because she's talking about romance and break-ups, with spoken word lyrics like this: "Lately I've been killing all my time, reading through your messages, my favorite way to die." The crowd chanted along.
K.Flay talked in a stream-of-consciousness throughout the night which kept the audience laughing.
She played Wishing It Was You, a song for all the unrequited lovesick people out there: "Every time I hear you say my name, I can't move, I can't sleep" and "Sucking on a bottle of Jim Beam, wishing it was you." It's enough to make you burst into tears.
She calls Mean It the most important thing she's ever written – one to her parents. It speaks of a troubled relationship with an alcoholic father, a grandmother who built a life of fantasy, and of motherhood. In a press release for Every Where Is Some Where, she said this, "I remember I was crying while I wrote it, which is pretty unusual for me."
Edmonton really came out to show love for this cult artist. It's her mix of music, her subject matter and her unique voice that really draws the show together.