PLAYBILL: Ever been to sea?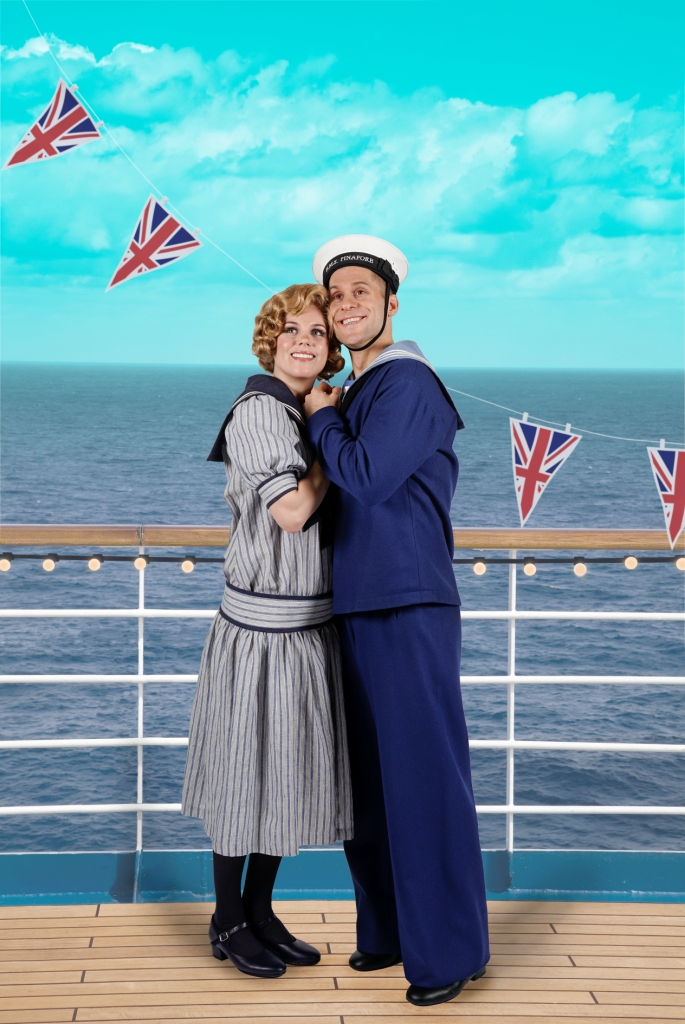 If it weren't for a certain Victorian-era creative team's fascination with all things nautical, musical theatre as we know it today might be far different.
Imagine if H.M.S. Pinafore had been set in the Canadian prairies: Ranch boss's daughter falls in love with a lowly ranchhand, cue "Come away with me on my tractor, Buttercup." No? No. Gilbert and Sullivan would never have gotten off dry land – and all future musicals would be John Wayne Westerns.
For the record, there will be no such outrageous tweaking of H.M.S. Pinafore – considered the seminal work of musical theatre back in 1878 – for the Edmonton Opera production at the Jubilee Auditorium Feb. 3, 6 and 9. Yes, as per their Class 1 poetic license, the local team has set it in the 1920s and "jazzed up" some of the music, but the basic premise, setting, story and songs are intact. Old tale: Sailor falls in love with the captain's daughter, and they try to elope – while at sea. Cue a Maiden Fair to See. Or is that sea.
Salute the Edmonton Opera for bold moves: It's not technically an opera (it's an operetta, or "light opera"), the lyrics are in English, it was referenced in an episode of Family Guy, and beloved local show tune singer Bridget Ryan has been cast in the role of Buttercup – her first time singing with the Edmonton Opera.
You can't deny that almost 150 years later, H.M.S. Pinafore still has legs. Sea legs.
Love and Information
What are the odds that this will be the third Caryl Churchill play in as many years performed on Edmonton stages? We crunched the numbers: It's 23 to 1. Too low to be coincidence. Oh, you want Playbot to show the math? Forget it. This play is weird enough as it is – a production of MacEwan University at the new "Black Box" theatre Jan. 31-Feb. 10.
The acclaimed playwright has really gone out on a limb this time. Featuring 100 different characters, Love and Information is presented in seven short acts, each containing very small scenes that can be shuffled around however each director desires. This chaotic cloud of narrative is meant to explore the human condition via a series of "snapshots" – and it was written in 2012, before "selfies" became all the rage. Narcissism is also part of the human condition.
Empire of the Son
It's hard to go wrong with a good "I am the sins of my father" sort of play. You see them at the Fringe all the time: Guys working through the trauma of the toxic masculinity they were subjected to by their fathers … and that's just one take. Actual experiences may vary.
In Edmonton, at the Citadel's Club venue Jan. 31-Feb. 18, we get a different perspective from a different culture with Japanese playwright Tetsuro Shigematsu. He traces the life of his own "emotionally remote" father – and aren't we all? – "from the ashes of World War II and Hiroshima to swinging London in the 1960s," says the blurb. Through it all, Shigematsu learns a lot about his dad and also how to be a better dad himself – perhaps avoiding being the subject of an "I am the sins of my father" play in the future.
Bears
Here is a strange tale: The world premiere of dark comedy about a fugitive from justice who flees into the forest – along the route of Kinder Morgan Trans Mountain Pipeline. By the time he reaches the Pacific Ocean, he has been changed. Literally.
Written and directed by Matthew MacKenzie and starring Métis theatre artist (and former tar sands worker) Sheldon Elter, Bears is part of the Rubaboo Festival presented by Alberta Aboriginal Performing Arts, and runs Feb. 1-3 at the Backstage Theatre (Arts Barns). At the same theatre Feb. 3-4 is a family play called Minosis Gathers Hope, about a little Metis girl who finds comfort in the traditions of her ancestors.
Her Mark
Newfoundland has to be the most exotic place in Canada – remote, wild, windswept, beset by icebergs and terrible storms, explored by Vikings, settled by esoteric offshoots of the French and Irish people, and so isolated that it was its own country until 1949. They maintain a proud and distinct culture – and dialect – different from the rest of Canada. Never call them "Newfies." That's racist.
Newfoundlanders have their own literati, too, including author Michael Crummey, whose poem Her Mark (from his 1998 novel Hard Light) was adapted into a play by Edmonton director Trevor Schmidt at the Fringe in 2014. A family drama said to capture the spirit of that "cruel and beautiful place," a remount with expanded cast plays at the Orange Hall Feb. 2-10.
Groundhog Day with Hey Ladies!
Haven't we done this before?
At the Roxy on Gateway Theatre Friday, Feb. 2, the Ladies – Leona Brausen, Davina Stewart, Cathleen Rootsaert, and Honorary Lady Noel Taylor – present another semi-improvised talk comedy variety music drinking game show. Here to honour Groundhog Day, guests include Dallas La Rose, Heather D. Swain, The Flashback Band, and a round of Groundhog Day Matchgame.
The One Couple Show
Another thing that can't go wrong is a good bout of couple comedy – especially when there's an actual comedy couple delivering it.
Colin Mochrie (Whose Line Is It Anyway?) and Debra McGrath (Little Mosque on the Prairie) have been married for 27 years. Do you think they might've accumulated a few "observations" in that time, hmm? Usually you don't get to hear both sides of the story in acts like this. The show runs at the Shell Theatre in Fort Saskatchewan for one night only, Wednesday, Dec. 31.
Slumberland Motel
In the world premiere of a new Collin Doyle comedy-drama on stage until Feb. 4 at the Varscona Theatre, Julien Arnold and Reed McColm star as a pair of burned-out vacuum cleaner salesmen forced to share a cheap motel room that smells of stale beer and broken dreams. Into their lives – via that mysterious locked door one always finds in cheap motel rooms – comes a mysterious woman (Aimee Beaudoin), who livens things up a bit. Yet there's a dark side. There's always a dark side.